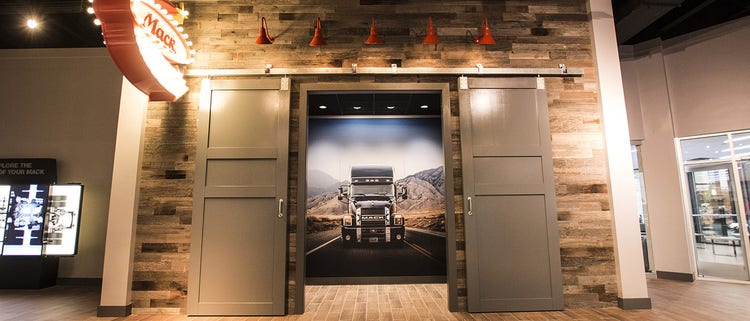 Customer Experience Zone
A virtual and engaging experience
The Mack Experience Zone allows customers to fully immerse themselves in the benefits of being part of the Mack family.
Get a behind-the-scenes look into Mack's industry-leading uptime solutions by visiting the Uptime in Real Time exhibit: a 20-foot, circular, walk-in display that showcases the Uptime Center, a 24/7/365 facility where customer-support specialists monitor the performance of customer trucks to minimize downtime.

Next, watch the latest Mack product videos in the Bulldog Theater equipped with a 360-degree wrap-around screen, swivel chairs and immersive sound and visual effects.

And if you ever wondered what exactly goes into our trucks – The Heart of Your Mack exhibit gives you an in-depth look at the engine, transmission, axles & carriers, driveline and suspension that make up the Mack integrated proprietary powertrain.

The Mack Experience Zone significantly enhances the customer experience through the use of interactive technologies that convey the Mack story of industry-leading products and service solutions. During your visit, you will be more fully immersed in the benefits of our proprietary driveline, industry-leading uptime management and the contribution Mack trucks have made for over a century.