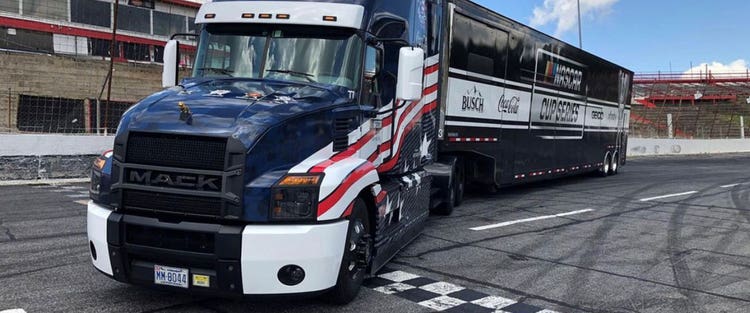 NASCAR Salutes
The annual #NASCARSalutes campaign expresses gratitude and respect for the men and women who serve in the United States Armed Forces and their families, as well as honors those who died defending freedom.
About the Contest
As the "Official Hauler of NASCAR," Mack Trucks asks our fans to vote annually on a custom-designed military-themed design to be wrapped on one of NASCAR's Mack Anthems as part of the NASCAR/Coca-Cola #NASCARSalutes Campaign.

The 2022 winning design debuted over Memorial Day weekend at Charlotte Motor Speedway (Charlotte, NC). Watch it roll out on the racetrack below.
Follow Mack Trucks' social media channels (Facebook, Instagram, Twitter, LinkedIn) to participate in all our fan contests.