Mack Trucks Honors Military Personnel with Mack Anthem Custom Wrapped NASCAR Salutes Model
A Mack Anthem®model featuring a custom-designed, military-themed wrap was recently unveiled as part of NASCAR Salutes Refreshed by Coca-Cola, an annual NASCAR industry campaign to express gratitude and respect for the men and women who serve in the United States Armed Forces, as well as honor those who have made the ultimate sacrifice defending freedom. The Mack Anthem truck designed specifically for NASCAR Salutes Refreshed by Coca-Cola is one of ten Anthem models provided by Mack Trucks, the "Official Hauler of NASCAR®."
"Mack Trucks is honored to stand alongside NASCAR as we recognize our country's bravest heroes and their families," said John Walsh, Mack Trucks vice president of marketing. "Mack has a long history of supporting our Armed Forces, and we're proud to partner with NASCAR on this important effort."
Mack's connection to the military goes back more than 100 years and is the original source of the famous Bulldog nickname. During World War I, soldiers called their blunt-nosed Mack AC model trucks "Bulldog Macks" for their tenacity. Mack Trucks continues to provide military vehicles through its Mack Defense subsidiary.
For the first time, Mack and NASCAR fans had the opportunity to choose the final wrap design for the Mack Anthem. Four uniquely different design options were created by members of NASCAR Creative Design and were posted on social media, allowing fans to choose their favorite. The winning design, which features all five branches of the U.S. Armed Forces, earned nearly 40 percent of the vote.
"NASCAR Salutes unites the industry around our collective appreciation for the brave men and women who serve our country," said Lou Garate, senior vice president, partnership marketing, NASCAR. "NASCAR and Mack Trucks share a mutual admiration for the U.S. Armed Forces and the custom-designed Mack Anthem will represent our sport and military with honor."
NASCAR Salutes Refreshed by Coca-Cola officially kicks off during Memorial Day weekend with the Coca-Cola 600 at Charlotte Motor Speedway in North Carolina and runs through Independence Day weekend at the Coke Zero Sugar 400 at Daytona International Speedway in Florida. Fans can view and enjoy the Mack Anthem truck custom-wrapped NASCAR Salutes model in the infield at all tracks during the six-week effort.
As the "Official Hauler of NASCAR," Mack Trucks provides a fleet of customdesigned Mack Anthem 70-inch stand-up sleeper models spec'd to meet the challenges of the grueling NASCAR schedule. Each NASCAR Mack Anthem features a 505- horsepower Mack MP8 engine and a Mack m DRIVE automated manual transmission. Also standard is Mack GuardDog Connect, an uptime solutions service that proactively monitors the truck to help prevent unplanned downtime events.
NASCAR's Mack Anthem models crisscross the country throughout the 36-race, 10-month long season, traveling thousands of miles between race locations to deliver critical technology and equipment that helps ensure a successful race weekend.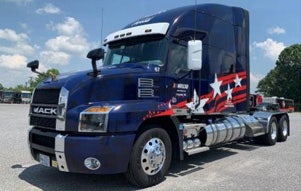 CAPTION: A Mack Anthem® model featuring a custom-designed, military-themed wrap was recently unveiled as part of NASCAR Salutes Refreshed by Coca-Cola, an annual NASCAR industry campaign to express gratitude and respect for the men and women who serve in the United States Armed Forces, as well as honor those who have made the ultimate sacrifice defending freedom.