Mack Trucks Names Mack Masters Champions
ALLENTOWN, PA (June 25, 2019) – Mack Trucks put its superheroes of service to the test in the third installment of the Mack Masters Competition, a biennial event designed to evaluate participants' knowledge of Mack® service systems and procedures. Team "# Rise For The Anthem" from Bruckner Truck Sales in Shreveport, Louisiana successfully completed several rounds of competition, including a comprehensive final challenge, to be crowned Mack Masters Champions. Members of team #Rise For The Anthem are Aaron Toomer, Justin Malone, Ted Pfister and Joey Wardrip.
"Not all superheroes wear capes, but our service technicians proudly wear the Mack Bulldog on their uniforms and deliver the expert knowledge and service our customers require," said Jonathan Randall, Mack Trucks senior vice president, North American sales and marketing. "Congratulations to Aaron, Justin, Joey and Ted from team # Rise For The Anthem on taking their commitment to our customer to an even higher level."
The 2019 Mack Masters Competition kicked off in November of 2018 with early rounds of online challenges that tested competitors' knowledge of Mack's service procedures and related systems. A record number of entrants participated, with about 2,000 individuals on more than 500 teams. After competing in three rounds of online challenges, ten teams of finalists were named, each representing one of Mack's sales and service regions: Central, Northeast, Southeast, Southwest and West for the U.S., plus Canada, Mexico, Peru, Latin America, and – for the first time ever – an apprentice team of individuals new to their job roles.
The finalists' knowledge and skills were challenged with five hands-on stations designed to challenge each team with a specific service situation that had to be completed in just 30 minutes. Following the completion of a challenge, teams rotated to the next one until all five were completed. Team results from all stations were tallied to determine the champion.
Other finalist teams were: "Trunnion City Masters" from M&K Truck Centers in Des Plains, Illinois; "Bergey's Bulldogs" from Bergey's Truck Centers, Souderton, Pennsylvania; "TranSource Titans" from TranSource Truck & Trailer Centers in Greensboro, North Carolina; "Mobile Fleet Service" from Mobile Fleet Service in Wenatchee, Washington; "Top Dogs" from Lounsbury Truck Centre in Moncton, New Brunswick, Canada; "Hermosillo" from Tractoremolques del Noroeste in Hermosillo, Sonora, Mexico; "Dream Team" from Mack Peru; and "Bulldogs United" from Salfa in Chile. The apprentice team, "Pac Coast One," was from Pacific Coast Heavy Truck Group in Vancouver, British Columbia, Canada.
The Mack Masters Competition is organized and conducted by the Mack Trucks Academy, which is responsible for developing and implementing Mack service training and aftermarket support programs. The academy is accredited by the National Institute for Automotive Service Excellence (ASE) for Continuing Automotive Service Education (CASE).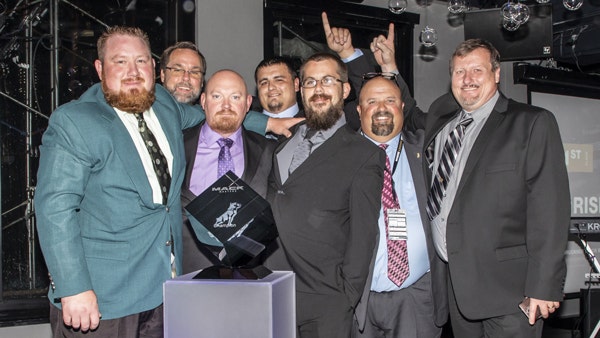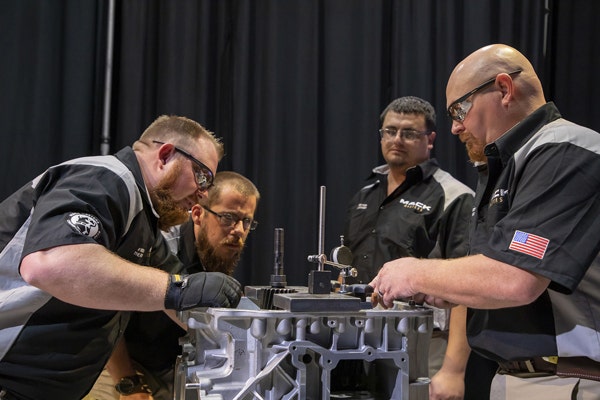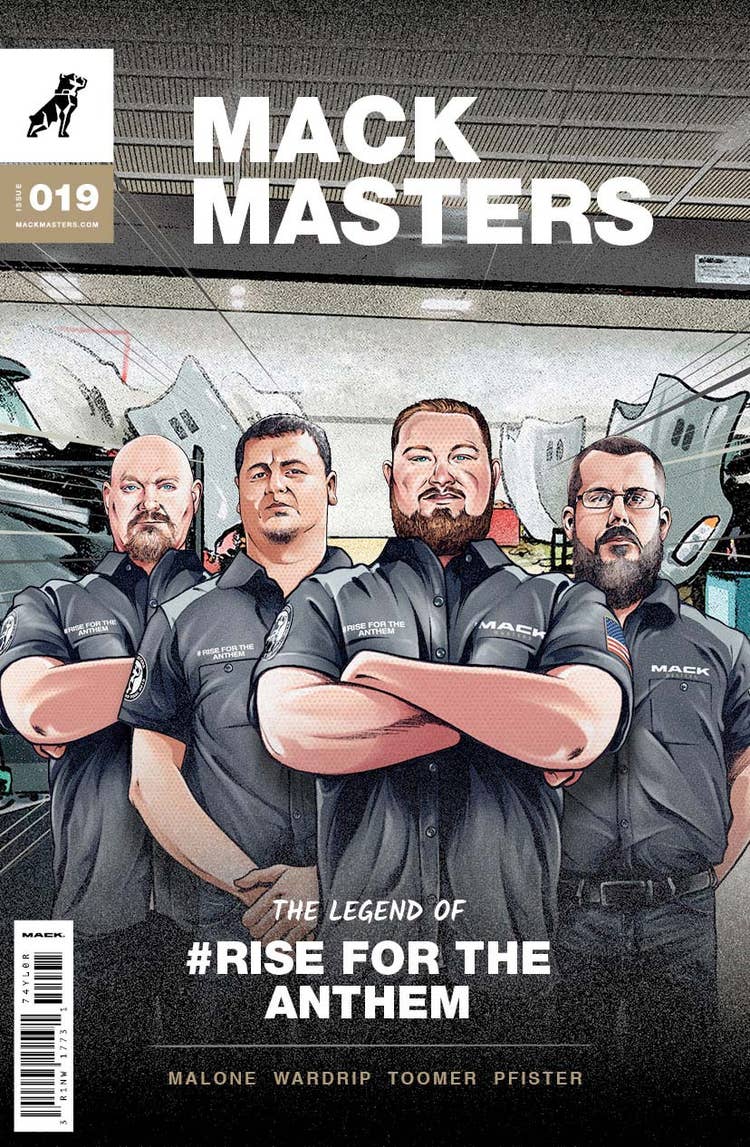 CAPTION: Team #Rise For The Anthem from Bruckner Truck Sales in Shreveport, Louisiana was named champions of the 2019 Mack Masters Competition (top), having successfully completed several rounds of challenges designed to evaluate their knowledge of Mack® service systems and procedures (middle). Team # Rise For The Anthem's superheroes of service are Justin Malone, Joey Wardrip, Aaron Toomer and Ted Pfister (bottom, from L-R).