Mack Trucks Wraps Up RoadLife Series with Making Of Episode
GREENSBORO, NC (Jan. 8, 2019) – Mack Trucks today released "RoadLife Reunion," the ninth and final episode of its RoadLife series on roadlife.tv and Amazon Prime Video. "RoadLife Reunion" provides a behind-the-scenes look at the making of the series, including additional footage from each episode, further acknowledging the extraordinary efforts of the hard working men and women of the trucking industry.
"Not many brands could genuinely develop a series like this, with well-known celebrity partners presented on equal footing with customers and drivers," said John Walsh, vice president of marketing, Mack Trucks. "Mack's unique combination of rich history, remarkable customers and talented storytellers brought us this incredible series."
"RoadLife Reunion" also features interviews with the Mack marketing team members behind the series as they share how each episode came to life from storyboarding through final production. All told, the team traveled 32,325 miles over 136 days in capturing footage for the series. The journey began in New York City, the birthplace of Mack Trucks, and continued through 31 additional cities, culminating in a reunion at Pocono Raceway in Pennsylvania, where those featured in the series shared their distinct experiences.
"A lot of companies talk about family, but for Mack, it's always been real," said Walsh. "If you do business with Mack, if you're employed by Mack, if you're a Mack dealer, you become part of the Mack family. And everyone who took part in RoadLife is now part of that family too."
"RoadLife Reunion," as well as the other eight episodes in the RoadLife series, is available on roadlife.tv and Amazon Prime Video. In addition, viewers can access RoadLife bonus content on Mack Trucks' social channels: Facebook, Twitter, Instagram, LinkedIn and YouTube.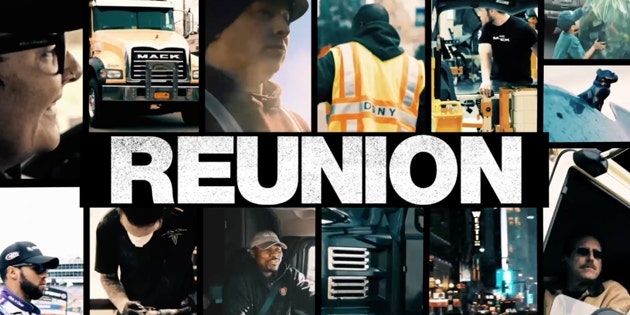 CAPTION: Mack Trucks concluded its RoadLife series with "RoadLife Reunion," the ninth and final episode, available now on roadlife.tv and Amazon Prime Video. The episode takes viewers behind the scenes of RoadLife production, including a special reunion event featuring the stars of the series