Mack Extends Special Finance Offers for Customers to June 30
GREENSBORO, NC (May 4, 2020) – Mack Trucks today announced the extension through June 30 of several special Mack Financial Services (MFS) programs developed to assist customers in contending with the coronavirus pandemic. Details about the programs and their benefits in the U.S. and Canada are accessible via a new webpage on macktrucks.com devoted to current offers and incentives.
"Fleets and professional truck drivers across the U.S. and Canada are stepping up today more than ever to deliver critical goods and maintain vital services," said Jonathan Randall, Mack Trucks senior vice president of North American sales and marketing. "We're proud to support the availability of these programs offered by the Mack Financial Services organization to help our customers continue the important work they do day in and day out, which the current situation has really brought into the light."
Each MFS offer extends the first payment due date for qualified buyers of model year 2020 and 2019 Mack Anthem®, Mack Pinnacle™, Mack Granite®, Mack LR and Mack TerraPro® models.
"These enhanced finance programs are designed to give customers the flexibility they need to continue their efforts to deliver crucial goods and provide essential services," said Tom Guse, president of MFS in the U.S. "Together, we are helping our society meet the challenges brought by the coronavirus pandemic."
Additional program details include:
For more information about these MFS programs, customers can visit the new webpage on macktrucks.com or contact their local Mack Trucks dealer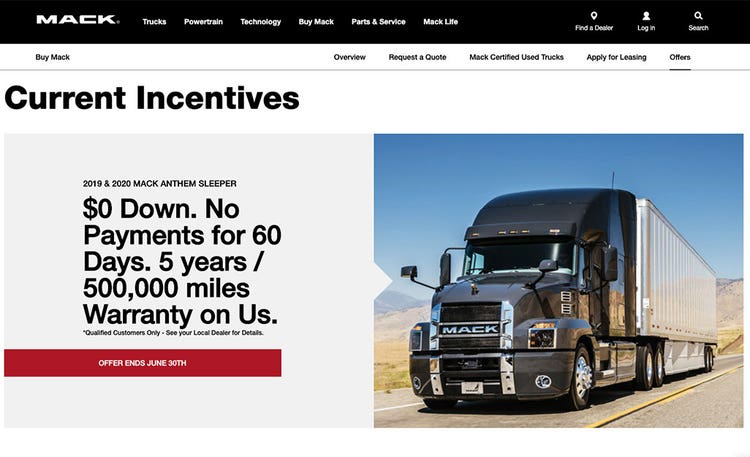 CAPTION: Mack Trucks and Mack Financial Services are extending through June 30 several special financing programs developed to assist U.S. and Canadian customers in contending with the coronavirus pandemic. In addition, a new incentives webpage has been created on macktrucks.com where customers may review full details and benefits each program brings to customers.