Mack®Granite® Refresh Offers a Clearer View of What's Ahead.New Self-Heating LED Headlights Illuminate up to 50% More
LAS VEGAS, Nevada (Jan.17, 2023) – Mack Trucks debuted today an updated Mack®Granite® model at World of Concrete 2023, Jan. 17-19, 2023, at the Las Vegas Convention Center.
The refreshed vocational truck features a new, more modern fascia with an updated chrome grille and self-heating LED headlamps that offer brighter illumination, improving forward visibility by up to 29% and peripheral visibility by up to 50%.
"The Mack brand is focused on building reliable, safe and comfortable products that help businesses maximize productivity," said Jonathan Randall, president of Mack Trucks North America. "The Granite refresh is an evolution of that DNA. The updated fascia not only looks great, but it also helps make the Granite safer to operate in a myriad of conditions and reduces strain on the operator. We are making a great product incrementally better."
Available for order in February, the new grille and air intakes modernize the look of the Granite, and the choice of two grille treatments offers customers another way to customize their vehicles. The standard grille features blacked-out cross bars surrounding the chrome Mack badge with the optional grille being all chrome.
Self-heating LED headlights round out the updates and add to the suite of safety features already on previous Mack Granite models. The integrated heating elements automatically sense the ambient temperature and turn on to keep ice and snow from building up in colder environments and an anti-fog coating prevents condensation in warmer, humid environments to improve visibility.
The new LED technology is designed to fully illuminate the road and jobsite, including the driver- and passenger-sides of the vehicle, to reduce eye fatigue, while letting operators detect objects sooner.
Safety is also improved during daylight driving through new, integrated amber daytime running lights that double as turn signals, making the truck more visible to oncoming traffic and on the jobsite.
The LED headlights are designed to be long-lasting through their high-impact polycarbonate lenses with additional hard coating protection to prevent cracking, scratching or damage to the headlight from road or jobsite debris.
In the event of damage, the headlight assemblies are designed to be easily replaced and are also backwards compatible with earlier truck models if current Granite owners choose to upgrade.
For more information about the Granite Refresh, please visit booth No. C5160 at World of Concrete, Las Vegas Convention Center, your local dealer or www.macktrucks.com.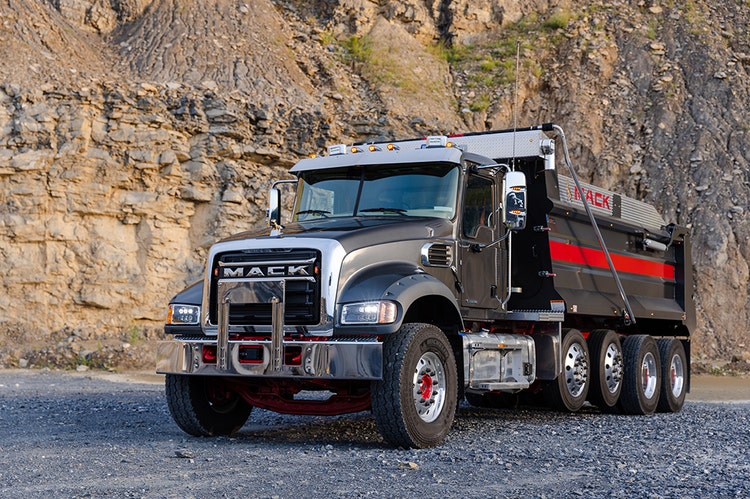 **Caption: **Mack Trucks debuted an updated Mack Granite at the 2023 World of Concrete trade show. The refreshed truck features a new, more modern fascia featuring an updated chrome grille and self-heating LED headlamps that offer up to 50% better visibility.