Mack Trucks Adds Two New Full-Service EV Infrastructure Partners to its Turnkey Solutions Program
GREENSBORO, N.C. (Nov. 20, 2023) – Mack Trucks announced today that it expanded its comprehensive Turnkey Solutions program for Mack® battery-electric vehicle (BEV) customers with the addition of two new full-service partners, InCharge Energy and Blink Charging.
These partnerships are two of four that Mack Trucks currently has with charging infrastructure development companies. The Turnkey Solutions program is an end-to-end fleet management service for all aspects of developing infrastructure, including the charging hardware, software, site design, obtaining permits, installation, utility coordination and charging equipment maintenance. Mack has two electric offerings – the Mack LR Electric and the Mack MD Electric.
"Mack Trucks is focused on simplifying the transition to BEV for our customers to help increase the adoption rate of sustainable transportation," said Jonathan Randall, president of Mack Trucks North America. "We have our own team dedicated to e-mobility solutions, and through the Turnkey Solutions program, we've established a holistic program to support the charging needs of our customers."
Recognizing that customers interested in transitioning to EV can find it overwhelming to plan for and implement charging infrastructure, Mack developed the Turnkey Solutions program. Customers can choose which partner to bundle charging hardware and services with the purchase of their vehicle from InCharge Energy, Blink Charging, Gilbarco Veeder-Root or Heliox based on their unique needs.
"We look forward to powering the MD Electric and the Mack LR Electric vehicles for Mack customers," said Steve Kelley, Chief Commercial Officer of InCharge Energy. "With our innovative hardware offerings, industry-leading charge management software platform to maximize vehicle uptime and minimize charging costs, and experienced in-house service technicians at the ready to ensure smooth operations, our partnership with Mack ensures that the expanding population of electrified fleets will have guaranteed availability for the most seamless transition to more sustainable transportation."
"Our charging partnerships and the Turnkey Solutions program as a whole will enable customers to more easily manage the development and installation of infrastructure for the Mack MD Electric and Mack LR Electric vehicles," said Ryan Saba, Mack energy solutions manager. "These strategic partnerships will provide customers with the support they require throughout the entire process, including charger uptime. This is a key differentiator for Mack since charging infrastructure continues to be one of the main barriers to adoption."
The MD Electric is the second electric vehicle introduced by Mack Trucks to the industry. The first was the Mack LR Electric, which went into production in December 2021.
"We applaud the efforts of Mack for their forward-thinking in advancing fleet electrification, and we are excited to be selected as a charging partner in their Turnkey Solutions program, providing reliable and advanced charging solutions," said Jim Nemec, Chief Revenue Officer at Blink Charging. "Building a dependable charging infrastructure is vital in keeping electric fleets operational and on the road. We look forward to continuing to work with Mack as they move to bring e-mobility to fleets around the country."
Mack introduced the Mack MD Electric in March 2023. The MD Electric complements its highly efficient, diesel-powered MD model sibling, which has experienced growing customer demand since its introduction in 2020. The addition of a zero-tailpipe emissions BEV to the Mack medium-duty lineup supports the company's long-term sustainability goals.
The MD Electric is available for order and, like its diesel counterpart, is available in Class 6 and Class 7 ratings. The Class 6 has a Gross Vehicle Weight Rating (GVWR) of 25,995 pounds, and the Class 7 model has a GVWR of 33,000 pounds. Both models are exempt from the 12 percent Federal Excise Tax (FET).
The MD Electric will meet the needs of trucking applications requiring dry van/refrigerated, stake/flatbed and dump vocations. The MDE6 model does not require a Commercial Driver's License (CDL) to operate for non-hazardous payloads.
The next generation Mack LR Electric offers 42 percent more energy and a standard 376kWh total battery capacity for increased range between charges. Twin electric motors with 448 continuous horsepower and a 4,051 lb.-ft. of peak torque output from zero RPM power the vehicle.
Four NMC (Nickel Manganese Cobalt Oxide) lithium-ion batteries, charged through a 150 kW, SAE J1772-compliant charging system, propel the vehicle and provide power for all onboard accessories through 12V, 24V and 600V circuits. The two-stage regenerative braking system helps recapture energy from the hundreds of stops the vehicle makes each day with an increasing load.
The MD Electric and the Mack LR Electric are supported by Mack Certified Electric Vehicle (EV) Dealers. To become EV-certified, dealers are required to meet stringent safety, infrastructure, charging and tooling requirements. Mack executives work closely with dealer leadership to ensure all requirements are met before certification and that the transition is smooth.
For more information about Mack's Turnkey Solutions program, the Mack MD Electric or the Mack LR Electric, please visit your local dealer or www.macktrucks.com.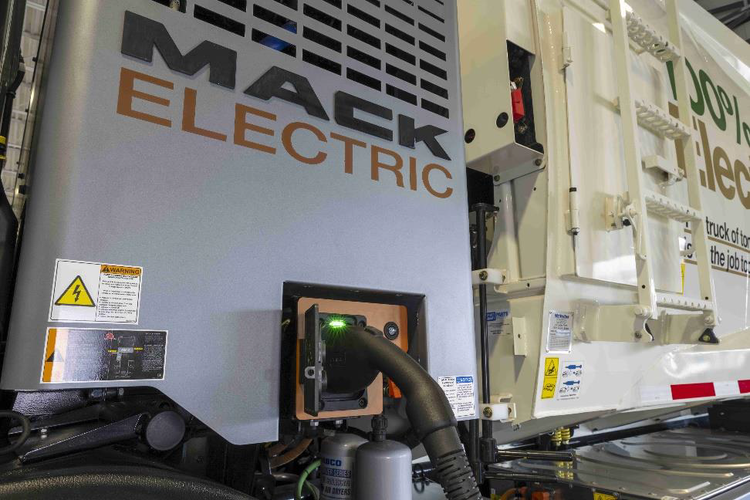 CAPTION: Mack Trucks announced today that it expanded its comprehensive Turnkey Solutions program for Mack battery-electric vehicle (BEV) customers with the addition of two new full-service partners, InCharge Energy and Blink Charging.