Bob Boeke's fleet of colorful trucks has a tasty name and a passion for Mack® trucks. According to one story, Cookie Carriers, the operating authority for Royalty Trucking, got its name when a former owner was trying to name the fleet while snacking.
When Boeke purchased Butler, Indiana-based Royalty Trucking and its operating authority Cookie Carriers in 1993, the organization's unique name was already well-known. The fleet has grown from 8 trucks in 1993 to 38 today and hauls building supplies across North America.
Boeke's two sons joined him in the business 10 years ago. Jason Boeke is vice president, and Dan Boeke is secretary/treasurer. At the time, they also set up Boeke & Sons, which conducts truck sales, service and parts.
Royalty and Cookie Carriers have always been all about Mack trucks, currently operating both Mack Pinnacle™and Mack Anthem® models. "Probably two-thirds of our fleet are Pinnacles, and the other third are Anthems," Boeke says. "We keep newer trucks because it helps keep drivers. We trade them every five years." Royalty ordered eight new 2023 Pinnacles this year.
Building business
The majority of Royalty's trailers are flatbeds, used to serve the company's two primary customers, Nucor Building Systems and New Millennium Building Systems. Both customers manufacture pre-engineered metal buildings and rely on Cookie Carriers to haul immense steel I-beams from the factory to the jobsite. Royalty's dry vans most often haul building products for Therma-Tru Doors and candy for Spangler Candy (best known as the makers of Dum Dums lollipops).
We are very fortunate that the customers we have want us to succeed," said Boeke. "But we do go the extra mile for them, so to speak. For instance, we stage trailers and can store loads for them onsite. This is a service we provide that no one else does."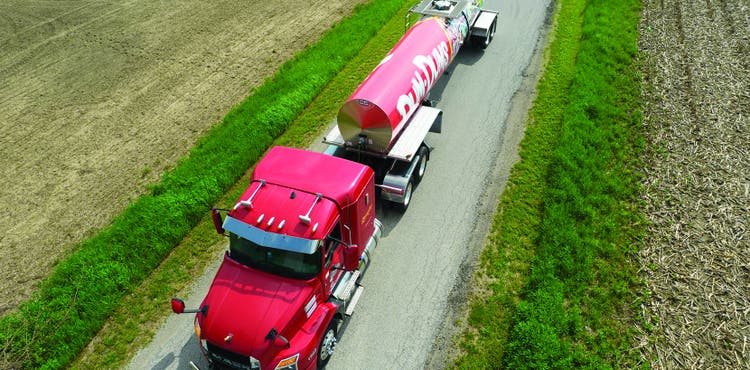 Dealer roots
Boeke's affinity for Mack began with his early background in the service department with a Mack dealer in Defiance, Ohio. "I got to know the corporate guys. To this day, I can call them," he says. "They will do whatever it takes to help us." Later, Boeke worked for Royalty Trucking as a mechanic and Mack technician, prior to purchasing the company in 1993.
Today, says Boeke, dealer relations couldn't be better. "Our dealer is VoMac Truck Sales and Service in New Haven, Indiana (previously Fort Wayne Mack). They have stepped up to the plate to help, providing a lot of support over the years," he says. "We're like friends with them. We know them all on a first-name basis, have had them over to the house for supper on a number of occasions. They work hard for us, from management to the techs in the shop."
According to Boeke, Macks are the only trucks he's ever owned, aside from two which came with a customer. "We traded those out," he says with a grin.
Boeke says he appreciates the overall looks and dependability with Mack, the support he receives from the dealers and factory, and the safety features Mack trucks provide. "Five years ago, a driver was in a severe accident. He walked away. He thanked us for buying such a safe truck," Boeke says.
As a source of personal pride, Boeke also has a personal fleet that includes a 1960 H Model, a 1986 RW Super-Liner, a 1985 MH Ultra-Liner, a 1989 R Model and a 2018 Pinnacle.
Competitive edge
All three Boekes, father and sons, believe Mack has contributed a great deal to the company's success. In addition, Bob Boeke says, "All of our drivers have the same mindset we do — that the customer is first. They go above and beyond to do what the customers need us to do."
According to Jason Boeke, the trucks' ride is excellent, as is their power. He believes in keeping their trucks for five years to take advantage of the array of services Mack offers. For instance, all of Royalty's tractors feature Mack GuardDog®Connect, which connects drivers to a live network of support staff and repair centers. Royalty also utilizes Mack OneCall™ 24-hour roadside assistance and Mack's Uptime Center.
"For me, personally, trying to fix a truck that's 1,000 miles away, with GuardDog Connect, you know the severity of the problem right away," he says. "With OneCall, if a truck is down somewhere, it's taken care of from the closest dealership, whether they can fix it on the road, or towed to the shop. One call, and they handle it. And the Uptime Center make it super-handy to get a quick diagnosis via codes when you get to the dealership. As the name says, it makes for more uptime."
"The MP
8 engine is one of the most durable on the market, and the only 1-million-mile engine out there now that you can be sure you'll get that kind of mileage." Bob Boeke, president and owner of Royalty Trucking and Cookie Carriers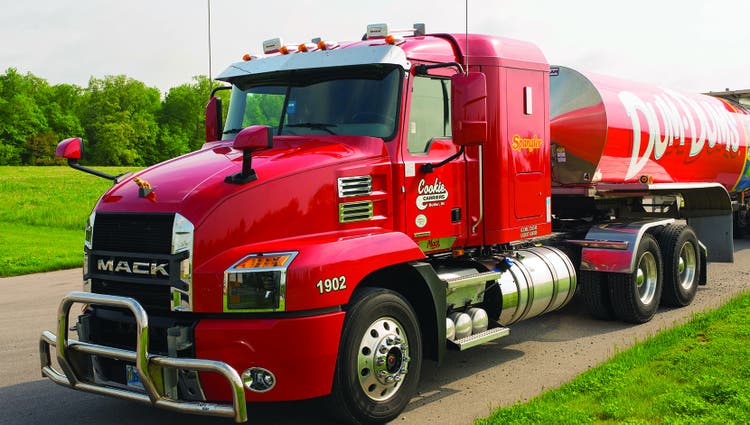 Common challenges
Royalty Trucking and Cookie Carriers have had success, but it hasn't come without some of the challenges common to many fleets. Bob Boeke notes that driver shortages, fuel costs and, in the past 15 years, new emission regulations all have presented challenges.
"With emissions, we learned along the way," he says. "Our mechanics took training. We changed some of our maintenance practices and trained on how to handle maintenance with new emission systems ourselves, so we don't have to send the trucks out. So other than some on-the-road breakdowns, that has saved us money over the years."
Jason Boeke notes that for what Cookie Carriers hauls, the company overall manages to achieve decent fuel mileage. "We get about 6.5 to 7 mpg. The items we haul catch wind, and we often have to go offroad at the job sites, which lowers the fuel economy. But the Macks are as good offroad as they are on."
Drawing drivers
Bob Boeke admits that it is difficult in recent years to find new drivers. But he boasts that Royalty Trucking is good at keeping its drivers — noting some driver employees have been with the company for more than 20 years. Recently, Royalty began offering 100% health insurance.
"We also introduced a sign-OFF bonus a couple years ago," he says. "If a driver stays for at least 10 years and retires with us at legal retirement age, we will add $10,000 to their last paycheck. We did it for the first time last December. He took 2 months off, then decided he was bored at home, so he came back. We told him to work another 10 years and retire, and we'll do it again."
Dan Boeke says he believes operating an all-Mack fleet also helps attract drivers. "We have drivers that go between Pinnacles and Anthems," he says. "Anthem is a sharp-looking truck, with so many driver-friendly features, comfort and so much storage. Buttons on the steering wheel are very driver friendly. It's easy to reach controls in the cab. Storage and comfort really are key with Anthems.
"We're one of the few fleets around that buys all new equipment," he adds. "We spec our new trucks as owner-operator trucks, with all the chrome and fancy stuff. Drivers are attracted to that."
Dan goes on to explain that Royalty Trucking orders its trucks in a variety of colors. "We've found when we go to sell them later, they sell better," he says. "In addition, our long-time drivers are allowed to pick the colors they want. It makes them feel more like it's their truck."
Mack gets into the blood
All three Boekes agree that Macks get into the blood and generate lifelong loyalty. "I named my first son Mack," Jason Boeke says. "Once you become a Mack guy, for most of us, we stay."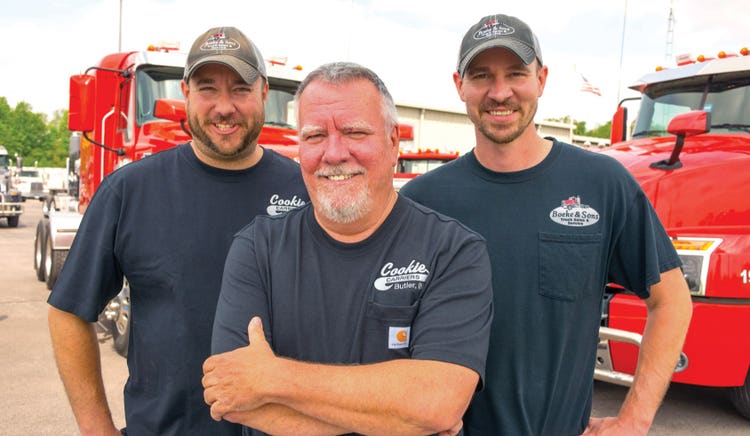 Bob Boeke (center) president and owner of Royalty Trucking and Cookie Carriers, flanked by his sons Jason (left) and Dan.