Up to the challenge with Mack Anthem®
Everyone knows the importance of fuel economy to the bottom line. And when the bottom line is your own wallet, then getting the best possible fuel economy becomes something you spend a lot of time thinking about. You get creative about how to keep record high diesel prices from eating a hole in your balance sheet.
Shane Rizzuto of Calhan, Colorado, is an owner-operator who hauls large boats across North America, which makes keeping fuel costs down a challenge. "Everybody thinks a boat is aerodynamic, and you get fantastic fuel economy. It's just not true," Rizzuto says. "The boats I haul have covers or tarps over them that are dragging wind, and it's like hauling a parachute—not very aerodynamic."
However, Rizzuto says he's up to the challenge with his Mack Anthem® and a carefully researched strategy. "It's definitely made these high fuel prices much easier to handle," he says. "I don't gloat, but I don't shy away from saying I'm not hurting in this day and age of high fuel prices. I am not having issues with it at all.
"I will say I am up a mile and a half per gallon on my 30-day average from my old truck to this Mack. I'm sitting right at 8 mpg."
The Anthem caught his eye from the very beginning, so it was on his list when it was finally time to replace his old non-Mack truck. "When the Mack Anthem first came out, I thought that was a really good-looking truck. I really liked it. But at the time I didn't have any inclination I would buy a new truck," Rizzuto says.
When the time eventually came for a new truck, however, Rizzuto made sure the decision was based on his nearly 30 years of experience as a company driver and owner-operator, plus his experience with heavy equipment and a stint in civil engineering. It all added up to a combination of technical knowledge and experience that pointed him right back to the Mack Anthem.
"I am up a mile and a half per gallon on my 30-day average from my old truck to this Mack. I'm sitting right at 8 mpg." Shane Rizzuto, owner-operator
Rizzuto researched and experimented with his spec, plus kept abreast of best practices from like-minded peers, to come up with a configuration for his Anthem that is efficient, practical and comfortable for his long-haul needs. One valuable source of information was an online group called the Trucking Solutions Group, where owner-operators with a variety of makes and models share results and information on how to get the most out of their trucks. He also shared specs and ideas with Joel Morrow and Jamie Hagen, both of whom have done fuel economy testing for Mack Trucks.
Mack's powertrain was a big factor in Rizzuto's decision to buy an Anthem in late 2020. He was reassured by the reputation Mack's ClearTech™exhaust aftertreatment system had from other truck owners for reliability and performance. He had also heard from his peer group that the Mack MP®8HE engine was highly fuel efficient and had great performance. The HE (High Efficiency) engine uses Mack's Energy Recovery Technology (ERT) to capture and convert waste heat from the exhaust into additional torque that allows the engine to operate at lower RPM with less stress on the engine. Lower RPM means less fuel burned, while the higher torque allows higher gearing for increased fuel economy.
"ERT piqued my interest and I wanted to spec a truck out with it," he says.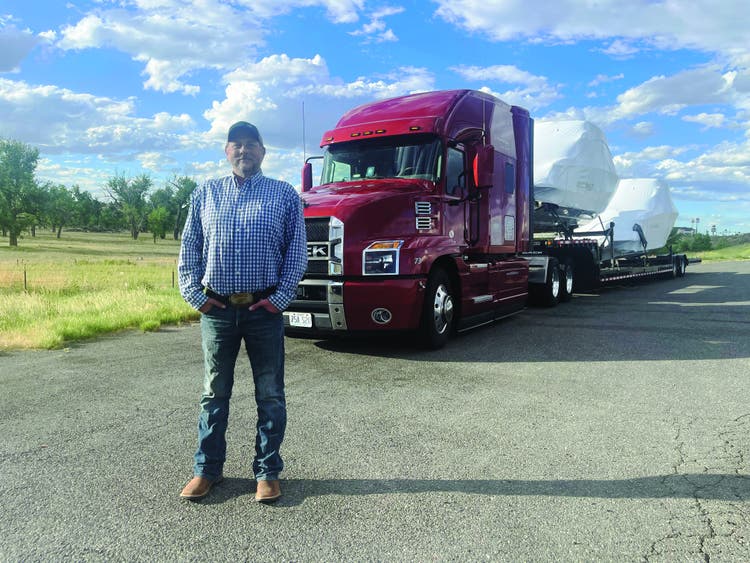 Shane Rizzuto and his 6x2 Mack Anthem, which he uses to haul boats across North America.
Plus Rizzuto also wanted the Mack m DRIVE™ automated manual transmission with the crawler gears.
"I had always said if I spec'd a new truck, it was going to have an automated manual," he says. "I was done shifting. It was another reason I wanted a new truck. I really wanted the m DRIVE with crawler gears, to be able to creep around if I wanted to. A lot of the marinas I deliver to have really steep roads."
The Anthem's aerodynamic design also appealed to Rizzuto, as all the trucks he drove as an owner-operator had aerodynamic design. He spec'd chassis fairings with ground effects and cab extenders for reduced drag, but he left out the roof fairing and trim tab since he was hauling a non-aerodynamic load on a flatbed.
Finally, Rizzuto wanted a 6x2 configuration, with a single drive axle and a liftable pusher axle, plus a non-torque-reactive rear suspension. This setup allows for adaptive loading while also preventing the suspension from raising up as the truck starts from a stop, thereby preventing tire wear and loss of traction. The 6x2 also reduces overall weight and permits the tag axle to be raised when the truck is deadheading, again reducing tire wear and improving fuel economy.
"I'd been looking at that for years on my old [competitor] truck," Rizzuto says. "I actually have the very first Mack truck with non-torque reactive suspension."
Once Rizzuto had the perfect truck spec'd for his work, it was time to start making phone calls. "I knew I wanted to spec it way outside the normal, so I had to find that dealer who would work with me to spec outside the box," he says.
It turned out his local dealer, Bruckner's Truck Sales in Fountain, Colorado, was more than willing to help him get the truck he wanted, the way he wanted it. "I got a salesman (Nick Sewell) who was fantastic and would do whatever was in his power to help me."
Shane made one spec choice that he had less insight about, but which had caught his attention, Mack's Command Steer electronically assisted steering system.
"I'll be honest, I didn't know what to expect with Command Steer when I spec'd it, but I liked what I saw from the advertisements."
Now that he's driven Command Steer, he raves about it.
"I have to say I was blown out of the parking lot. I love, love, love my Command Steer," Rizzuto says. "You have to get used to it at first because it's so easy to steer compared to any truck I've ever driven. The tight maneuvering I have to do at some of the marinas I deliver to and backing into tight spaces at truck parking lots—it makes it so much easier. It's made the job way easier."
When you're running 150,000 miles a year through 49 states and Canada, anything that means an easier job is a good thing. And a comfortable truck is also key, both while driving and while off-duty.
I love, love, love my Command Steer," Rizzuto says. "You have to get used to it at first because it's so easy to steer compared to any truck I've ever driven.
"I'm on the road a lot," Rizzuto says. "I spec'd it with an upper bunk because I have two younger children that I still take with me on the road for the summer. It's a very comfortable sleeper and cab altogether. I spec'd it with the highest interior line I could get. It's a beautiful pattern; I love it. I spec'd it so I could have Apple CarPlay as I'm headed down the road and Siri on the hands-free bluetooth. My Anthem is much quieter and smoother than my old truck. And it's been reliable."
Rizzuto believes he has a special spec, one that fits how he wants to work. He started driving a truck, a Mack concrete mixer, when he turned 21, so he could have his weekends free to "go rodeoing" in his native Colorado. He ended up hauling boats since it looked interesting.
"I've never been one who likes to do normal everyday things," he admits. "Just hauling normal, everyday contract freight didn't interest me that much."

Bulldog® Magazine
Subscribe to Bulldog® Magazine
Be the first to know all the news about Mack Trucks and our products, plus other exciting activities.