The Mack® LR Electric charges into the future
The copper-colored Bulldog on the hood of a Mack® LR Electric (LRe) vehicle represents Mack Trucks' commitment to eMobility. With zero emissions, zero diesel costs and zero oil changes, the battery-electric truck of the future is already hard at work. Since its April 2021 launch, the customer feedback has been enthusiastic as operators report back on the powerful, quiet performance that's electrifying the industry.
"Operators say it's kind of eerie at first. They climb up into a cab that looks the same — the same chassis, same interior with the same Mack creature comforts. And then, when they turn it on, there's no ramping up of the engine as it silently comes to life," says Tyler Ohlmansiek, director of eMobility sales for Mack Trucks. "Once they test drive it, they rave about the smooth, quiet ride and how alert and aware they are without all the noisy distraction," he says. "There's a cool factor, too. You are part of a greater environmental effort all while driving an iconic truck like the Mack LR Electric," Ohlmansiek says.
Several municipalities are already successfully operating Mack LRe refuse vehicles. Drivers consistently report less fatigue and say they enjoy the quiet, smooth ride. With skyrocketing diesel prices and diesel shortages, customers and operators appreciate an electric option.
Refuse company customers are getting used to the quieter vehicles, which are especially welcome in crowded, urban areas. "We keep hearing about homeowners running down the street pulling their trash cans trying to wave down the refuse truck. They can't take out the trash based on listening for the truck anymore. And that's a good thing," Ohlmansiek says with a laugh.
Scott Ferris, Mack sales for Housby Heavy Equipment in Des Moines, Iowa, test drove the LRe refuse truck at WasteExpo 2022 in Las Vegas this May. "It was so cool to turn on the truck, and quietly, with no delay, the truck starts. There are so many impressive features, but I really liked the regenerative braking and the quiet, smooth ride," he says.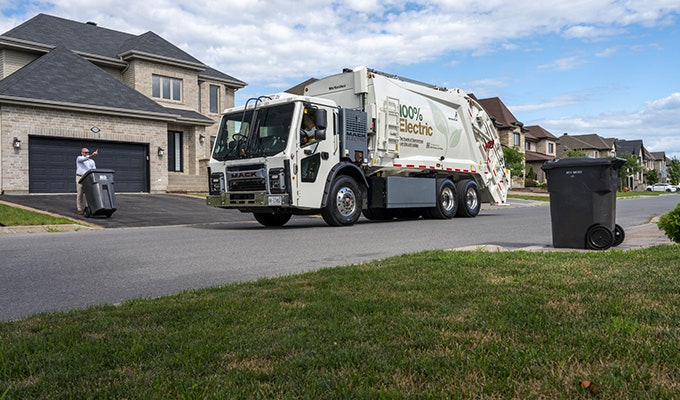 "We keep hearing about homeowners running down the street pulling their trash cans trying to wave down the refuse truck. They can't take out the trash based on listening for the truck anymore. And that's a good thing." Tyler Ohlmansiek, director of eMobility sales, Mack Trucks
Michael Fernandez, director of Solid Waste Management for Miami-Dade County, was in line with Ferris to test drive the new Mack LR Electric refuse truck and says he was impressed with both the environmental footprint and its performance. "It was so quiet, and I liked how well it handled, as well as the take-off acceleration," he says.
The LR Electric model will be used in residential route collection for the Miami-Dade County Solid Waste Management that services homes in a 320-square-mile area. Miami-Dade County Mayor Daniella Levine Cava says they are extremely excited about adding their very first electric truck to their solid waste collection fleet. "It will help us reduce emissions and reach our climate action goals," Cava says. "This is a perfect example of how we are investing in innovative, energy-efficient alternatives that allow us to continue providing the best service to our residents while also protecting the environment," she says.
"Due to the regenerative braking, the Mack LR Electric vehicle will be powered by the garbage it collects," says Danny Diaz, director of fleet management for the Miami-Dade County Department of Solid Waste. "We are closely monitoring electric vehicles, and we plan to purchase more," especially because of the savings on fuel and maintenance, Diaz says.
Charged up
The next-generation Mack LRe offers 42% more energy than the first generation and a standard 376-kilowatt hours total battery capacity for increased range between charges. It has twin electric motors that produce 448 continuous horsepower and a 4,051 lb.-ft. of peak torque output from zero RPM. The LR Electric has a two-speed Mack Powershift transmission, Mack mRIDE™ spring suspension and Mack's proprietary S462R 46,000-pound rear axles. The two-stage regenerative braking system helps recapture energy from the hundreds of stops the vehicle makes each day with an increasing load.
The regenerative braking sold Tony Bowen, regional sales manager for Joe Johnson Equipment, located in Innisfil, Ontario, when he drove the Mack LRe refuse truck in Las Vegas. "I was impressed with regenerative braking and how quiet the truck is," he says.
"As Mack continues to make investments in eMobility, we are pleased that this next generation LR Electric further improves our offering," says Scott Barraclough, Mack senior product manager of eMobility.
A total ecosystem
Once you are sold on the fuel, maintenance, comfort and zero-emission benefits, how do you realistically operate in a diesel-fueled world?
"One of the reasons Mack is leading the charge for electrification is that Mack and the customer walk the journey together, from start to finish," Ohlmansiek says. Mack has invested in creating a turnkey ecosystem that consists of subject matter experts for everything needed to set up charging stations, route operations, financial services, utility requirements and operator training.
"We take out the guess work by providing a full range of services designed for the unique needs of individual customers and their locations," Ohlmansiek says. The comprehensive, free services support customers throughout the entire Mack ecosystem and include navigating grants, incentives and rebates.
Jonathan Randall, Mack Trucks senior vice president of sales and commercial operations, says Mack is committed to helping customers transition to eMobility by finding ways to mitigate barriers such as infrastructure costs.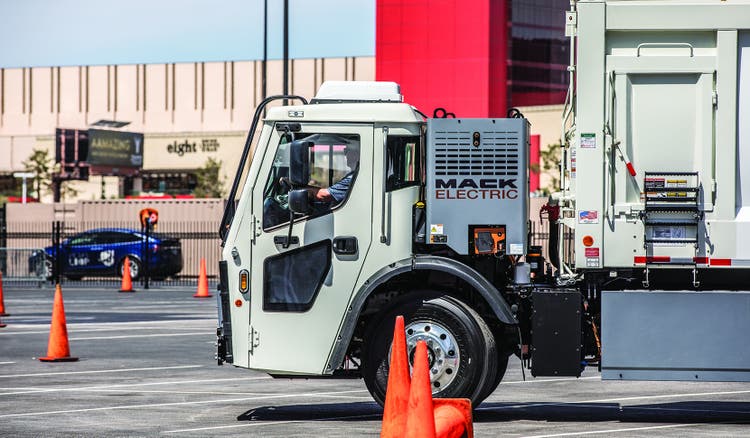 "The battery-electric Mack LRe can help customers achieve their sustainability goals, so Mack wants to do whatever we can to encourage customer adoption of the zero tailpipe-emissions truck," Randall says.
And Mack continues to invest in eMobility, with programs such as Electrify my Refuse Route, Range Calculator, Vehicle-as-a Service (VaaS), Mack Ultra Service agreements including Mack GuardDog® Connect uptime services, and battery health and performance monitoring.
Worry-free range
Barraclough says range is the biggest concern with all electric vehicles. "However, the refuse industry lends itself to electrification. The trucks come home every night to the yard, so you know where to put the charging infrastructure," he says.
To maximize range and incentivize purchases, the Electrify My Refuse Route program helps identify ideal routes. Customers who have downloaded the Mack Route Recorder app receive up to $750 in Mack parts gift cards for sharing valid refuse collection routes. Customers who then purchase or lease the Mack LR Electric refuse vehicle can receive $25,000 for charging hardware reimbursement and $10,000 in additional charging reimbursements for each additional vehicle purchased.
The Range Calculator for electric vehicles helps customers plan and build routes for the Mack LRe based on route-specific variables such as battery capacity, refuse body application type, ambient temperature, terrain and the amount of stops on a specific route. This enables customers to estimate and plan for the energy that will be consumed on the route. "The tool is easy to use and can predict when the vehicle needs to be charged, if necessary, so that the proper planning can be made," Barraclough says.
EV Certification
As more dealers become EV certified, customers will have the same level of service they have come to expect from Mack and the dealer network. To become EV certified, dealers must meet numerous stringent, safety, charging, tooling, training and infrastructure requirements. The facility also must be upgraded to accommodate electric vehicles. Mack and the dealer meet frequently to ensure they meet all standards for EV certification.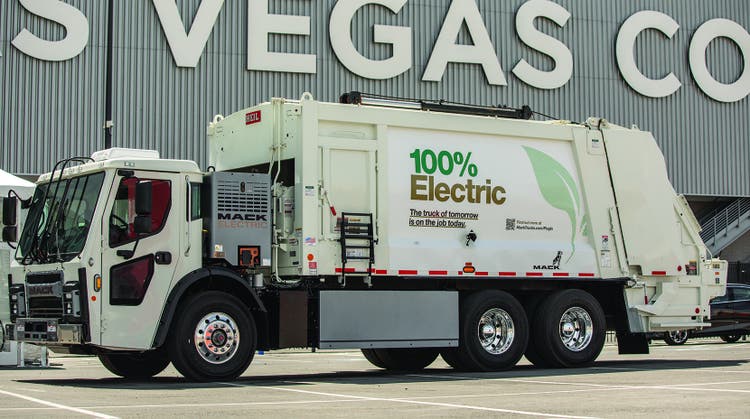 Refuse industry customers had a chance to put the Mack LR
Electric through its paces at WasteExpo earlier this year.
Vehicle-as-a-Service
VaaS includes the vehicle chassis, the refuse body, applicable taxes and a comprehensive vehicle protection plan: the Mack Ultra Service Agreement. Qualified customers have the option to bundle a charger and associated installation costs into a single invoice, an all-inclusive offer that is unique in the industry. VaaS is offered as a five-year lease with single monthly payments and the option to renew.
Hauling to the future
"Mack is committed to electrification and zero carbon emissions by 2040. Electric trucks will play a big part in achieving these environmental goals," Barraclough says. That commitment includes developing a total ecosystem behind a turnkey operation that helps navigate the challenges of an emerging industry.
"This is the wave of the future. We are providing an improved driving experience with zero emissions. Look for Mack to be on the forefront of electrification. We are all in," says Ohlmansiek.

Bulldog® Magazine
Subscribe to Bulldog® Magazine
Be the first to know all the news about Mack Trucks and our products, plus other exciting activities.