Red Classic takes delivery of its 1000th Mack truck at LVO with a new Mack Anthem. Customer tours Mack truck factory and sees red Anthem highway truck being built.
Congratulations to Red Classic for your 1000th Mack Truck
Mack Trucks presented the keys for a milestone truck to Red Classic on September 20. As part of the special event, Red Classic President Spencer Webster drove the new Mack Anthem®off the production line at Mack's Lehigh Valley Operations in Macungie, Pennsylvania. The Anthem day cab model became the 1,000thMack® truck to enter Red Classic's fleet.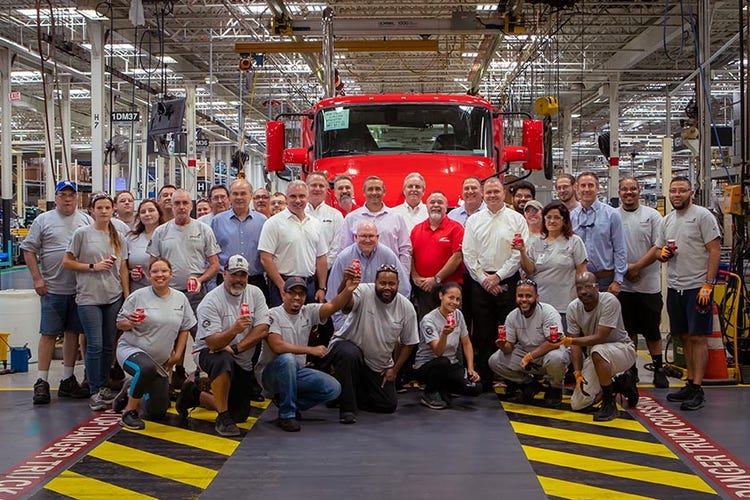 During the event, company executives toured LVO, where all Mack Class 8 trucks are assembled for North America and export markets. After driving the Anthem model off the line, Webster handed over the keys to driver Steve Coleman of Nashville, Tennessee.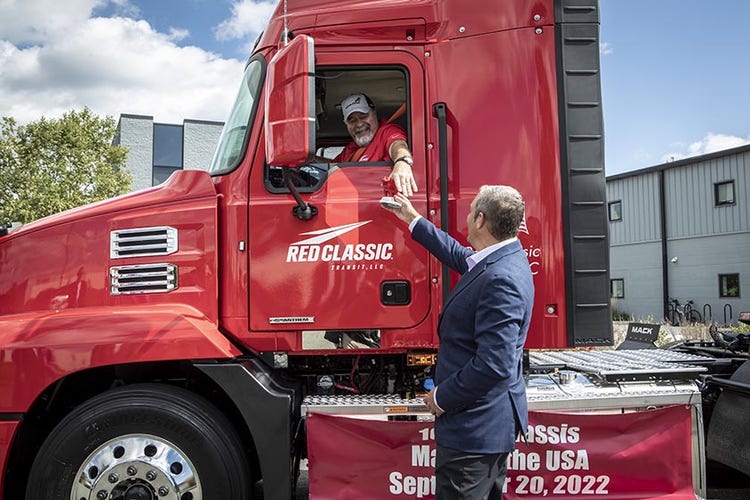 The Charlotte, North Carolina-based company is a subsidiary of Coca-Cola Consolidated, the largest independent Coca-Cola bottler in the U.S. According to the company, Red Classic is a 100 percent Mack trucks fleet, with service and support provided by Mack dealer McMahon Truck Centers of Charlotte.
In addition to distributing Coca-Cola products, the Red Classic operation provides logistics services and freight distribution for other companies, making maximum use of their Mack fleet.