From startup to major competitor using Mack trucks
Desert Ready Mix was founded in a spare bedroom in 2014 and has since grown to become one of the largest ready mix companies in the Phoenix area. Company executives say the success is due to their great team of employees. They also credit the strong support Mack Financial Services (MFS) and their Mack dealer - Vanguard Truck Centers of Phoenix, gave the company right from its beginnings.
"From day one, they had a vision," said Rob Bennett, District Finance Manager, Mack Financial Services. "They know the Phoenix market. They know the customer base. They know how to win customers and keep customers. They're counting on MFS to really go out in the field and create long-lasting relationships. You don't come in and out of the business. You're there through the thick and the thin."
"The initial investment from Mack Financial Services was huge," said Joel Jondahl, CFO, Desert Ready Mix. "Mack Financial Services, they were outside of the box, absolutely. They were willing to look past the balance sheet and understand the business and understand the people involved in that business."
"I would tell you if it's my decision, I'm not buying anything but a Mack," said Gary Curtis, President, Desert Ready Mix. "We wanted to come out of the gate and be able to perform. We didn't want to have down trucks. We didn't want to have to deal with that on a daily basis. So our model really is to run new (trucks). I don't know if anybody buys more Macks in the ready mix business in Arizona than we do.
"We compete with the largest corporations. That makes me very proud that our customers chose us."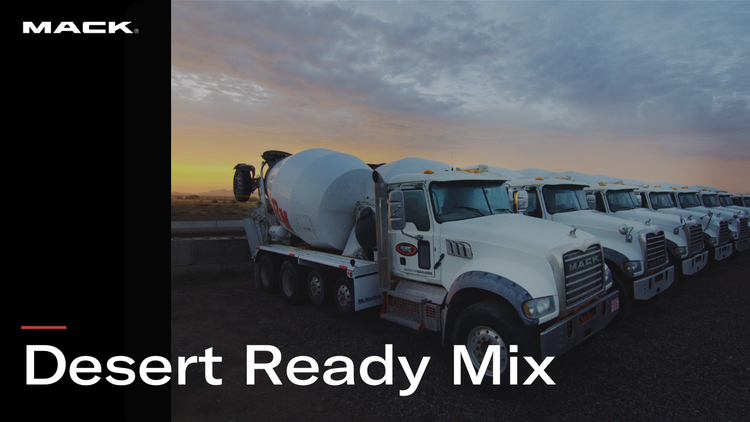 https://main--vg-macktrucks-com--hlxsites.hlx.page/media_1bede00187ef8f1e3723ab0ba6fe33954858415fe.mp4
"Mack Financial Services, they were outside of the box, absolutely."
Find out more about Desert Ready Mix and how its success has a foundation of support from MFS, Vanguard Truck Centers and Mack Trucks.

Bulldog® Magazine
Subscribe to Bulldog® Magazine
Be the first to know all the news about Mack Trucks and our products, plus other exciting activities.