Mack MD provides reliable roadside assistance to Québec City motorists
First-time visitors to Québec City often say they feel like they're in a piece of Europe within North America, with the remains of fortifications and the steep, narrow cobblestone streets of the four-century-old city.
For the towing and recovery specialists at Larouche Remorquage ("Towing"), however, this is home, and the narrow streets can be quite a challenge when the time comes to maneuver a tow truck and help a stranded motorist.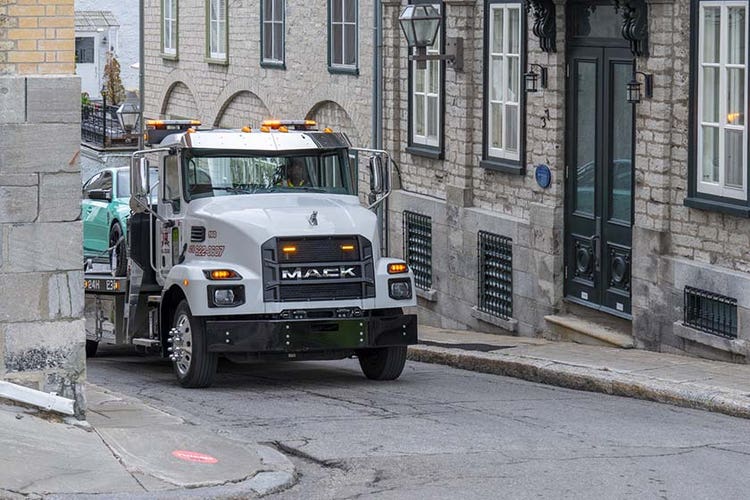 "You need a tight turning radius," says Pierre-Paul Larouche, compliance manager at the family business founded in 1979 by his father Jean-Paul and where his sister Anne-Marie is operations manager.
The need for a highly maneuverable truck means that the business depends on medium-duty trucks. But these trucks still need to be strong to do the job at hand. And it was the reputation for strength that first attracted them towards the MackÒ MD, Larouche Remorquage's first Bulldog-branded truck.
They picked a Mack MD twice in fact, because after taking delivery of their first one in July 2021, they ordered another one and received it only a few weeks later.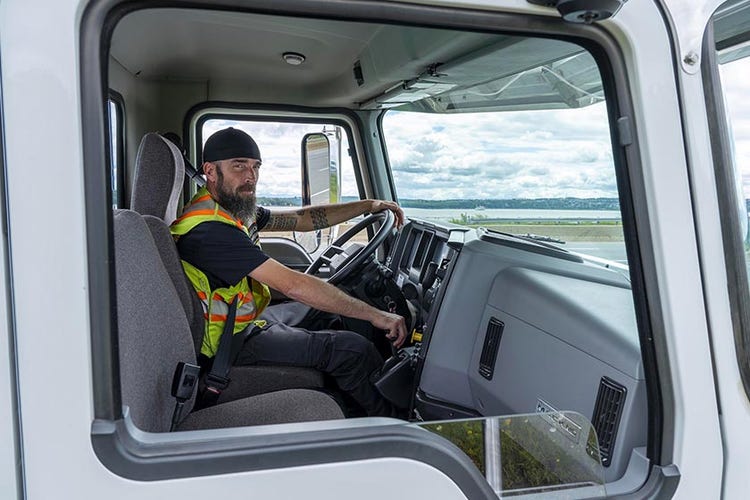 "Mack's return in the medium-duty is rather recent," Pierre-Paul says. "In our field we never had the opportunity to try a Mack because our tow trucks are smaller" than Mack's traditional heavy-duty models.
Thanks to its air suspension, the Mack MD is also lower than many other medium-duty trucks, which is a great asset for Larouche Remorquage.
The company does a lot of roadside assistance on behalf of car makers and is also a subcontractor for the Canadian Automobile Association – the equivalent of the AAA in the U.S. – which means that they often have passengers climbing into their trucks. Entry and egress has to be easy for these "civilians."
"Since our goal is to be as low as possible, the MD's air suspension allows us to lower an additional 3-4 inches," Pierre-Paul says.
And there's plenty of room in the MD to welcome customers. "It's a real truck cab, kind of like a big truck cab on a medium-duty vehicle. It looks good, too. It's not embarrassing for us to welcome customers aboard," Pierre-Paul says.
Driver satisfaction was also key to the decision to purchase the MDs, as they still feature Mack's renowned driver comfort and ergonomic controls in a medium-duty truck.
François Chabot is one of Larouche Remorquage's drivers, and the company's first MD is his dedicated truck. "When I learned that this would be my next truck, I was thrilled. It's a great-looking machine, and the visibility is superb," Chabot says, adding that power is always available.
"It's got torque, even when heavily loaded. It takes whatever you ask it to. And it's just the right size, not too big and not too small. It's a good puppy."
That kind of satisfaction is music to Pierre-Paul's ears, as the towing and recovery industry is facing a severe driver shortage, just like the trucking industry in general.
"You have to have nice trucks for the guys to stay," Pierre-Paul says, well aware that the job can be tough.
Tough job
Being a tow truck operator is not your average trucking job. Operators spend almost half of their time outside the truck, crawling on the ground to attach and winch cars in weather conditions that can be harsh, particularly in Canada.
Québec City was just recovering from its first snow storm of the year when the Larouche family was interviewed for this article. There had been a lot of cars to recover and tow after drivers lost control because winter tires hadn't been installed yet, and the company was very busy.
Luckily, the two Mack MDs are equipped with underlift arms – or wheel lifts – in addition to the usual deck. The telescopic device can be deployed and placed under the wheels of a car so operators can move two of them at once.
"Often when a road collision occurs, instead of having to send two tow trucks, a single one is capable of clearing the highway or other wreck site and bringing back the two cars involved," Pierre-Paul says.
Time is definitely a factor on an accident scene as well. "You need to be fast and efficient. When there's a major accident on a highway, you don't want traffic to be clogged for two hours in Québec City," Pierre-Paul adds.
The biggest challenge is that every towing situation is different. Cars to be towed aren't always on a straight line with plenty of space to work around, so the tow truck operators often need to think outside the box and find creative solutions.
"When a car's 50 feet into the woods, there's a lot of head scratching going on," Pierre-Paul says.
Anne-Marie gives the example from the previous weekend when a car had gone through a metal mesh fence that fell back on it afterwards and made the operation much more complicated.
"It's the same thing with guardrails. When cars go over them, we can't just pull them back on their tracks. We are equipped to get them back up and over the guardrail again and then back on the pavement," she says.
Clean chassis
All that equipment – tilt deck, underlift arms, winch and more – runs on hydraulics driven by the engine's PTO and are a crucial part of a complex body system. So it's important that the MD's clean chassis design and short BBC makes the body builder's work easier and also allows installing a longer body.
"We have hydraulic cylinders, tanks, toolboxes to put on. There's a lot of equipment to install all around the vehicle so it's important that you don't have components in the way. Mack offers that," Pierre-Paul says.
Their Mack dealership, Mack Ste. Foy, performs any warranty repairs, but Larouche Remorquage takes care of the routine maintenance itself. Dependability is vital when you are the roadside assistance, and Mack delivers that additional peace of mind for the company.
Thousands of calls per year
When Larouche Remorquage was founded 43 years ago, Jean-Paul Larouche ran the business with a single truck. Today the company's fleet is made up of 35 trucks and could easily be bigger. "The demand [for our services] is there; it's the workforce that's lacking," Jean-Paul says.
It's not unusual for the company to answer more than 100 service calls a day. That's thousands of calls every year.
"It's really 24/7," Pierre-Paul says. "We don't even have a key to lock the door anymore," he says with a laugh.
Over the years, the company's success has relied a lot on service quality. "We developed a niche in the towing and recovery market years ago when the industry was known to be a little 'Wild West.' We decided to go towards professionalism, courtesy and honesty," Jean-Paul says, adding that it's probably why many police departments call them on accidents.
Diversifying activities also proved to be a winning strategy. Larouche Remorquage now also does heavyweight towing and even hauls general freight in more conventional trucking operations.
Those require class 8 trucks. And guess what? They are considering a Mack as their next big rig.

Bulldog® Magazine
Subscribe to Bulldog® Magazine
Be the first to know all the news about Mack Trucks and our products, plus other exciting activities.