AWD Mack Granites power Commercial Ready Mix Products
When truck driver Cliff Davis hauls ready-mix concrete for Commercial Ready Mix Products Inc., he's likely to encounter famous Corolla wild horses, sea birds and swirling sand obstacles as he travels along 12 miles of exposed beaches in the northernmost part of North Carolina's Outer Banks. The remote route is only accessible by boat or AWD vehicle, and when the tide comes in, it is even narrower. "I can't afford a breakdown or mother ocean may take ownership of the truck," Davis says.
That's why CRMP Vice President Tim Newsome says the company depends on the reliability and toughness of the four all-wheel-drive 6x6 Mack Granites®with 445 hp MP®8 engines they recently added to their fleet. The company started operating the new equipment in fall 2022, and Newsome says they have been impressed with the visibility, stability and comfort of the new Granites.
"Operating on soft, crawly sand is tricky terrain that requires the right equipment for reliable, on-time delivery. We've been really pleased with the stability, fuel economy and enthusiastic response from drivers like Cliff," Newsome says.
"I hauled 32,000 pounds of concrete or eight yards, on the beach and got up to 20 miles per hour. That's one tough truck," Davis says.
Strength isn't the only thing operators are noticing about the new Granites. CRMP drivers have been giving rave reviews to their Granites' maneuverability and tight turning as well as the sloped hood and large windows that provide enhanced visibility. And the interior is equipped with Mack Co-Pilot, a full-color, easy-to-use digital monitor that displays real-time vehicle information.
"The drivers love the comfortable seats and flat-bottom steering wheel," says Tom Sawyer, Outer Banks area manager for eight years. "The all-wheel drives are rugged enough to drive on sand and sturdy enough to handle inclement weather and high winds," Sawyer says.
While the truck is sturdy and powerful enough to haul the mixer, it's still light enough to balance the productivity ratio. Mixers are not known for getting great fuel efficiency, but Sawyer says he's been amazed at how much better mileage they are getting than some of their other models. "Fuel economy is extremely important to our bottom line, and we spend a lot of resources training drivers to drive efficiently," Sawyer says.
Both Newsome and Sawyer say they have a great relationship with Roy Horton, salesperson for TranSource Truck & Trailer Center in Greensboro, North Carolina. "He was with us every step of the way as we spec'd the trucks," Newsome says.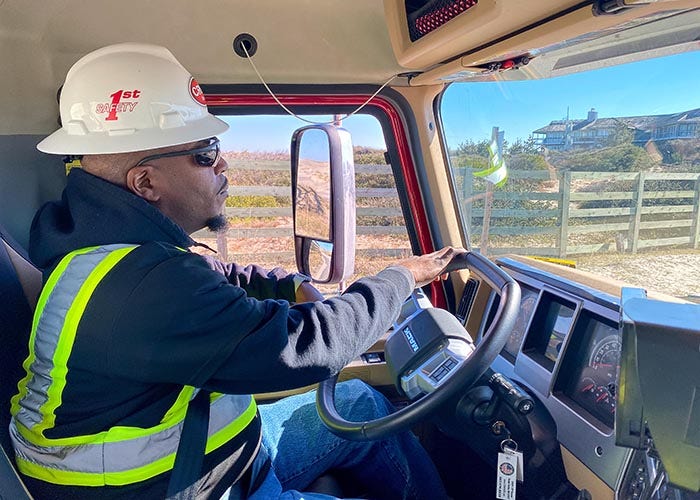 LaVelle Jenkins pilots his Mack Granite along the beach while delivering a load of ready mix to a construction site on the Outer Banks.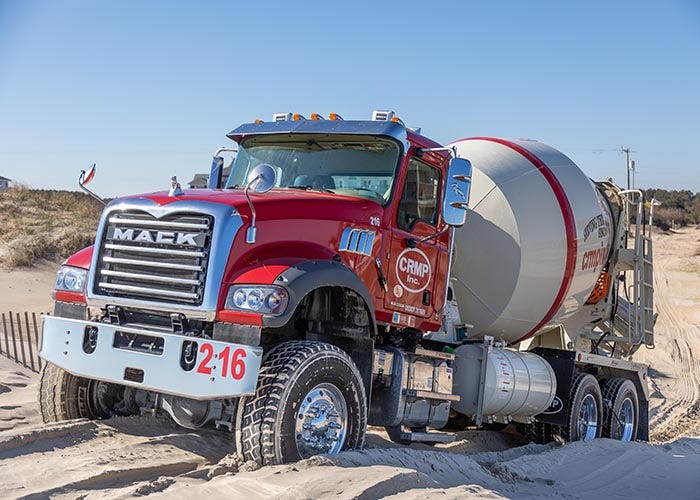 A rugged all-wheel-drive Mack Granite with high ground clearance is what it takes for CRMP to deliver concrete in deep, soft sand.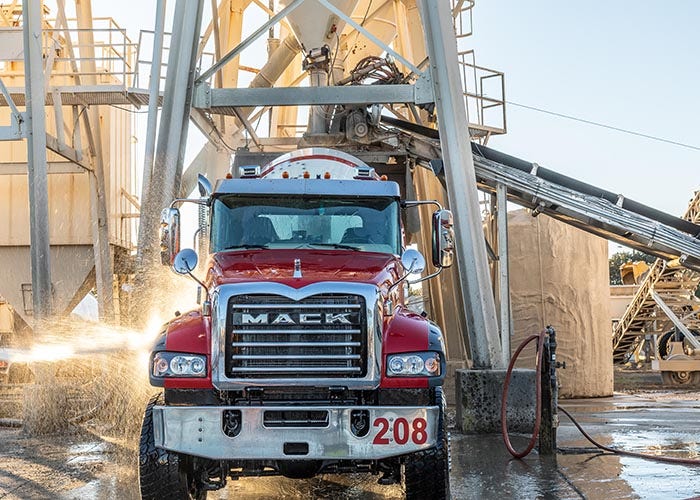 One of CRMP's all-wheel-drive Mack Granite mixers gets washed down after loading.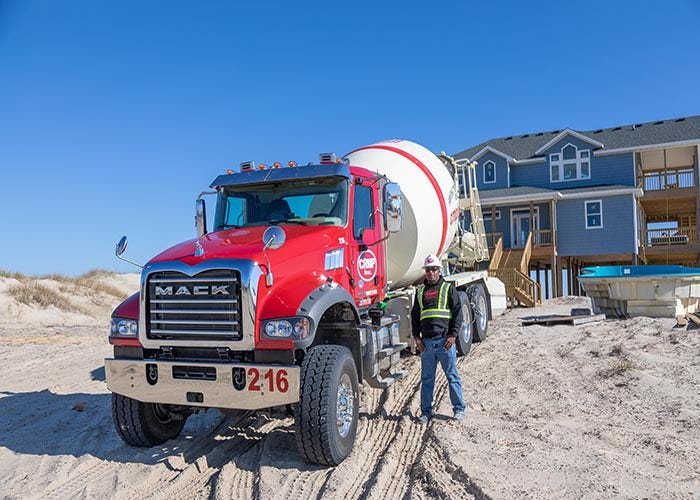 CRMP driver LaVelle Jenkins with his Mack Granite at a construction site on the beach at Corolla, N.C.
Challenges met
Hauling ready-mix concrete comes with unique challenges. The pours are scheduled around weather and temperatures, and truck drivers must adjust to the variables. "While there's no overnight hauls, it's not an 8 to 5 job. In the heat of the summer, pours may occur at midnight or early morning to beat the temperatures," Newsome says.
As with any industry, it can be challenging to recruit and retain good drivers. However, he says they have many long-time employees and much of their new hires are from word-of-mouth. "CRMP is fortunate to have an excellent dedicated team," says Newsome.
CRMP was started in 1975 by Newsome's parents, Bob and Jane Newsome. In the nearly 50 years since, CRMP has grown to employ 275 people and operate more than 100 mixers and 40 haul units. The company started in Cofield, North Carolina, and in 2003 moved to their current headquarters in Winton, North Carolina. They now have 11 permanent concrete batch plants in Northeastern North Carolina, the Outer Banks and Southeastern Virginia. They also operate three portable batch plants for onsite projects and own and operate two state-of-the art sand and gravel operations located in North Carolina.
They pride themselves on their fleet of sparkling clean ready-mix trucks that are "rolling billboards" for the high-quality professionalism they bring to the industry. The bright red trucks and white mixers are known for being the best, newest and most well-maintained equipment in the marketplace.
Newsome also credits the excitement around the trucks as a valuable tool for recruiting and retaining good drivers. "The drivers comment on how much more ergonomically things are laid out. And how sturdy the trucks are."
Current projects range from residential and commercial to N.C. Department of Transportation and VDOT work including concrete for the Marc Basnight Bridge and the Jug Handle Bridge in Outer Banks. In Virginia, projects include the High Rise Bridge and the HRBT Tunnel expansion among many others.
In recent years, the company faced supply chain and labor issues as they navigated through the economic effects of COVID-19. But Newsome says 2022 will end up being a strong year and they look forward to further growth next year as supply issues have eased and labor is back on target.
The future is bright for CRMP, and Newsome says he credits his father's work ethic for setting the tone of the company. "CRMP's solid reputation for reliability comes from operating a family-owned business. We keep our word to our customers and do what we say we will do," Newsome says.

Bulldog® Magazine
Subscribe to Bulldog® Magazine
Be the first to know all the news about Mack Trucks and our products, plus other exciting activities.