Mack's second BEV adds zero emissions to MD Series' strong reputation
The highly successful Mack® MD series now includes electric drivetrains. The medium-duty Mack MD Electric becomes the second zero-emission battery electric vehicle (BEV) in the Mack lineup, after the LR Electric, which began production in 2021.
The MD Series was introduced in 2020 and has since gained a reputation in the truck industry for continuing Mack Trucks' heritage of toughness and durability while bringing all-day comfort to drivers. It has also earned success through its versatility and ability to mount an array of truck bodies.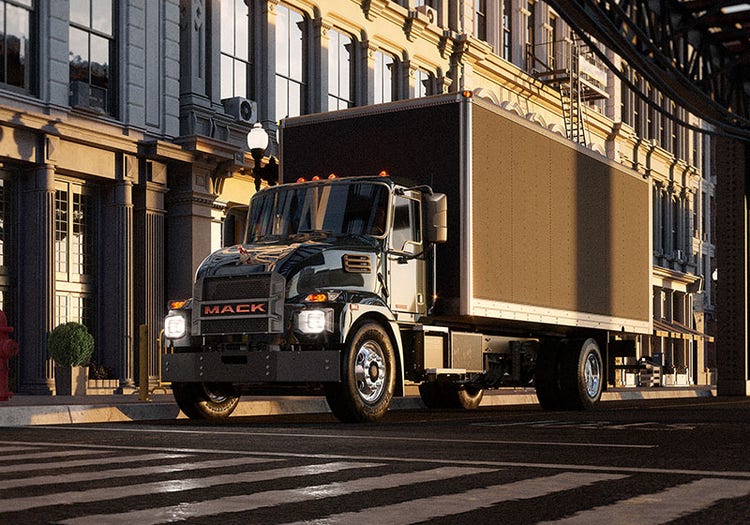 The MD Electric is important for Mack's push to decarbonize and build a more sustainable future, says Martin Weissberg, global president of Mack Trucks. He adds that the company will continue its investments in technologies that benefit the environment and society.
The MD Electric will be available in both a Class 6 and 7 truck. The Class 6 model has a gross vehicle weight rating (GVWR) of 25,995 pounds, and the Class 7 model has a GVWR of 33,000 pounds.
The MD Electric is offered with either a two-battery or three-battery drivetrain, with a maximum range of 140 miles for the two-battery system and 230 miles for the three-battery system. The MD Electric can be charged with AC or DC charging units, increasing the flexibility for operators, while its regenerative braking system helps recapture energy from the multiple stops vehicles make each day.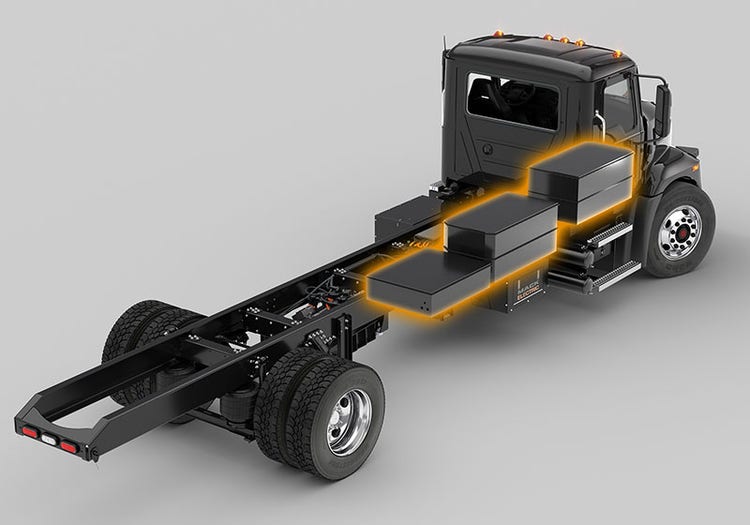 Its electric drivetrain provides impressive power and response, with peak 260 hp and 1850 lb-ft of torque. It also delivers lower emissions, less noise and reduced maintenance costs.
Similar to the diesel-powered Mack MD Series, Mack matched the bold look and styling of the Mack Anthem®, Mack's highway model, as a basis for the MD Electric grille and hood design. The Mack MD Electric will be supported by Mack dealers, many of which are already Mack Certified Electric Vehicle (EV) dealers.
Jonathan Randall, president of Mack Trucks North America, says the MD Electric will help Mack customers meet their sustainability goals without sacrificing durability, reliability and total cost of ownership.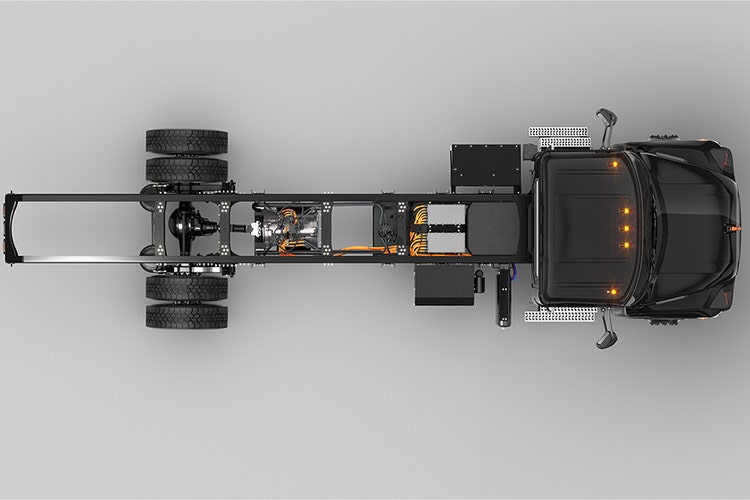 The MD Electric is also supported by Mack's electromobility infrastructure and integrated offering designed specifically for the needs of BEV operators, including:
The five-year Ultra Service Agreement, Mack's most comprehensive 5-year, bumper-to- bumper protection plan.
Vehicle as a Service (VaaS), an all-inclusive lease that allows fleet operators to ease into eMobility without large upfront capital investments. VaaS provides the ability to choose your level of commitment with full lifecycle financing options and renewable five-year terms.
Infrastructure as a Service (IaaS) takes guesswork out of infrastructure upgrades with turnkey solutions including design, installation, and all-inclusive financing up to a 60-month loan.
Both models are exempt from the 12 percent Federal Excise Tax (FET).
Initial availability of the new Mack MD Electric is expected in late 2023.

Bulldog® Magazine
Subscribe to Bulldog® Magazine
Be the first to know all the news about Mack Trucks and our products, plus other exciting activities.