Refineries rely on fleet to keep operations flowing non-stop
Every day, the drivers and the rest of the team at the Wilmington, California, operation of Savage face a daunting, unending challenge. Most of the refineries serving Southern California depend on the Savage team and their blue Mack Anthem® fleet — with its distinctive silver and orange stripe and silver trailers — to safely and reliably transport product from the refining process, helping ensure an uninterrupted flow of refined fuels for consumers in the region.
"We're really helping to power the lives of the motoring public in California," says Adam Thompson, vice president of Savage's Western Production Services Unit. "We can't do that without Mack tractors."
The Wilmington fleet transports petroleum coke ("petcoke") from the refineries to the Ports of Los Angeles and Long Beach, where it is shipped to other markets. Petcoke is the last residual product of the petroleum refining process. It can cause refineries to stop producing if it isn't regularly hauled away.
"We move about five million tons of product every year out of nearly every refinery in the Southern California Basin," Thompson says. "We perform similar work in the Gulf Coast region and other locations in Texas. The Los Angeles-area refineries are landlocked, so the only option is to truck petcoke to the port, so that's what we do. Refineries have to get it out of their [system] or they can't function."
"The refineries operate non-stop, every hour of every day of the year," Thompson adds, "so Savage does too. It's essential that we're moving this product on a very ratable basis. If our customers need 100 loads of petcoke moved in 12 hours, we'd better have 100 loads moved in 12 hours, spaced out accordingly."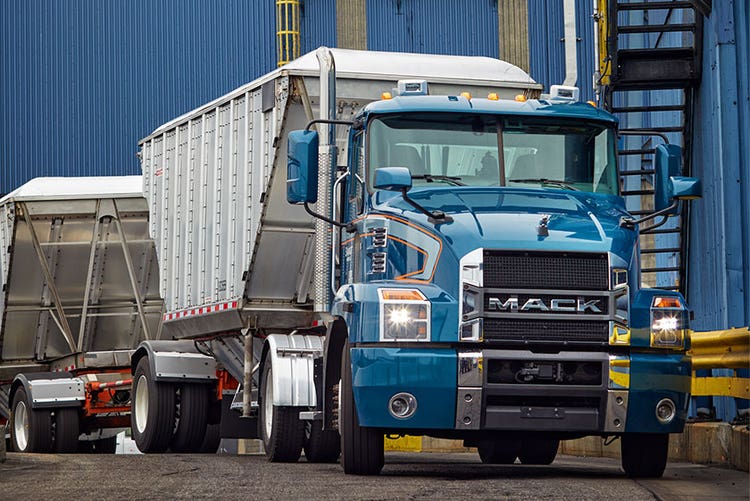 The truck matters
It helps to have a truck that is easy to drive in Los Angeles congestion and on high-pressure freeways. That means excellent visibility, a good turning radius and Mack's m DRIVEÔ automated manual transmission, plus a great driver's environment. There's a lot of competition for good drivers, and Anthems help attract and keep them.
"Drivers really like the trucks. They're comfortable," Thompson says. "They also appreciate the [integrated] hood mirrors. A confident driver is usually a safer driver, and part of that comes from visibility, comes from ease of driving the tractor."
"Most people appreciate the distinctive front-end look, the bold stance," he adds. "It's a stance that's undeniably Mack."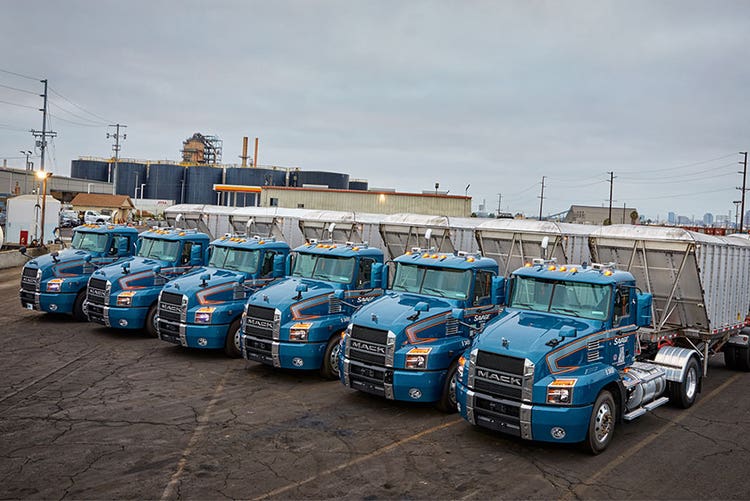 Partnership
"Our mission is to be indispensable to our customers," Thompson says. "That's the goal of what Savage does everywhere."
Mack is Savage's partner in this mission, delivering reliable and durable trucks spec'd for the job at hand and backed by an industry-leading service network.
Savage Wilmington's Mack dealer is TEC La Mirada. "The partnership between Savage and Mack is also strengthened by the dealer network here in California that allows us to keep moving and has kept us going exclusively to Mack," Thompson says. "We're not their biggest customer, but they make us feel like their most important customer."
Helping make sure Savage's trucks are up and running is an important part of that relationship.
"The trucks have to be dependable. There's a revenue aspect of it, but there's also an expectation from the refineries that our trucks are running all the time, moving petcoke for them. That speaks to where your dealer comes in," Thompson says. "Every truck is going to have anticipated repairs or breakdowns, so when you do have a breakdown or something unexpected, you need a partner who's going to execute timely repairs. If you can't move a refinery's product, they'll find someone who will. It's just that simple."
It's a very demanding application. In fact, Thompson compares it to a stop-and-go refuse operation in terms of equipment stress, and he emphasizes that equipment reliability is huge. "You can't build reliability without a very structured and comprehensive preventative maintenance program. So we have a team of 12 mechanics who collectively work 24/7 because the trucks are running 24/7.
"Our trucks work about 11 hours a shift, two shifts every single day, 24/7. They only stop to swap out drivers, fuel or to do pre- or post-trip maintenance. High demand, high usage, lots of start and stops. On one route, I calculated a driver would start and stop his truck 40 times in a shift. We drive them hard."
And the refineries use them hard, too. The refineries can load 26 tons in about 12 seconds. And Savage is "fighting for every ton of payload," Thompson says, which makes the lightweight Anthem even more attractive.
Safety First
Safety is also a key consideration. After all, Savage operates around the clock on the freeways and surface roads of Los Angeles and Southern California, which aren't always the calmest or easiest roads to drive. In-depth and extended driver training by the company is just the beginning.
"We have a very comprehensive safety program," Thompson says. "We have forward-facing cameras, and we have rear-facing cameras. We use them to do accident investigations, and we'll use them for driver coaching. So they not only record what the driver does, but they record us going through intersections. Our trucks go through over 200,000 intersections with stoplights in a month, so if our cameras record a violation, we can bring the driver in for coaching and improvement."
Other onboard safety systems include blind spot detection and lane departure notifications. "We need every technical advantage we can get to help keep our drivers and the motoring public safe," Thompson says.
And of course, to help Savage do their part to keep the refineries open and product moving. "It's California—we've got around 14 million cars, and they're all supported by the refineries in the basin."
It's no small job, but Savage is up to the task with their Mack Anthems.