Bray Trucking turns to Mack for reliability and support
Bray Trucking, located in Alexandria, KY, has been delivering aggregate and dirt to customers in the northern Kentucky and Cincinnati markets since 1945 when Maurice Bray bought a flatbed truck and began hauling hay, sand and gravel.
Today the company run by Brandon Bray, president (grandson of Maurice) and Chris Cusick, general manager, operates 35 tri- and quint-axle Mack Granite dump trucks and eight slinger trucks that are mounted on Mack® Granite chassis and feature a conveyor system that can spread gravel. Bray is currently the largest company in greater Cincinnati that provides this service.
Honoring service
New this year for Bray is Granites with graphics that are meaningful beyond simply identifying the company. "One is for veterans, another for first responder and a third has a patriotic theme," Bray explains. The graphics feature silhouettes of service members and first responders.
"The goal was to recognize those who are being of service to others. We wanted to do something that was really visible to show out support not just on the job sites but in the neighborhoods and on the interstate," he says. Three of Cusick's children have served in the military.
So far, the response to the trucks has been positive especially when it comes to the veteran-themed truck. Cusick says drivers get salutes several times a day and the company has had requests for the truck to appear in parades as a way to honor veterans.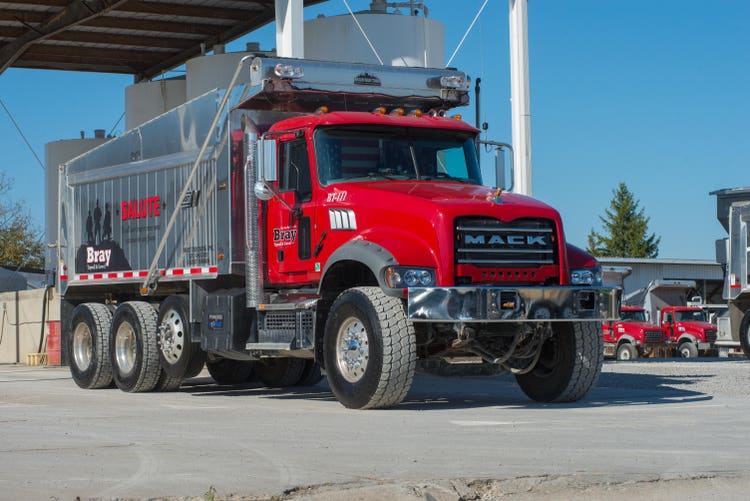 Choosing a gold Bulldog pedigree
Cusick explains that Bray was not always a Mack fleet, but switched in 2003 after experiencing issues with its previous brand of trucks. Lori Lischkge, sales manager at Lischkge Motors, says that back then the dealership "was able to build a spec from the ground up" to meet the specific needs of Bray's hauling application. Lischkge says they looked at duty cycle, weight laws, commodities being hauled, terrain, etc.
"They went with a 'gold Bulldog pedigree,'" she said. That means a Mack MP® engine, a Mack transmission and Mack rear axles. Having an all-Mack powertrain simplified maintenance and repairs and eliminated "finger pointing" among equipment suppliers.
According to Bray, "We made the switch and have liked the reliability of the Macks as well as the customer support we get from at Lischkge Motors." Drivers like the Mack m DRIVE™ automated transmission on the trucks. Lori Lischkge says she has been Bray's point of contact at the dealership from the beginning and will continue to serve in that role.
Cusick says that top-notch customer service is what has made Bray Trucking successful "and the customer support we get from Lischkge Motors helps keep us up and running to meet the needs of our customers."
Uptime is critical
The seasonality of the aggregate hauling industry in Bray's market area, makes uptime crucial. "We have windows of time when we have to have all our trucks out serving customers so we can be profitable for the whole year," Cusick says.
One example of that was a recent project for Amazon at the Cincinnati airport. "Our average deliveries were 7,000 tons a day," Cusick says. "Some days we exceeded 10,000 tons and to make those deliveries possible we needed our trucks running. I believe we delivered a total of 1.4 million tons of product to that site."
Lischkge says she monitored the project and "watched the trucks consistently deliver day in day out. We were part of the uptime team and made sure the trucks kept going."
Bray attributes part of his business' success to the customer support they get from Mack and the dealer along with the reliability of the trucks. Along with that, "We operate as a family and provide the best customer service in the industry."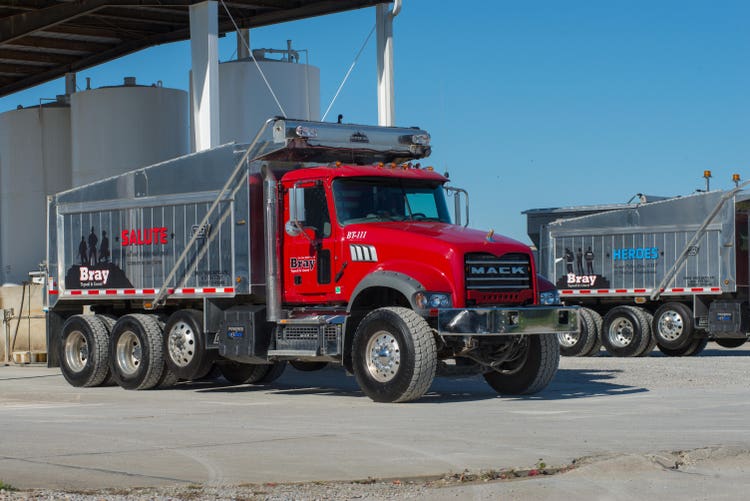 After sale support
Like most truck operators, Bray experienced some issues with parts shortages, but Cusick says Lischkge Motors did "a great job of locating what we needed if they didn't have it." Lischkge along with Mack also helped ensure that Bray had the trucks it needed during recent pandemic-related supply chain issues. "Lischkge and Mack made a commitment around the timely delivery of new trucks, and they made that commitment over the period of several years," Cusick says. "They were willing to work with us to ensure we get the trucks we need."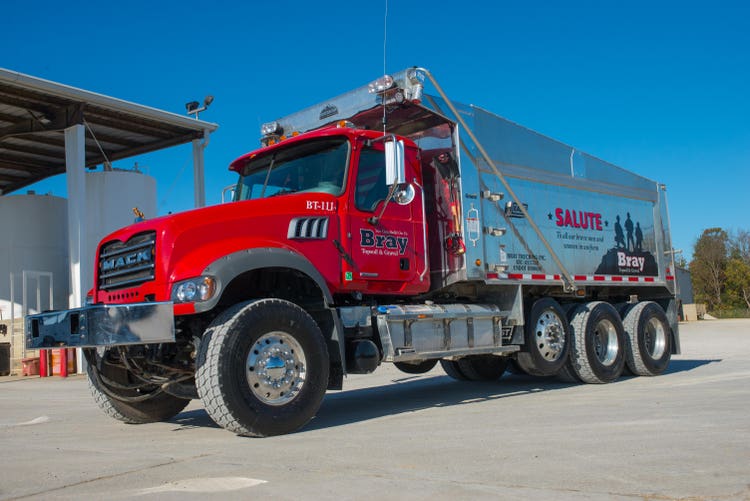 While Bray has five technicians who handle the maintenance and repair of its trucks in house, it relies on Mack's Premium Tech Tool diagnostic software, to assist with troubleshooting problems. If needed, Lischkge general manager/service manager, Robert Lischkge can "remote" into the trucks much like an IT technician can when there is a problem with a computer. He assists with diagnosing and repairing a problem if the Bray technicians need extra guidance.
Mack's online training classes are another factor that Cusick appreciates about Bray's relationship with the OEM. "Our mechanics can take online classes and learn troubleshooting tips and also about new upgrades to the vehicles."
Continued growth expected
Cusick expects the pattern of growth to continue at Bray. "In the past, as our customer base grew in our geographic area, we grew," he says. "As long as or geographic area continues to grow, we will grow like we have for the past 75-plus years."

Bulldog® Magazine
Subscribe to Bulldog® Magazine
Be the first to know all the news about Mack Trucks and our products, plus other exciting activities.