REMACK® Axle Parts
REMACK goes above and beyond to deliver long-lasting, durable remanufactured carriers that are the best fit for your truck.
Our REMACK carriers are completely disassembled, cleaned, inspected and remanufactured to bring all surfaces back to factory specifications. All bearings, cups, seals and worn and spalled gears are replaced with brand new parts. Where applicable, carrier components, power divider and lock-out assemblies are completely remanufactured, while housings are bored and sleeved when necessary. Throughout the remanufacturing process, gear patterns and preloads are checked to ensure proper specifications are maintained.
Why choose REMACK?
You have a choice between REMACK and Rebuilder Series™ carriers.
REMACK Carriers are fully disassembled to their most basic components and remanufactured to meet the original factory specification. All bearing housings and other surfaces are renewed to factory specifications and all internal components are inspected. Any components failing the inspection are replaced with new.
Rebuilder Series Carriers are disassembled and inspected, with any worn components replaced with new. There is limited inspection, with no remanufacturing process as with REMACK.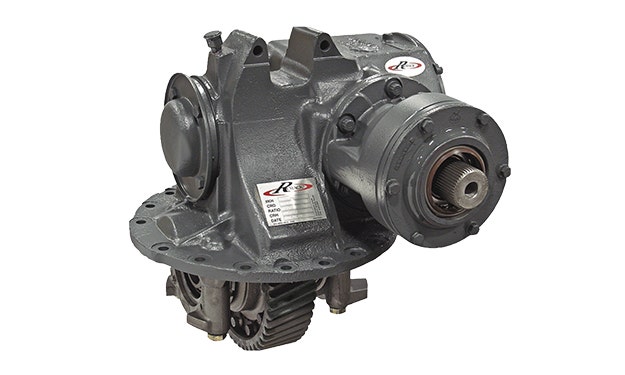 REMACK CARRIER

REBUILDER SERIES™ CARRIER

Two-year, unlimited mileage warranty* (95/96 models: six-month, unlimited mileage warranty).
One-year, unlimited mileage warranty*.
Most Mack Models available.
Most Mack Models available.
Units are completely disassembled, cleaned and remanufactured. Bearings, races, seals, shims, bull hear nuts and bolts are replaced with 100% new.
100% new bearings and races installed. However, low mileage take-out units or assemblies may be used.
Remanufactured to bring all dimensions back to OEM specifications for size and finish on all housing bores and wear surfaces. All inspection done with calibrated gauging.
Visually inspected for obvious damage — limited gauging of parts or housings.
Machine all parts and housings back to OEM specifications.
Visually inspected for obvious damage only.
100% Pure Mack parts.
Parts removed at teardown are inspected for re-use.
Assembled by trained factory technicians.
Engineering backing and guidance.
*See warranty manual
WARNING: Use of a carrier other than what is listed above may result in carrier failure or unsatisfactory performance, and will void engine warranty.