Axle Carriers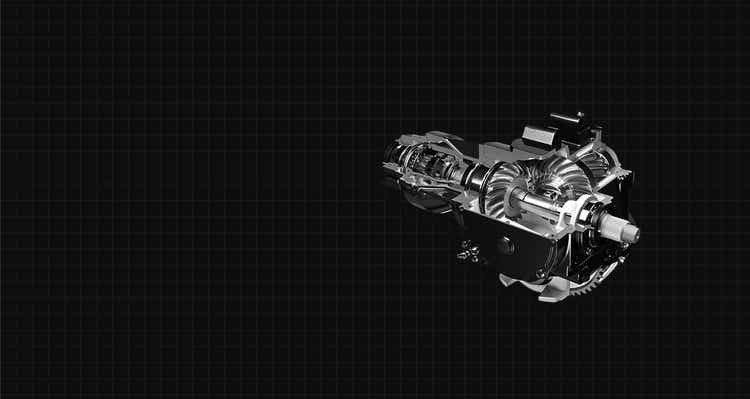 Our proprietary Mack® axle carriers deliver the power, performance and efficiency when you need it most.
AXLE CARRIERS
Carry on.
See why Mack carriers and power dividers are the only option when you're hauling heavy.
Mack axle carriers combine innovative design with durable dependability for features and performance that you won't find anywhere else.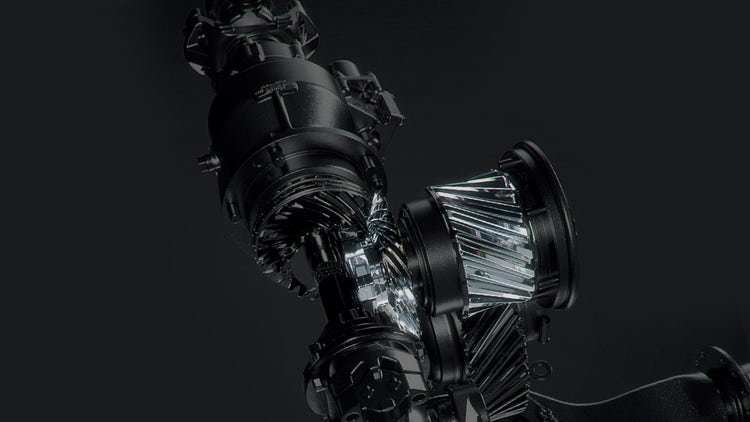 Dual-Reduction Architecture
Double reduction gearing spreads and balances loading over two gear sets to maximize durability.
Energy-Efficient Design
Mack-patented Durapoid bevel gear design eliminates localized stress and tooth-end loading to improve fuel economy, maximize energy efficiency and extend gear life.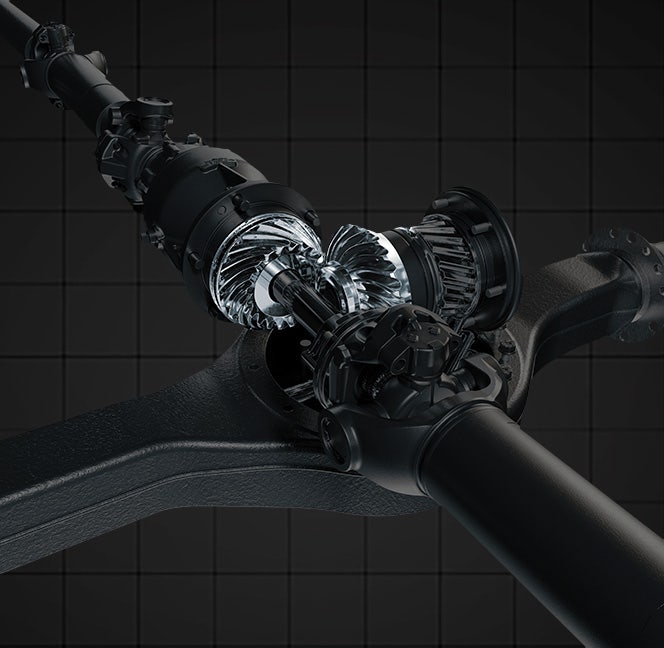 A key component to Mack axle carriers, Mack power dividers deliver inter-wheel and inter-axle power divider capabilities to keep you moving, even when your wheels aren't.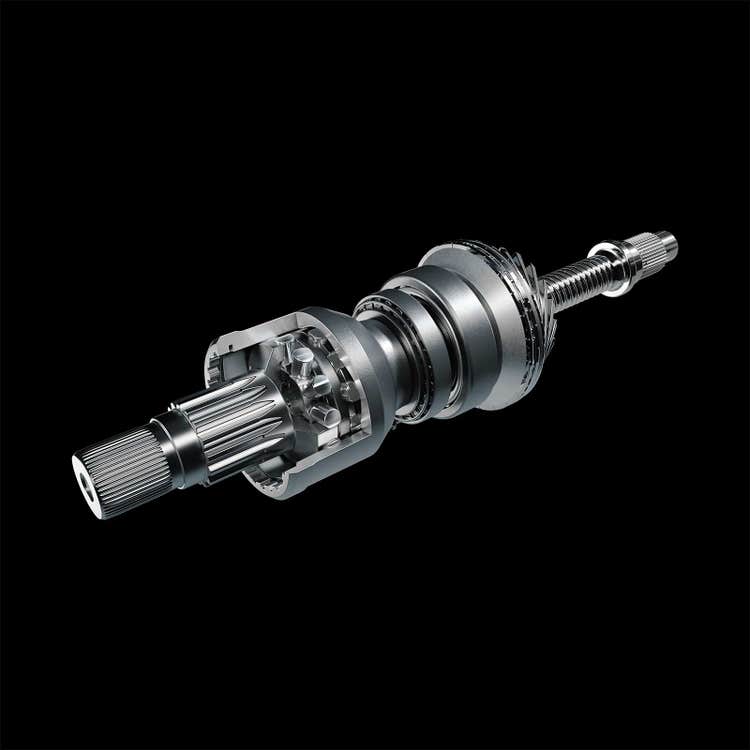 Inter-Axle Power Divider
Mack's inter-axle power divider automatically diverts up to 75% of torque from the axle with no traction to the axle that has traction. No driver intervention is needed.
Transfers torque between the outer cam and inner cams using two rows of wedges
Outer cam drives the front axle while the inner cam drives power to the rear axle
Features no gears to reduce friction loss during torque transmittal
Maximizes pulling power and efficiency while reducing unnecessary tire wear
Inter-Wheel Power Divider
Mack's proprietary inter-wheel power divider works in the same manner as the inter-axle power divider, distributing up to 75% of torque from wheel to wheel to preserve traction.
Optional feature that transfers torque without any driver intervention required
Can be used with the inter-axle power divider for improved traction in extremely slippery conditions
Works at high speeds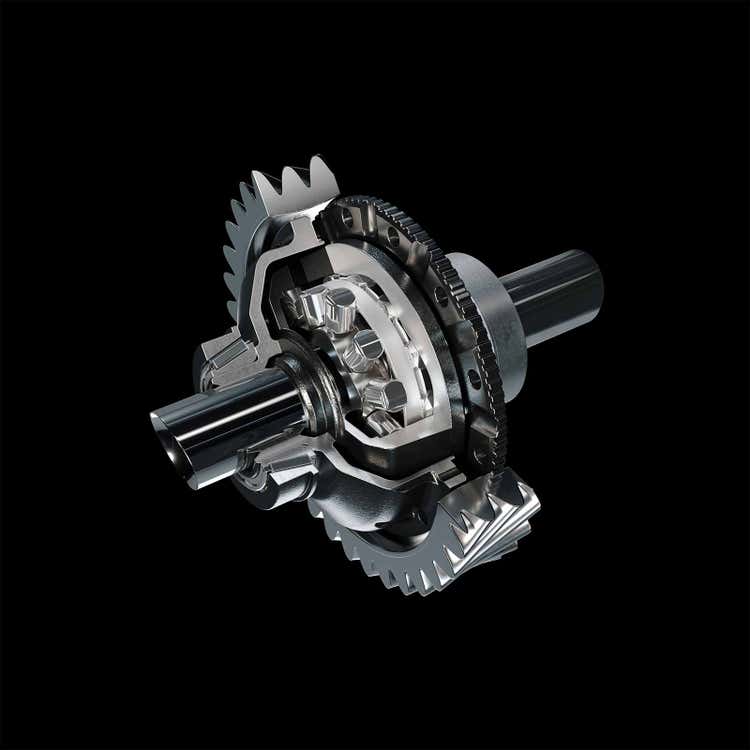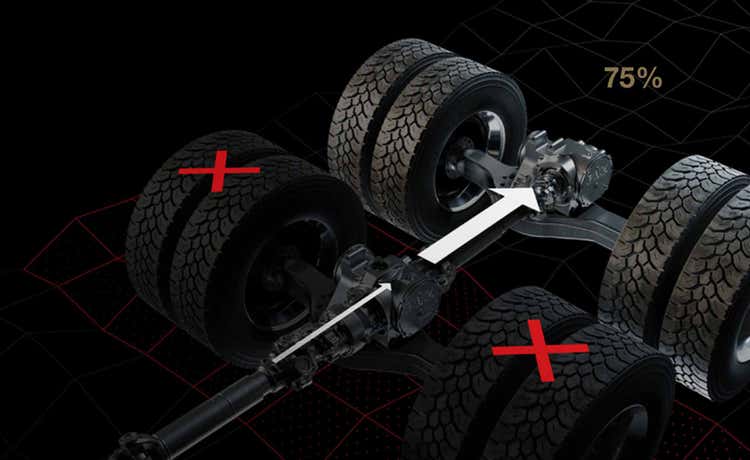 Inter-Axle Power Divider
By automatically transferring up to 75% of torque to the axle with traction, our inter-axle power divider helps you maximize traction and efficiency to keep you moving.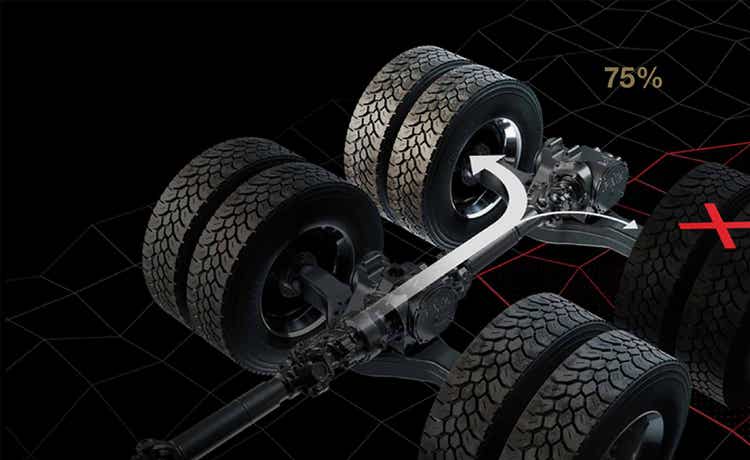 Inter-Wheel Power Divider
The optional inter-wheel power divider transfers up to 75% of torque between wheels automatically so drivers get out of poor traction conditions and on the road quickly.
Axle Model

Ratings Pounds

(kg)

GCW Highway

Standard Ratios

Ring Size

Gear Pitch

(mm)

Axles Shaft

Spline Size

(mm)

Housing

Box Size

(mm)

Wall Thickness
S38/40

34,000

(15,436)

80,000

(36,320)

2.28, 2.47, 2.64, 2.79,

2.85, 3.08, 3.25, 3.36,

3.42, 3.55, 3.70, 3.90,

4.11 Optional Ratios

Available

15.31

(388.91)

2.10 (53.3)

41 Teeth

1.88 (47.8) /

2.00 (50.8)

0.37 (9.5) Std/DualTrac™

0.43 (11.0) Std/DualTrac

0.56 (14.3) Wide Track

S48/50

40,000

(18,160)

145,000

(65,830)

2.28, 2.47, 2.64, 2.79,
2.85, 3.08, 3.25, 3.36,
3.42, 3.55, 3.70, 3.90,
4.11, 4.33, 4.63, 4.88,
5.29, 5.86, 6.14,6.43,
6.83, 7.17
15.31
(388.91)

2.10 (53.3)

41 Teeth

1.88 (47.8) /

2.00 (50.8)

0.37 (9.5) Std/DualTrac 0.43

(11.0) Std/DualTrac 0.50

(12.7) Standard Track 0.56

(14.3) Wide Track

S58/60

44,000

(19,976)

44,000

(19,976)

3.70, 3.90, 4.11, 4.33,

4.63, 4.88, 5.29, 5.86

Available in Hypoid

Ratios Only

15.31

(388.91)

2.10 (53.3)

41 Teeth

2.00 (50.8)
0.50 (12.7) Standard Track
0.56 (14.3) Wide Track