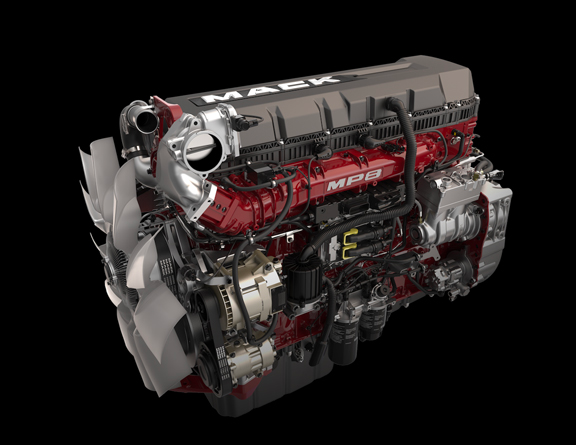 MP®8
The MP®8 engine is a legend on roads everywhere. With plenty of horsepower and torque across a wide operating range, the MP®8 delivers the muscle to shoulder heavy-duty vocational and highway workloads.
---
2.5-5% FUEL ECONOMY IMPROVEMENT
88 LBS WEIGHT SAVINGS
415-505 HORSEPOWER
1460-1860 LB.-FT. TORQUE
13L DISPLACEMENT
ASSEMBLED IN THE USA
WAVE PISTON
The next evolution in piston design
Mack's innovative wave piston design delivers 2% improvement in fuel economy and 90% reduction in soot. The waves in the piston bowl redirect flames in the combustion chamber to utilize all available oxygen for a cleaner and more complete burn than standard diesel pistons.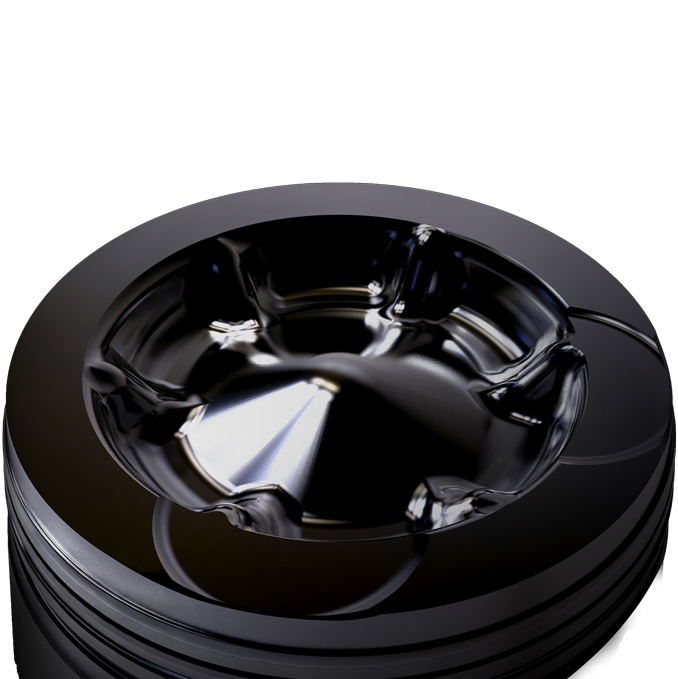 COMMON RAIL FUEL SYSTEM
Uncommon power and efficiency
This direct injection system delivers ultra-precise control over fuel injection pressure, timing and volume. The result is more power and efficiency, with less engine noise. Save fuel, gain power and lower emissions.
PowerLeash Engine Brake
More confidence while braking
The Mack PowerLeash engine brake provides more braking horsepower through mid-RPM ranges, and weighs 50 pounds less than competitive engine brakes. With better braking over the entire speed range, PowerLeash delivers the most braking ever in a Mack engine brake. You'll immediately notice how the quiet and responsive PowerLeash engine brake provides more confidence while braking.

Two-Speed Coolant Pump
Optimized for the situation at hand
Mack's improved two-speed coolant pump reduces parasitic loss by delivering the right amount of cooling capacity at the right time. When maximum cooling isn't required, the pump gears down for an extra 0.5 - 0.6% savings in fuel economy.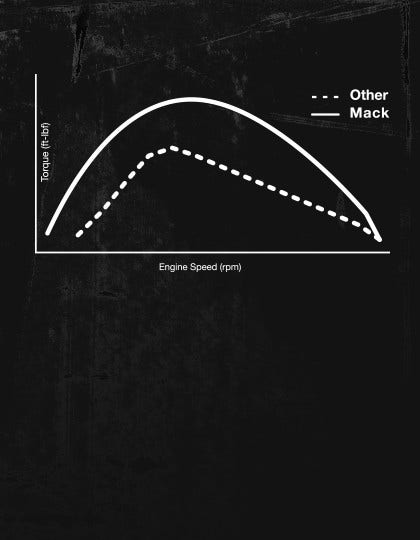 Even Distribution of Power
MP® delivers consistent power and torque across a wide operating range that can be tuned to your needs for the right mix of power and high fuel efficiency.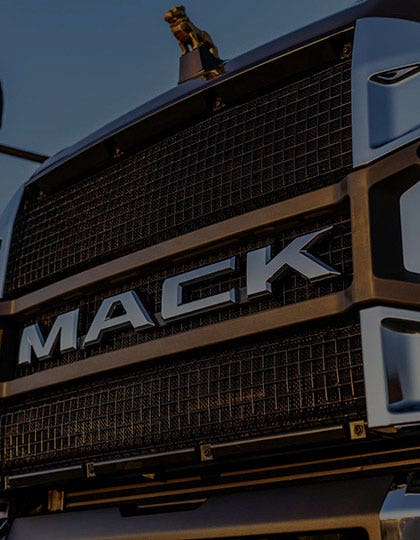 Serious Weight Savings
The lighter the engine, the more you can load. The MP®8 now weighs 88 pounds less than the previous version, which means more payload per trip day in and day out—plus better operational efficiency and more revenue.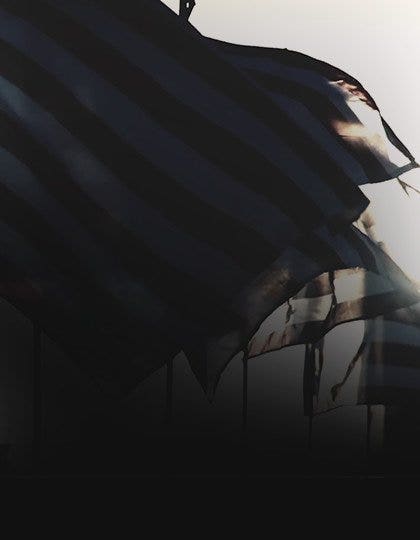 Assembled in the USA
We take pride in being homegrown. All Mack engines, transmissions and drivelines are assembled in Hagerstown, MD USA.
Maintenance Intervals
#id-2
TYPE
Direct Injection Diesel
NUMBER OF CYLINDERS
6, In-Line
BORE & STROKE
5.16" x 6.22" [131mm x 158mm]
CLUTCH ENGAGEMENT
1215 lb-ft [1647 N•m] @ 800 RPM
IDLE SPEEDS
Low: 600 RPM Adjustable – High: 2100 RPM
ENGINE BRAKE RETARDING POWER
500 HP [372 kW] @ 2100 RPM
DRY WEIGHT (APPROX)
2597 lbs [1177 kg]
Model Year 2011 and Newer Engines

Using Maack EOS-4.5 Premium Oil

NORMAL DUTY

Greater than 6 mpg Less than 39L/100km

HEAVY DUTY

Greater than 5 mpg Less than 50L/100km

SEVERE DUTY

Less than 5 mpg Greater than 50L/100km

MP® 7 / MP® 8 or MP®10 with 42 L / 44 Qt Oil Pan:

Mack EOS-4.5* Premium Oil, Filters and Fuel Filters (Replace)

MILES
60,000 / 55,000**
45,000 / 40,000**
35,000 / 30,000**
KM
95,000 / 90,000**
70,000 / 65,000**
55,000 / 50,000**
HOURS
1,700 / 1,600**
1,300 / 1,200**
825 / 750**

MP® 10 with 52 L / 55 Qt Oil Pan:

Mack EOS-4.5* Premium Oil, Filters, and Fuel Filters (Replace)

MILES
65,000 / 60,000**
50,000 / 45,000**
40,000 / 35,000**
KM
105,000 / 95,000**
80,000 / 70,000**
65,000 / 55,000**
HOURS
1,750
1,300
825

Model Year 2011 to 2016 Engines Using Mack EOS-4 Premium Oil

MP® 7 / MP® 8 or MP®10 with 42 L / 44 Qt Oil Pan:

Mack EOS-4* Premium Oil, Filters and Fuel Filters (Replace)

MILES
45,000
35,000
25,000
KM
75,000
60,000
45,000
HOURS
1,300
1,000
625

MP® 10 with 52 L / 55 Qt Oil Pan:

Mack EOS-4* Premium Oil, Filters and Fuel Filters (Replace)

MILES
50,000
45,000
35,000
KM
80,000
75,000
60,000
HOURS
1,300
1,000
625

MACK PREMIUM LONG LIFE COOLANT

Mack Premium Long-Life Coolant (Replace)
MILES
1,000,000
KM
1,600,000
HOURS
96 months
Mack Premium Long-Life Coolant Filter (Replace)
MILES
150,000
KM
240,000
HOURS
12 months

MACK PREMIUM FULLY FORMULATED COOLANT

Mack Premium Fully Formulated Coolant (Replace)
MILES
300,000
150,000
KM
500,000
240,000
HOURS
24 months
12 months
Mack Premium Fully Formulated Coolant Filter (Replace)
TIME
At every oil change

MISCELLANEOUS

Valve Adjustment
MILES
150,000 / then every 300,000
KM
240,000 / then every 500,000
TIME
12 months / then every 24 months
Fan and Accessory Drive Belt (Replace)
MILES
300,000
150,000
KM
500,000
240,000
TIME
36 months
12 months
Mack Premium Air Filter and Fuel Tank Ventilation Filter (Replace)
TIME
Maximum 24 months

TRANSMISSION AND AXLES

NORMAL DUTY
HEAVY DUTY
SEVERE DUTY
m DRIVE TRANSMISSION
m DRIVE™
Transmission oil and filter (Replace)
Oil quality: Mack Transmission Oil 97318*
MILES
500,000
Not Allowed
KM
800,000
TIME
60 months
mDRIVE™; mDRIVE™ Severe Duty and mDRIVE™ with Crawler Gears

Transmission oil and filter (Replace)

Oil quality: Mack Transmission Oil 97319*

MILES
500,000
250,000
KM
800,000
400,000
TIME
60 months
2500 h
AXLES
Rear Axle Oil (Replace)
MILES
500,000
80,000
KM
800,000
125,000
TIME
36 months
12 months

CHASSIS

NORMAL DUTY
HEAVY DUTY
SEVERE DUTY
Mack Premium Chassis Lubrication
MILES
15,000
10,000
KM
24,000
16,000
TIME
12 months
Electrical System Connectors (Check)
TIME
Every 6 months.
Power Steering Fluid and Filter (Replace)
MILES
150,000
KM
240,000
12 months
Air Dryer Coalescing Cartridge (Replace)
MILES
150,000
KM
240,000
TIME
12 months
Download Additional Information
Mack® Mp®7 And Mp®8 Engines
Related Products