Mack Anthem® Aces #Mackonomics Midterm
ATLANTA (Oct. 28, 2019) – Halfway through their year-long test drives of Mack Anthem® models, two customers – Jamie Hagen, owner of Stratford, South Dakotabased Hell Bent Xpress, LLC, and Joel Morrow, senior driver and vice president for fleet equipment procurement at Ploger Transportation based in Norwalk, Ohio – are achieving outstanding fuel efficiency. Behind the wheel of Mack Anthems for the past six months, Hagen, a bulk hauler, and Morrow, hauling general freight, have been capturing vehicle performance data over thousands of miles and posting the results to social media using #Mackonomics, Mack's hashtag for the industry-leading total cost of ownership (TCO) it is providing customers today.
Mack provided an update on the effort during the North American Commercial Vehicle (NACV) show in Atlanta. Hagen's Anthem is on display in Mack booth No. 6911, and he and Morrow are also on hand throughout the show providing first-hand accounts of their experiences.
"Fuel cost is not only one of our customers' largest expenses, but also one that can be highly variable," said John Walsh, Mack Trucks vice president of marketing. "That variability is certainly seen in fuel price fluctuations, but how a truck is spec'd and operated also impacts results. #Mackonomics sheds light on the Mack product innovations that make every drop of fuel count, and Jamie and Joel are demonstrating that committed drivers can really help squeeze the most out of a tank without sacrificing productivity."
Both Mack Anthem models are spec'd with Mack's HE+ efficiency package that combines the 13-liter Mack MP®8HE engine with Mack Energy Recovery Technology, to deliver up to 9.5 percent improvement in fuel efficiency. Both trucks are also equipped with Mack's 6x2 Liftable Pusher Axle, which automatically lifts the pusher axle based on trailer weight.
Hagen, who pulls mostly food-grade tankers, and Morrow, whose application mostly sees dry van trailers, are seeing impressive numbers so far.
"Mission accomplished, and the #Mackonomics look damn good," Morrow said. "A personal goal of mine has been to see 10 mpg lifetime average while pulling mostly non-aero trailers. Currently, my 30-day average of pulling 100% non-aero trailers is 10.75 mpg."
As each Anthem adds up the miles and the MP8HE engines are broken in, fuel efficiency has further improved.
"With 64,000 miles on the Mack Anthem, I'm starting to see daily double digits for economy," Hagen said. "I have to admit I become more impressed with this truck every day I run it."
Mack provided Hagen and Morrow their Mack Anthem models in exchange for their endorsement and promotion of their fuel efficiency efforts.
For the remainder of their test drives, Hagen and Morrow will continue to track loads, driving distances, routes, weather and more in evaluating how their Mack Anthem models stack up on fuel efficiency. Hagen (Twitter) and Morrow (LinkedIn, Facebook, Twitter) are regularly posting updates, videos and other content to show #Mackonomics in action. Content from Hagen and Morrow is also featured on Mack's social media channels (Facebook, Twitter, Instagram, LinkedIn, YouTube).
For more information about #Mackonomics, as well as a chance to meet and speak with Hagen and Morrow, visit Mack booth No. 6911 at NACV.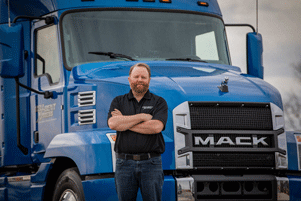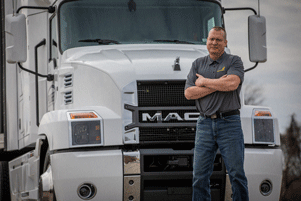 CAPTION: Mack Trucks provided an update on its year-long #Mackonomics fuel efficiency campaign at the North American Commercial Vehicle show in Atlanta. Jamie Hagen, owner of South Dakota-based Hell Bent Xpress, LLC (left), and Joel Morrow, senior driver and vice president for fleet equipment procurement at Ploger Transportation (right), provided updated on their experiences, which are also shared on social media using #Mackonomics.