REMACK® Engines & Parts

REMACK E6, E7 and MP Series Basic Engines and engine parts deliver the power and dependability you've come to expect from Mack—straight from the source.
Remanufactured for Mack. By Mack.
Every remanufactured part is inspected by Mack factory-trained technicians to ensure it meets exacting standards and follows strict processes, including:
Internal and external cleaning and bead blasting to remove contaminants
Electromagnetic crack detection
Pressure decay testing of the oil and coolant galleys
Vacuum testing of cylinder heads at intake and exhaust
Replacement with new Pure Mack parts for all pistons, piston rings, cylinder liners, bearings, bushings, gaskets and seals
Multi-point, detailed inspections before, during and after assembly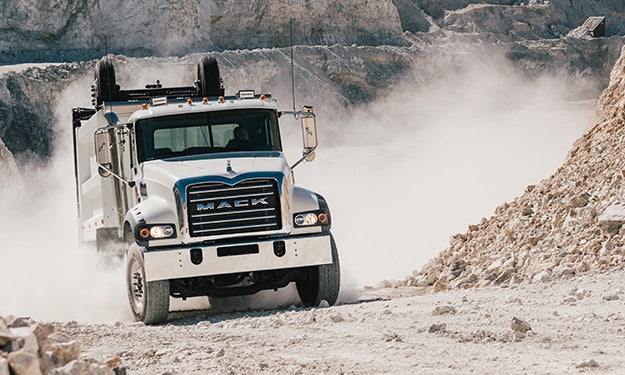 Parts replaced with 100% Pure Mack parts
Pistons
Piston rings
Bearings (Main, Connecting Rod, Camshaft)
Gaskets (Upper, Lower, Cylinder Head)
Cylinder Liners
Bushings
Seals
Parts replaced with inspected and tested remanufactured parts:
Cylinder head
Connecting rod
Rocker assemblies
Cylinder block
Crankshaft
Pistons
Oil pump
Engines
REMACK offers two levels of remanufactured engines depending on your specific needs: 3/4 Basic and 7/8.
3/4 Basic Engine Program
7/8 Engine Program
Install Kits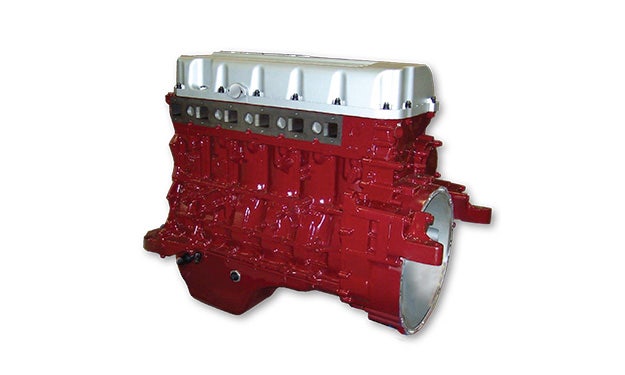 3/4 Basic Engine Program
A completely disassembled, cleaned, inspected and remanufactured engine block and cylinder head
All internal components are either replaced with Pure Mack or remanufactured from the valve cover to oil pan
Ships with an oil cooler and oil cooler cover installed
External components will need to be transferred from the original engine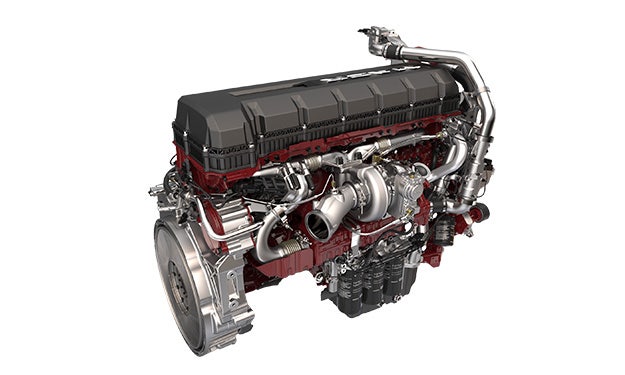 7/8 Engine Program
Complete remanufactured engine with external parts, turbo kit and six pack injector kit installed at the factory
Dyno tested and verified
Ready to program and install
Includes all components other than the alternator, starter, fan hub and power steering pump
Program designed for high volume fleet spec engines for refurbish or repower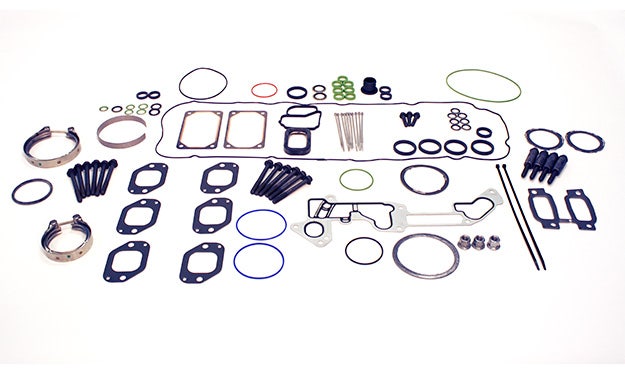 Install Kits
The Basic Installation Kit is designed to ease installation and save time for the parts technician and the mechanic. It features all the gaskets, O-rings and copper washers needed to install a Basic engine.
Muzzle Loader Cylinders
All REMACK castings are Magnaflux-inspected and pressure-tested. Computer-controlled machining ensures OEM/reman specs. All valves and valve seats are inspected, machined and tested to ensure a proper seal. New valve guides and rotors are installed.
Muzzle Loader Cylinder Kits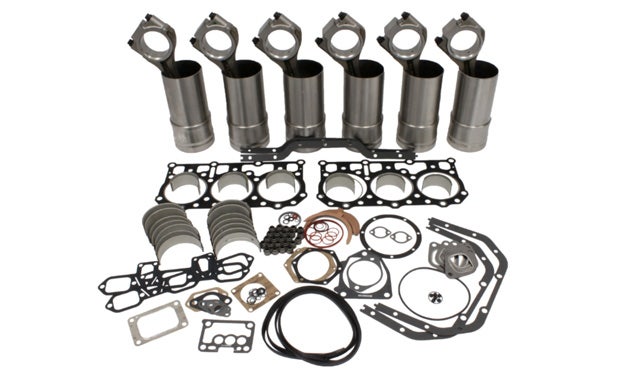 All remanufactured Muzzle Loaders™ come ready to install into cylinder bores. Assembled units come complete with reman connecting rods, piston crowns, snap rings and wrist pins. New components include piston rings, piston skirt and cylinder liner.
Connecting Rods
All REMACK connecting rods are Magnaflux-inspected. Precision machining removes any bends or twists and ensures a proper surface finish. Crank bores are brought back to original size, while wrist pin bushings are installed and machined to size.
Cylinder Heads
Castings are Magnaflux-inspected and pressure-tested. The complete package includes new valves and valve guide seats, heavy-duty valve springs, new rotators and keepers. All valves and valve seats are inspected, machined and tested to ensure a proper seal.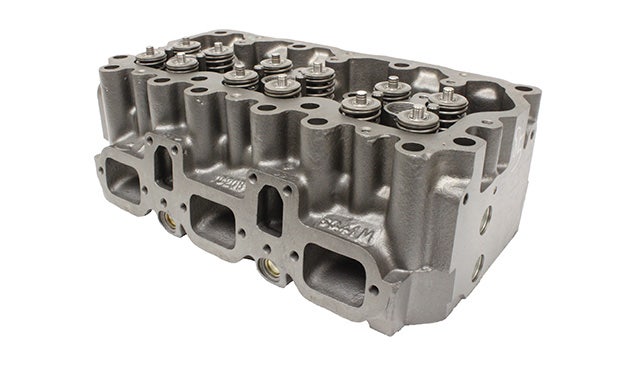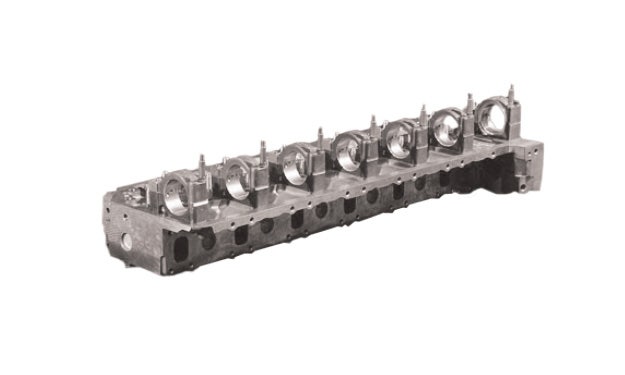 Fuel Injectors
Every single fuel injector component is inspected for optimum quality, tolerance and function. In addition, mandatory components are automatically replaced to control the injection event, which results in maximum performance. Nozzle and holder assemblies are fully cleaned, inspected, calibrated and tested to ensure proper operation. New nozzle tips, felt dust cover gaskets, copper compression gaskets and nozzle return line washers are also provided. Each injector comes with a one-year, unlimited mileage warranty when installed by an authorized Mack dealer. Warranty terms apply.
Single Injector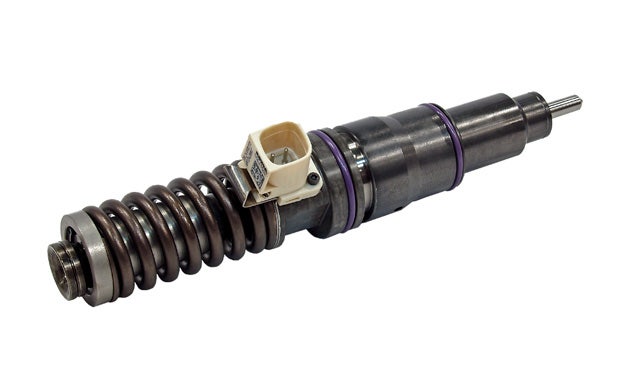 Every REMACK injector is remanufactured following our stringent processes and undergoes both a specialized ultrasonic cleaning process and multiple detailed inspections to assure quality. Our exclusive testing methods include simulating "live" engine performance: 42 functional test steps ensure proper fuel delivery and performance for reduced emissions.
Six-Pack Injector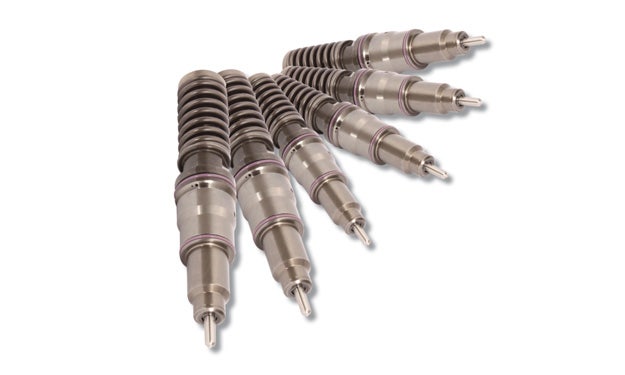 The REMACK Six-Pack Injector Kit includes the latest design and engineering upgrades for improved fuel efficiency, smoke reduction and increased uptime.
Turbos
When it comes to replacing your turbochargers and actuators, choose the factory quality that only REMACK can provide. Each component comes with a one-year, unlimited mileage warranty covering parts and labor when installed by an authorized Mack dealer. Warranty terms apply.
Turbocharger Kits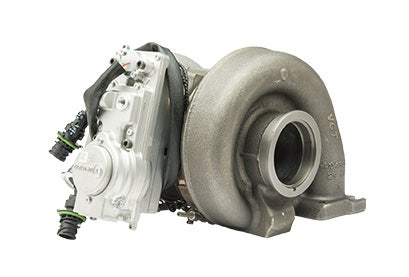 REMACK Turbocharger kits are completely remanufactured in North America and feature the latest Mack specifications including all engineering enhancements. Turbocharger kits also include all the necessary mounting and installation parts.
Turbo Actuator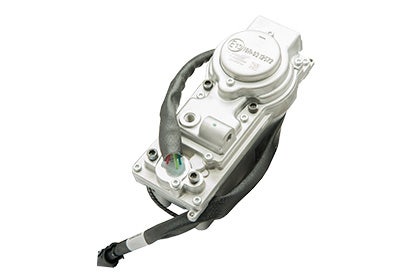 REMACK Turbo Actuators for Mack MP7, MP8 and MP10 engines are completely disassembled and cleaned using an ultrasonic cleaning process. We install brand new circuit boards, gaskets, harnesses and connectors. Every REMACK actuator is tested to OE specifications and features the latest software updates.
Warranty Protection That Leads the Pack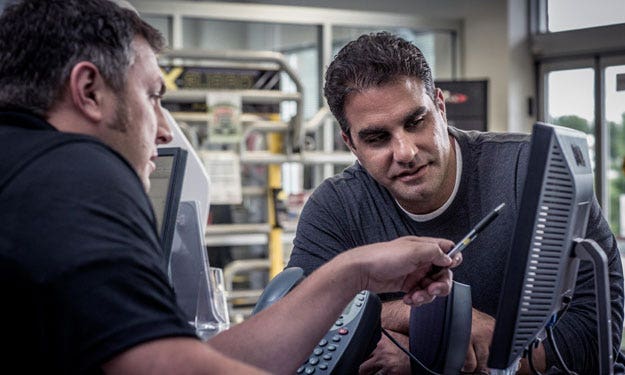 We're so confident in our REMACK engines, we back them with a 100% parts warranty for two full years and unlimited mileage. We also offer an optional three-year, 350,000-mile extended warranty for Mack dealer-installed parts. Now that's the peace of mind you need—and the few extra dollars in your pocket that you want.
Download Additional Information
Mack Trucks Engine Replacement Sell Sheet