Mack Certified Uptime Dealers
Nearly 150 Certified Uptime Dealers nationwide. That's the comprehensive support you can count on with Mack.
Far From Home. Never Alone.
Only Certified Uptime Dealers deliver the superior standards of service and support that you've come to expect from Mack.
Every Certified Uptime Dealer guarantees:
High-quality standards and service processes
Updated shop layouts featuring fast lane Uptime Bays for repairs less than 4 labor hours
Integrated communication capabilities with GuardDog® Connect and Mack ASIST for faster diagnostics and seamless repair process management
With a Mack Certified Uptime Dealer, there's no appointment necessary. Simply roll in ready and roll out repaired.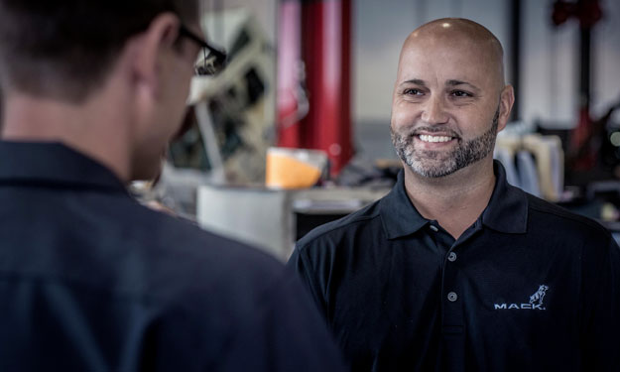 How it Works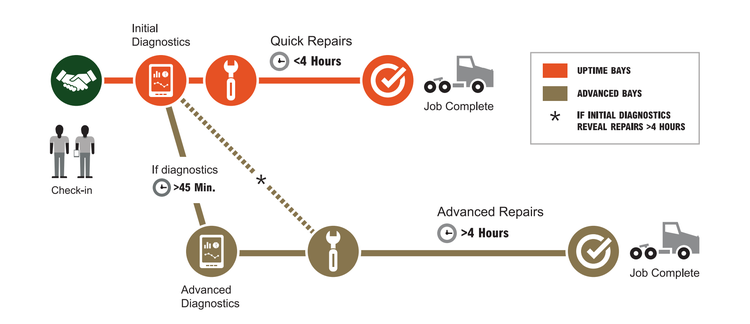 | | |
| --- | --- |
| CHECK-IN | When you arrive, your service advisor will perform a walk-around and access your vehicle's data. Communication begins here and continues until your truck is back in service. |
| INITIAL DIAGNOSTICS | Initial diagnostics are completed within two hours of your arrival. This enables you to start making decisions for trucks, drivers and loads earlier in the repair process. |
| UPTIME BAY | If initial diagnostics indicate a quick repair—repair orders less than four hours of labor—your vehicle remains in the Uptime Bay for service. Your service advisor will keep you in the loop on the status of your repair. With the option of using Mack ASIST direct messaging, you will receive status alerts throughout the entire service process. We'll also count on you for timely approvals along the way. |
| ADVANCED DIAGNOSTICS | Vehicles that require more than 45 minutes of diagnostics make a transition to the Advanced Diagnostics area. This ensures that longer diagnostics do not back up the Uptime Bay. |
| ADVANCED BAY | Vehicles with repairs requiring over four hours of labor move to the Advanced Bay. Short jobs are never delayed by long jobs. As soon as information is available, you'll be advised regarding anticipated repair time and costs. Mack ASIST is utilized to manage the timeline and all communication. |
Quick Links