Features
The new Mack Anthem® challenges the expectations of aerodynamic design with a bold look that dramatically improves efficiency.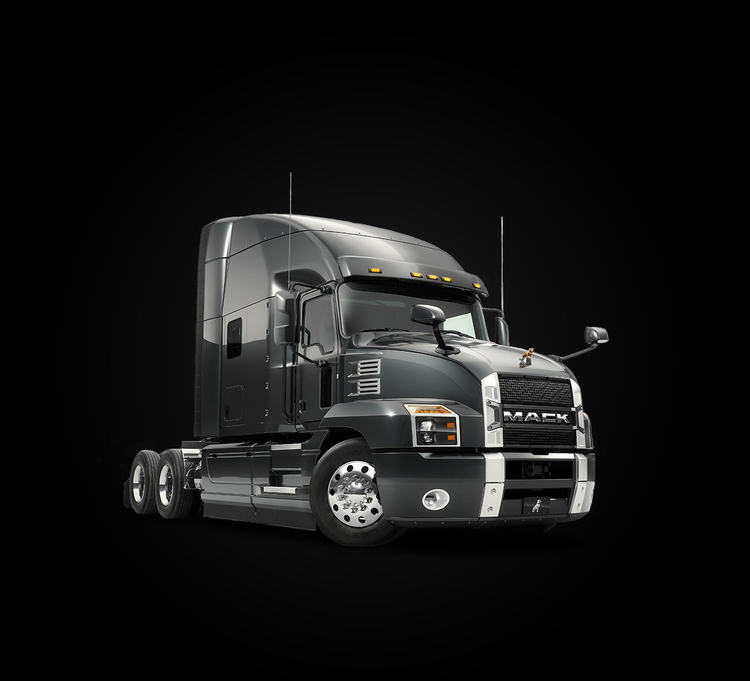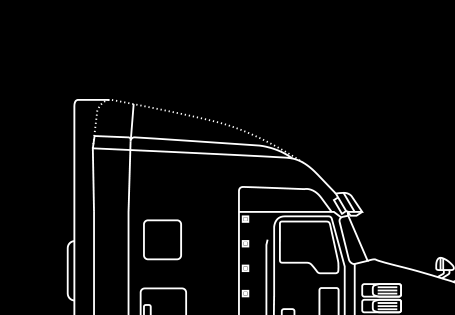 EXTERIOR
Roof Fairings with Adjustable Trim Tab
Improves airflow from the cab to the trailer.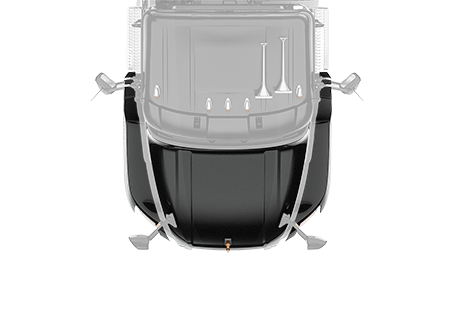 EXTERIOR
3-Piece Hood and Bumper
The 3 pieces can be ordered as separate replacement parts for improved serviceability and lower repair costs.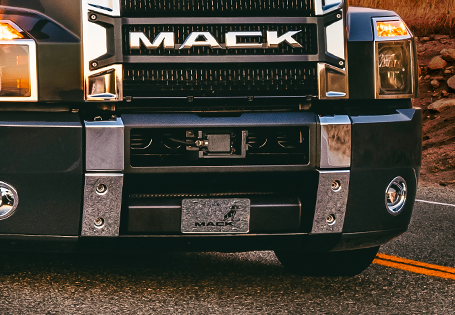 EXTERIOR
Covered Tow Loops
Cuts down on wind resistance and creates a clean look.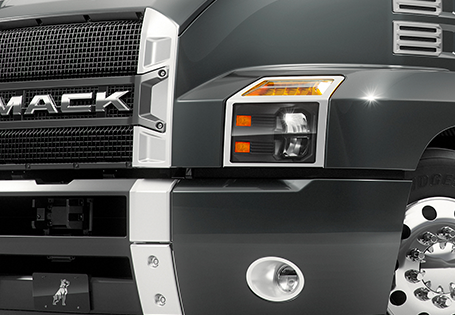 EXTERIOR
Close-Out Flange
Prevents airflow between hood and bumper and moves air around the cab.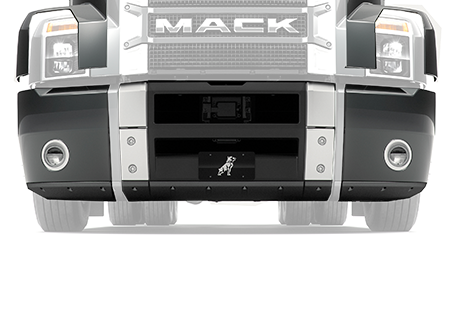 EXTERIOR
Air Dam
Reduces turbulence under the vehicle for less drag.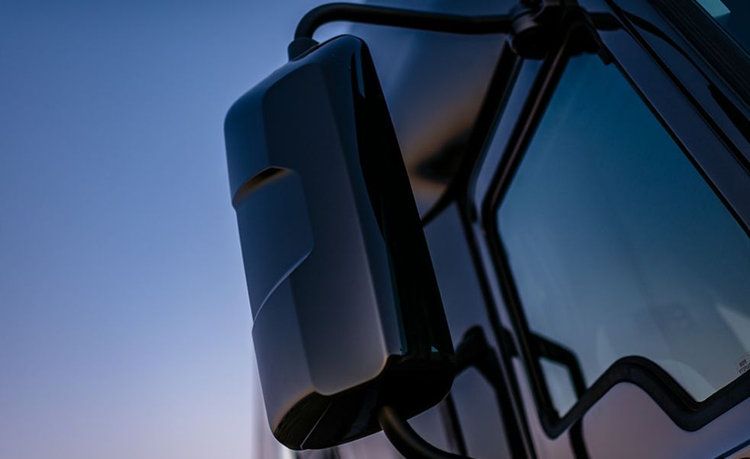 Breakaway Mirrors
The mounts are spring-loaded to rotate when hit, preventing damage to the cab and lowering parts and repair costs.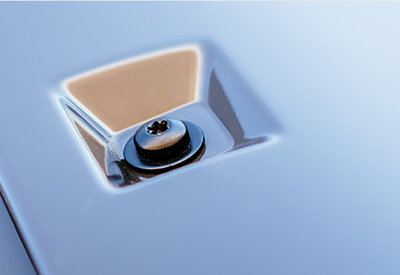 Durable Components
From bolts to latches, all Anthem components are made from tough, long-lasting materials.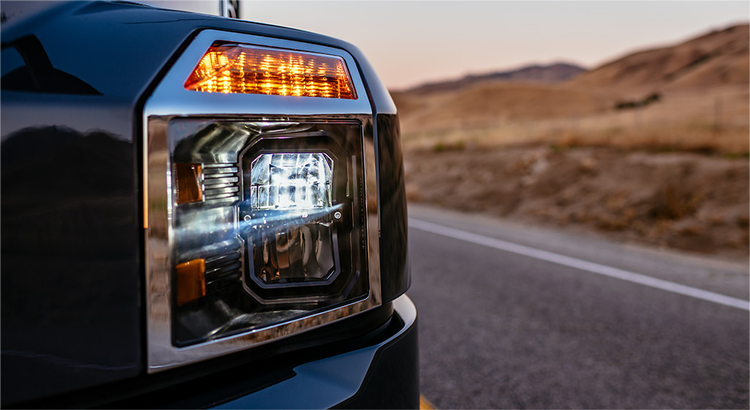 LED Lights
LED headlights are 66% brighter, last longer, use less energy and provide better visibility.
Driver Environment
Engineered for better control and comfort on the long haul, Anthem helps keep drivers fresh and ready to roll.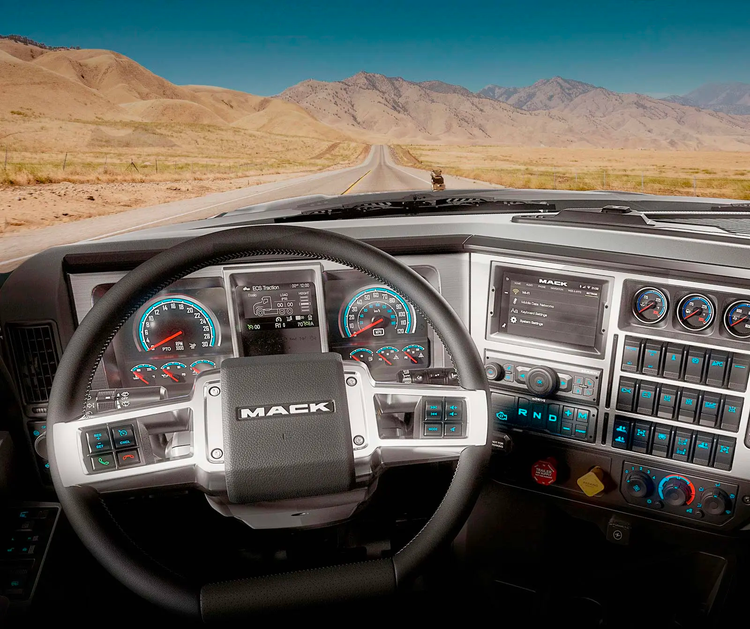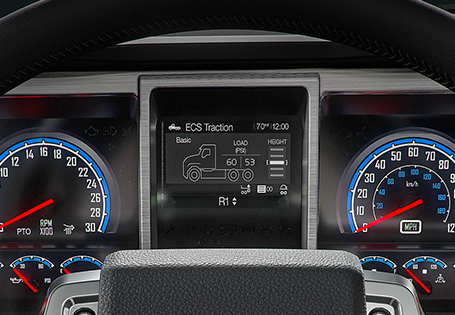 INTERIOR
Mack® Co-Pilot™
5" full-color digital display provides enhanced visibility and simpler navigation without distractions. Constant truck monitoring and Pre-trip Assistant, including one-person Exterior Light Inspection, keep an eye out for potential issues before they become real ones.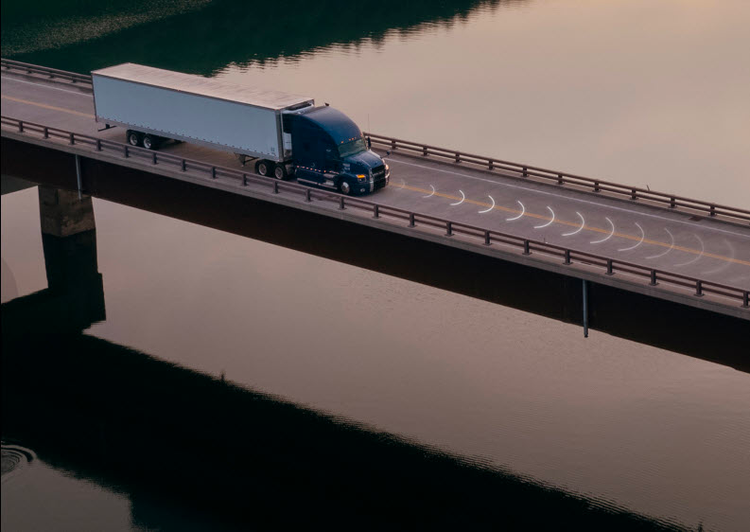 EXTERIOR
Bendix® Wingman® Fusion™ 2.0
The upgraded Bendix Wingman Fusion system integrates radar, cameras and braking system data to help drivers detect and avoid any potential hazards on the road ahead.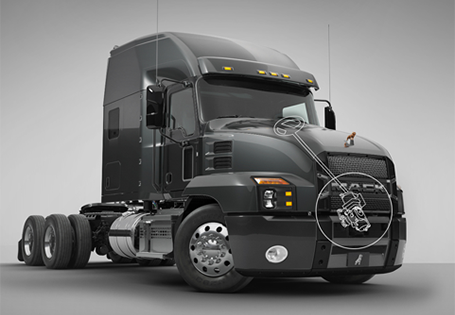 INTERIOR
All-New Command Steer
Command Steer monitors road variations at 2,000 times per second to maintain
stability in rough terrain and high winds and can reduce driver effort by up to 85%.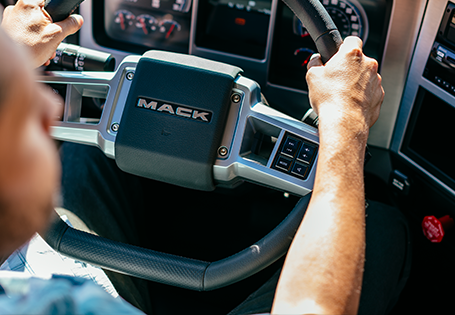 INTERIOR
Flat-Bottom Steering Wheel
An industry first, allowing more belly room and clearance for entry or exit.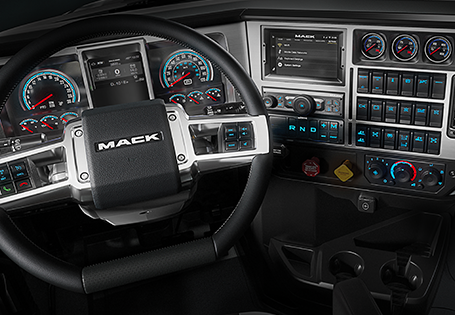 INTERIOR
Information and Entertainment Panel
7" touchscreen interfaces with smart steering wheel buttons and manages tools like Sirius XM, Weather Band, TomTom truck navigation, Apple CarPlay and optional back-up camera.
INTERIOR
m DRIVE™ Controls
Intuitive placement—and the option to install it even higher on the dash—gives drivers comfortable access without taking eyes off the road.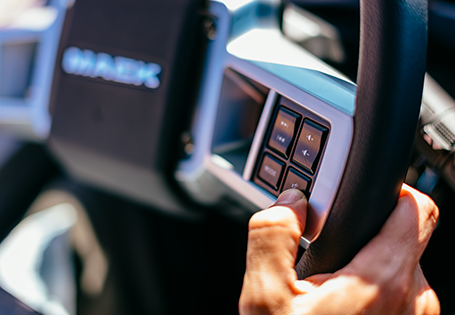 INTERIOR
Steering Wheel Controls
Built to work and designed with purpose, automotive-inspired controls make operating the Mack Anthem™ easy, safe and comfortable.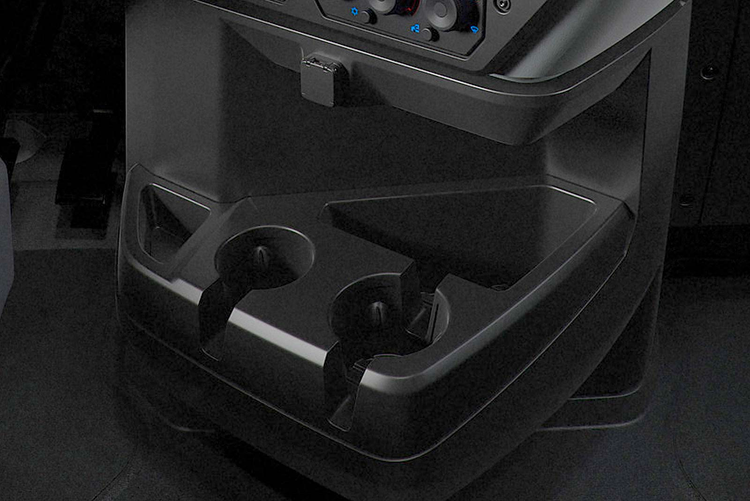 Additional Storage
Oversized cup holders fit large drinks and there's room for keys, devices and more in the easy-to-clean unit.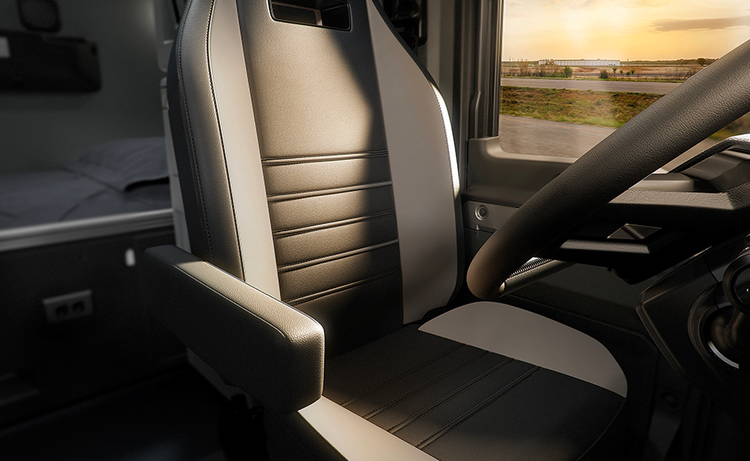 Mack-Exclusive Seats
We partnered with Sears Seating to build seats that improve driver comfort and support, while taking on daily wear and tear.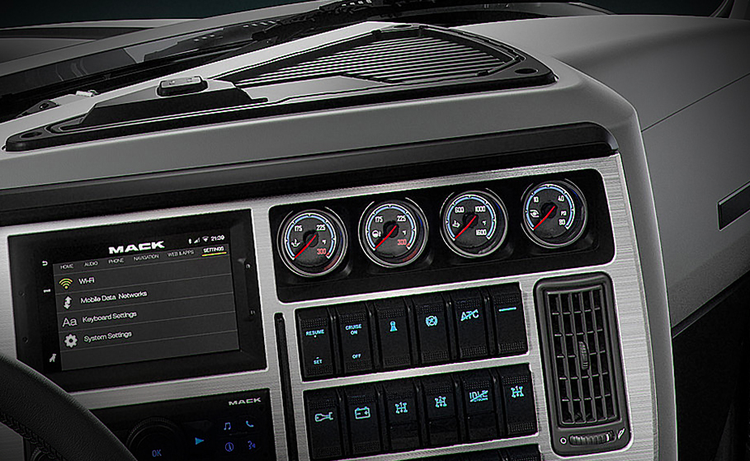 D-Panel Gauges
Customize the dash with 4 optional auxiliary gauges.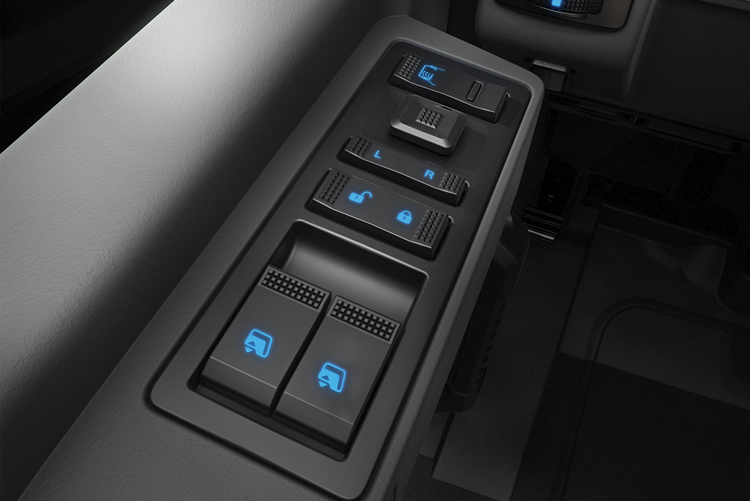 Power Window, Lock and Mirror Controls
Provide more comfort and control than manual windows.
Sleeper Environment
We built the Mack Anthem 70-inch Stand Up Sleeper with 35% more space to give drivers plenty of room to get comfortable, rest well and stay focused on the road.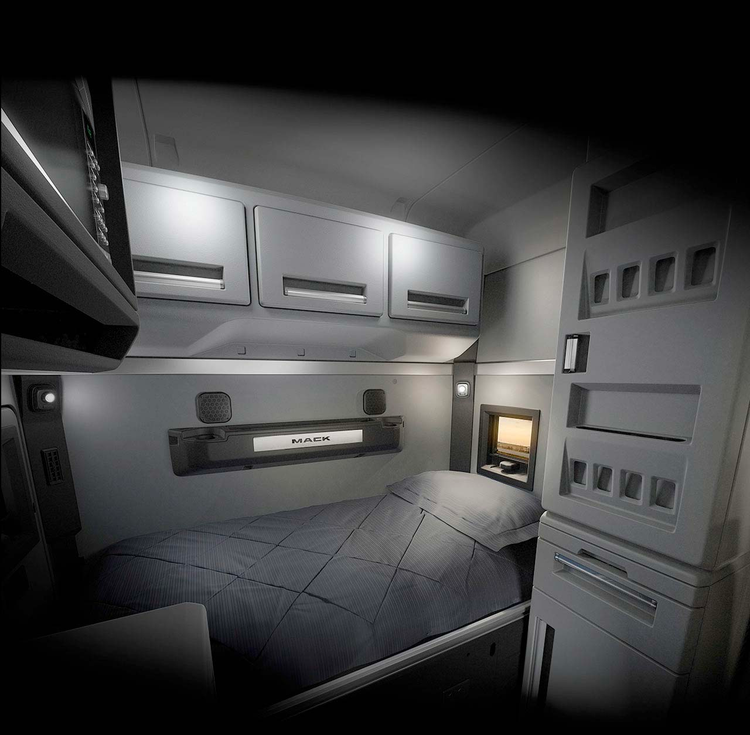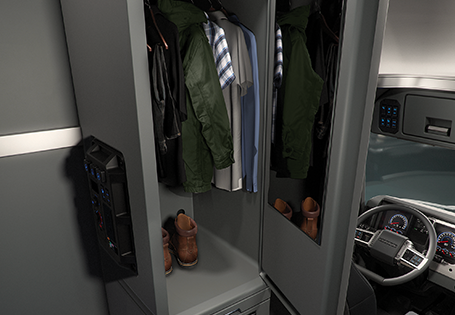 INTERIOR
Industry-Leading Storage
Cabinets, work spaces, under-bunk bins—configure Anthem's best-in-class storage for as much or as little as you need to store.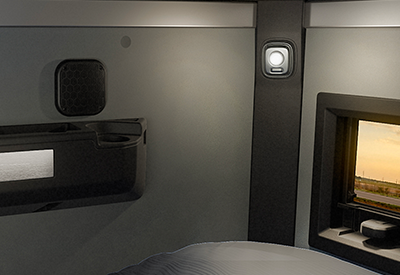 INTERIOR
Sleeper Lighting
Dimmable pipe light around the perimeter of the driver environment, bunk task light, reading lights and overhead lights are all bright, long-lasting LED.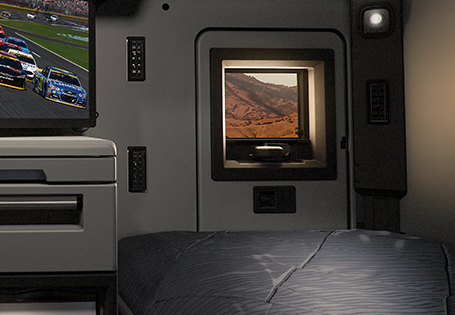 INTERIOR
Sleeper Windows
Sleeper windows feature self-contained built-in blackout shades. The screened windows tilt out to let air in and keep rain out.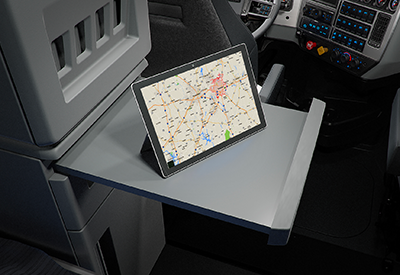 INTERIOR
Flexible Work Space
Versatile configurations behind the driver and passenger seats, including a pullout surface, create a comfortable space for a meal or catching up on email.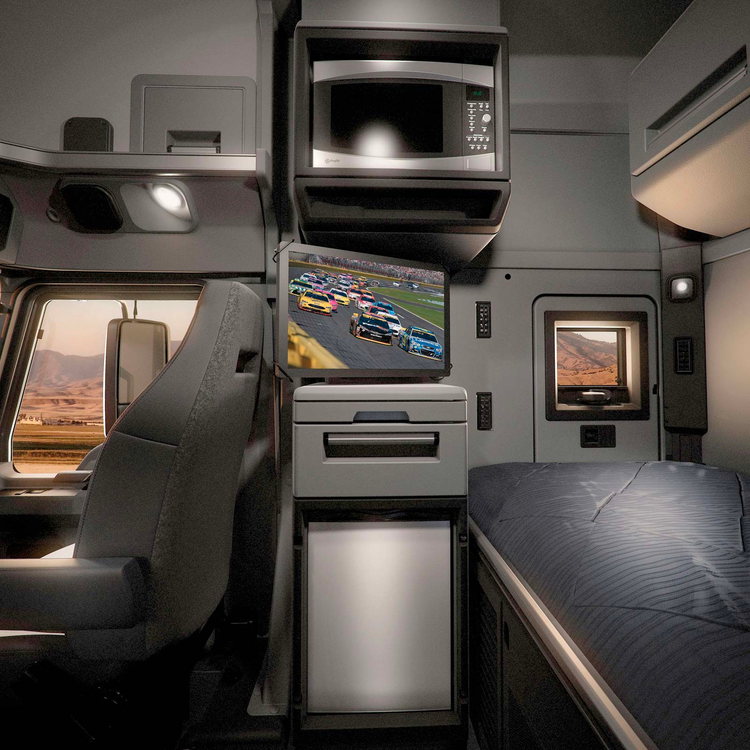 Amenities
Opt for a spacious, stainless steel refrigerator or choose from prep kits—including power outlets—for a refrigerator, microwave or flat-screen TV.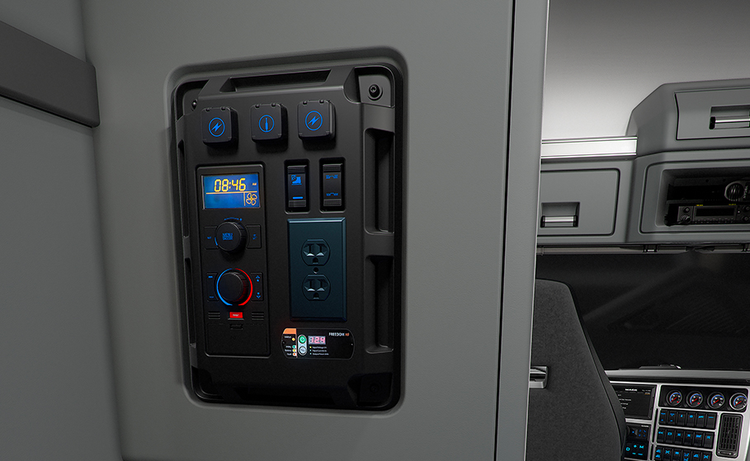 Sleeper Control Panel
Access power outlets and ports and control the sleeper stereo, interior lighting and high-performing HVAC from one convenient panel.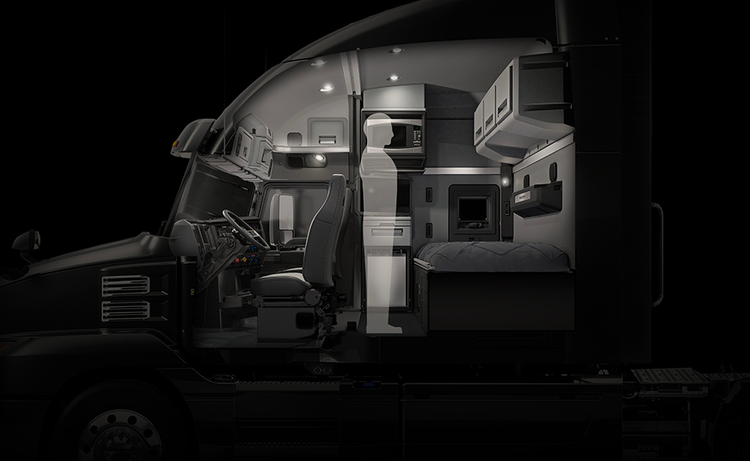 Generous Headroom
Anthem's generous ceiling height of 6'11" at the driver's seat and 7'1" in the rear of the cab lets drivers stand up and walk right through to the sleeper.