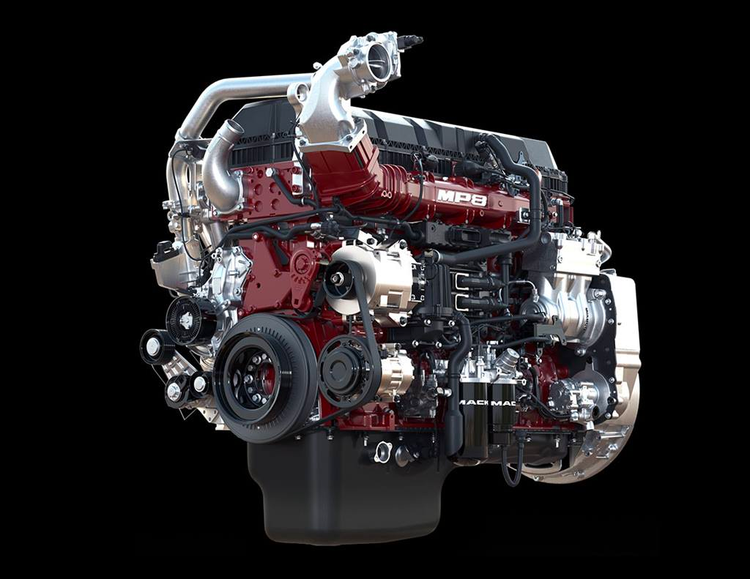 MP®8HE
The MP®8HE combines the proven performance of our MP®8 engine with the high efficiency of Energy Recovery Technology to capture lost energy, convert it to torque and reduce fuel consumption.
Engineered for a new era of efficiency
With advances in design and engineering, the new MP8HE engine earns up to 11 miles per gallon.
Improved Engineering
The improved wave piston design delivers a higher compression ratio inside a lighter, more efficient engine.
Advanced Efficiency
The updated turbo compound, auxiliary drive, gear ratio and EGR valve all work to deliver greater efficiency.
Training
The redesigned oil filtration system features two oil filters and uses a lesser viscosity oil for reduced consumption.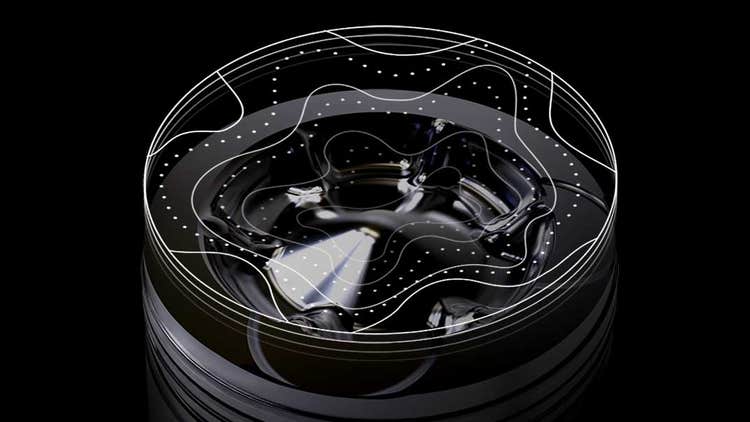 Evolved wave piston design
Mack's innovative wave piston design redirects flames in the combustion chamber to utilize all available oxygen for a cleaner and more complete burn than standard diesel
pistons. The result delivers improved fuel economy and reduced emissions.
Next-Generation Energy Recovery Technology (ERT)
Capturing heat that would otherwise be lost, the MP8HE's ERT feature converts exhaust emissions to mechanical energy and delivers it back to the crankshaft as torque. This
process enables the engine to operate at 1,000-1,100 RPM, saving fuel without sacrificing performance.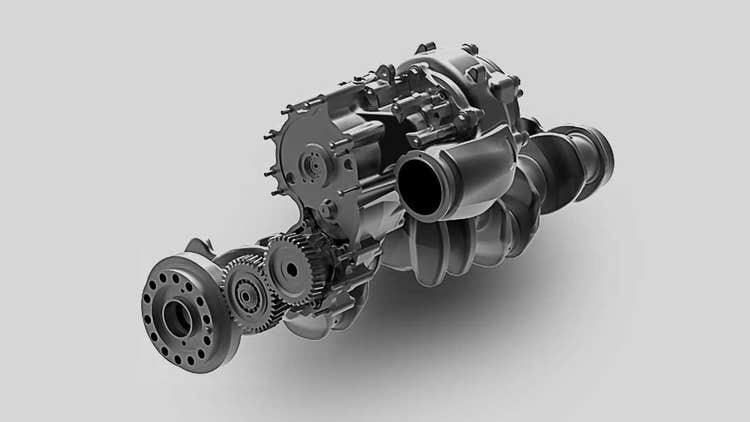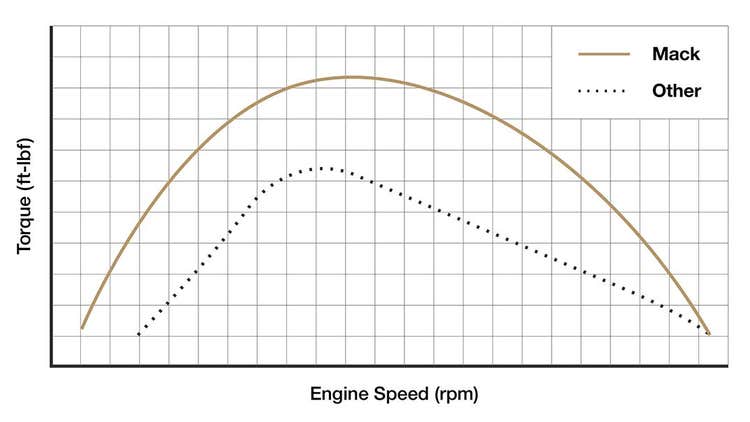 Power and performance
The MP8HE delivers consistent power and torque across a wide operating range that can be tuned to your needs for the right mix of power and high fuel efficiency.
Built to fuel efficiency
The direct injection common rail fuel system delivers ultra-precise control over fuel injection pressure, timing and volume. The result is more power and efficiency with less engine noise and lower emissions.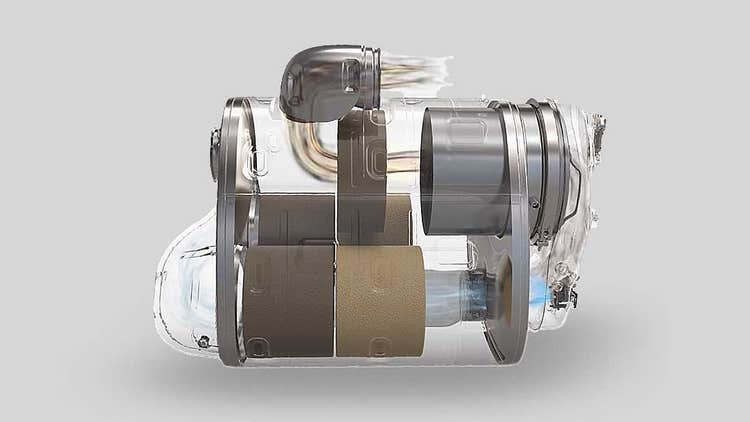 Cleaner emissions with ClearTech One
Mack's improved exhaust aftertreatment system (EATS) is 17lbs lighter and takes up less space, which saves you fuel and money while improving flexibility.
Maintenance Intervals
#id-2
Model Year 2011 and Newer Engines

Using Maack EOS-4.5 Premium Oil

NORMAL DUTY

Greater than 6 mpg Less than 39L/100km

HEAVY DUTY

Greater than 5 mpg Less than 50L/100km

SEVERE DUTY

Less than 5 mpg Greater than 50L/100km

MP® 7 / MP® 8 or MP®10 with 42 L / 44 Qt Oil Pan:

Mack EOS-4.5* Premium Oil, Filters and Fuel Filters (Replace)

MILES
60,000 / 55,000**
45,000 / 40,000**
35,000 / 30,000**
KM
95,000 / 90,000**
70,000 / 65,000**
55,000 / 50,000**
HOURS
1,700 / 1,600**
1,300 / 1,200**
825 / 750**

MP® 10 with 52 L / 55 Qt Oil Pan:

Mack EOS-4.5* Premium Oil, Filters, and Fuel Filters (Replace)

MILES
65,000 / 60,000**
50,000 / 45,000**
40,000 / 35,000**
KM
105,000 / 95,000**
80,000 / 70,000**
65,000 / 55,000**
HOURS
1,750
1,300
825

Model Year 2011 to 2016 Engines Using Mack EOS-4 Premium Oil

MP® 7 / MP® 8 or MP®10 with 42 L / 44 Qt Oil Pan:

Mack EOS-4* Premium Oil, Filters and Fuel Filters (Replace)

MILES
45,000
35,000
25,000
KM
75,000
60,000
45,000
HOURS
1,300
1,000
625

MP® 10 with 52 L / 55 Qt Oil Pan:

Mack EOS-4* Premium Oil, Filters and Fuel Filters (Replace)

MILES
50,000
45,000
35,000
KM
80,000
75,000
60,000
HOURS
1,300
1,000
625

MACK PREMIUM LONG LIFE COOLANT

Mack Premium Long-Life Coolant (Replace)
MILES
1,000,000
KM
1,600,000
HOURS
96 months
Mack Premium Long-Life Coolant Filter (Replace)
MILES
150,000
KM
240,000
HOURS
12 months

MACK PREMIUM FULLY FORMULATED COOLANT

Mack Premium Fully Formulated Coolant (Replace)
MILES
300,000
150,000
KM
500,000
240,000
HOURS
24 months
12 months
Mack Premium Fully Formulated Coolant Filter (Replace)
TIME
At every oil change

MISCELLANEOUS

Valve Adjustment
MILES
150,000 / then every 300,000
KM
240,000 / then every 500,000
TIME
12 months / then every 24 months
Fan and Accessory Drive Belt (Replace)
MILES
300,000
150,000
KM
500,000
240,000
TIME
36 months
12 months
Mack Premium Air Filter and Fuel Tank Ventilation Filter (Replace)
TIME
Maximum 24 months
Download Additional Information
Mack ® Mp®8He Engine And He+ Package
Related Products