m DRIVE™
The Mack m DRIVE™ transmission is an automated manual transmission originally built for Mack Pinnacle™ tractors. This 12-speed, two-pedal transmission not only delivers smooth shifts every time, but also maximizes driver comfort, payload and fuel economy.
AUTOMATED MANUAL TRANSMISSION
12-SPEED, TWO-PEDAL
DIRECT DRIVE AND OVERDRIVE OFFERINGS
1,920 LB.-FT. TORQUE CAPACITY
AUTOMATED CONTROL
Easier, safer, smarter hauling
With the m DRIVE automated manual transmission, there's no clutch pedal, and shifting is operated by intelligent software and engine integration. It continuously monitors changes in grade, vehicle speed, acceleration, torque demand, combined vehicle weight and air resistance to optimize fuel economy on every drive.
Auto neutral
m Drive has got your back
m Drive shifts to neutral if the engine is turned off to prevent accidentally starting the truck while in gear. When the parking brake is applied and the transmission is left in gear, it will automatically shift to neutral after four minutes to reduce the load on the drive train.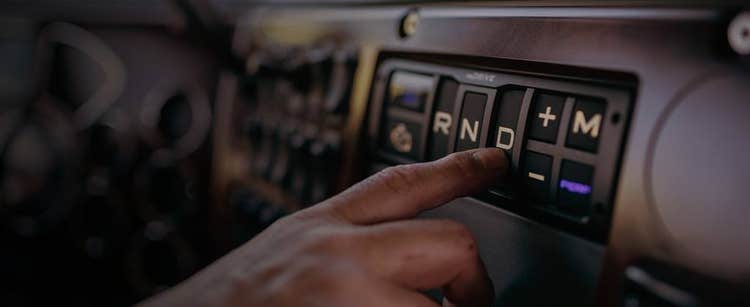 Grade gripper
Winning the uphill battle
Grade Gripper keeps your position steady on an incline for up to three seconds after the brake pedal is released. So there's no dangerous or awkward rolling backwards when stopping on a grade.
MackCellerator
Power when you need it
Increase engine RPM while automatically downshifting the transmission and accelerating to enable a safe and quick passing maneuver. This keeps the driver's hands on the wheel and eyes on the road.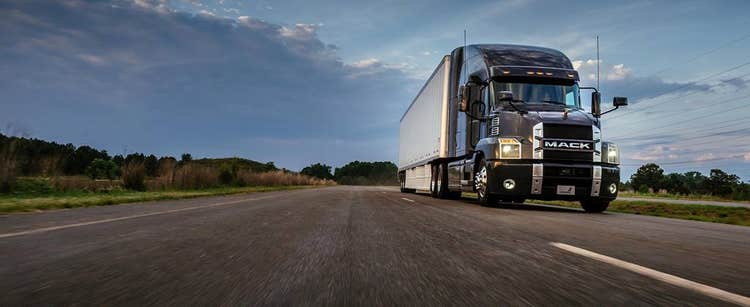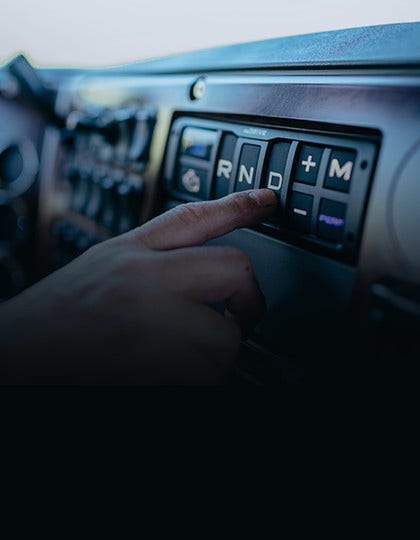 Easy to operate
The m DRIVE transmission makes it simple and comfortable to drive a truck, opening up staffing to a larger pool of drivers. m DRIVE is automated, and that means less wear and tear on drivers. So they can finish the job strong and stay focused.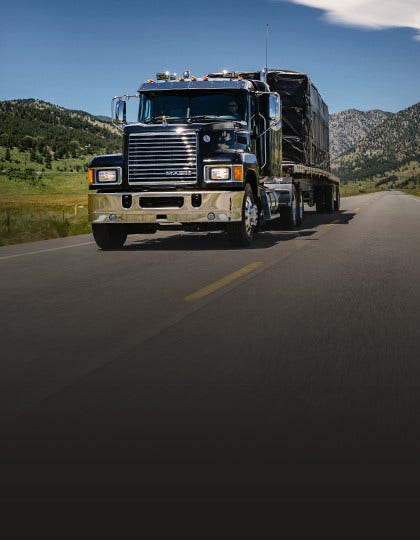 Minimal service
m DRIVE automated manual transmission is based on proven technology and superior design that requires minimal service and significantly reduces maintenance costs.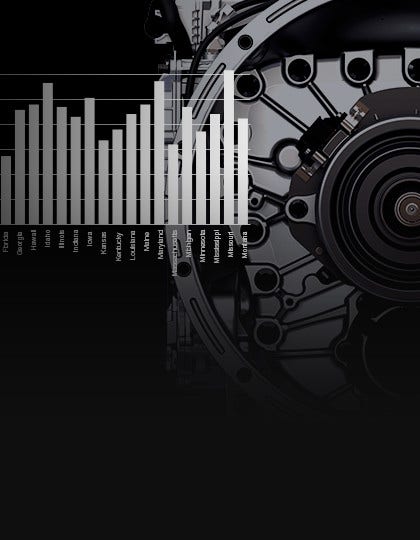 Reduced wear and tear
m DRIVE features constant monitoring and intelligent shift strategies so there's less stress on the driveline, resulting in a longer life for your transmission and more money toward your bottom line.
Direct Drive Gear Ratios
#id-1
Direct Drive Specifications
#id-2
Overdrive Gear Ratios
#id-3
Overdrive Specifications
#id-4
Maintenance Intervals
#id-6
| | | |
| --- | --- | --- |
| FORWARD GEAR | RATIO | STEP |
| 1st | 14.94 | |
| 2nd | 11.73 | 27% |
| 3rd | 9.04 | 30% |
| 4th | 7.09 | 28% |
| 5th | 5.54 | 28% |
| 6th | 4.35 | 27% |
| 7th | 3.44 | 26% |
| 8th | 2.70 | 27% |
| 9th | 2.08 | 30% |
| 10th | 1.63 | 28% |
| 11th | 1.27 | 28% |
| 12th | 1.00 | 27% |
| REVERSE GEAR | RATIO | STEP |
| 1st | 17.48 | |
| 2nd | 13.73 | |
Direct Drive Specifications
WEIGHT (DRY)
597 lb. [271 kg]
OIL CAPACITY
16.9 Quarts [16 L]
TORQUE RATING
1920 lb. ft. [2600 N•m]
NUMBER OF SPEEDS - FORWARD
12
NUMBER OF SPEEDS - REVERSE
2
CASE, BELL HOUSING MATERIAL
One piece Heat treated aluminum
CASE, BELL HOUSING TYPE
SAE #1
CONTROL
D panel dash mounted shifter
SHIFTER INDICATORS
R-Reverse / N-Nuetral / D-Drive / M-Manual
LUBRICATION
Splash & Pressure
| | | |
| --- | --- | --- |
| FORWARD GEAR | RATIO | STEP |
| 1st | 11.73 | |
| 2nd | 9.21 | 27% |
| 3rd | 7.09 | 30% |
| 4th | 5.57 | 27% |
| 5th | 4.35 | 28% |
| 6th | 3.41 | 28% |
| 7th | 2.70 | 26% |
| 8th | 2.12 | 27% |
| 9th | 1.63 | 30% |
| 10th | 1.28 | 28% |
| 11th | 1.00 | 28% |
| 12th | 0.78 | 27% |
| REVERSE GEAR | RATIO | STEP |
| 1st | 13.73 | |
| 2nd | 10.78 | |
WEIGHT (DRY)
597 lb. [271 kg]
OIL CAPACITY
16.9 Quarts [16 L]
TORQUE RATING
1920 lb. ft. [2600 N•m]
NUMBER OF SPEEDS - FORWARD
12
NUMBER OF SPEEDS - REVERSE
2
CASE, BELL HOUSING MATERIAL
One piece Heat treated aluminum
CASE, BELL HOUSING TYPE
SAE #1
CONTROL
D panel dash mounted shifter
SHIFTER INDICATORS
R-Reverse / N-Nuetral / D-Drive / M-Manual
LUBRICATION
Splash & Pressure
m DRIVE

NORMAL DUTY

Greater than 6 mpg Less than 39L/100km

HEAVY DUTY

Greater than 5 mpg Less than 50L/100km

SEVERE DUTY

Less than 5 mpg Greater than 50L/100km

Transmission oil and filter (Replace)

Oil quality: Mack Transmission Oil 97318*

MILES
500,000
Not Allowed
KM
800,000
Not Allowed
HOURS
60 months
Not Allowed

m DRIVE; m DRIVE Severe Duty and m DRIVE with Crawler Gears

Transmission oil and filter (Replace)

Oil quality: Mack Transmission Oil 97319*

MILES
500,000
250,000
KM
800,000
400,000
HOURS
60 months
2500h