Mack Trucks Celebrates 100 Years of Trucking Leadership in Canada
GREENSBORO, NC (April 26, 2021) – Mack Trucks reached a significant milestone in Canada in 2021 – it's 100th anniversary.
"Mack's leadership in commercial vehicles goes back more than 120 years, and we've proudly served Canada and its diverse regions and demanding applications throughout much of that history," said Jonathan Randall, Mack Trucks senior vice president of North American sales and commercial operations. "It's an honor for Mack to be part of Canada's story, and to recognize Mack's commitment to helping build and sustain the needs of the country."
Mack introduced a special badge to commemorate the anniversary that will be used in various applications throughout the year. The icon incorporates the Mack® logo, Canada's maple leaf, "100 Years," and the phrase, "Building Canada Since 1921," or "100 Ans" and the phrase "Bâtisseur Du Canada Depuis 1921" when in Québec.
The "Bulldog" Mack AC model forged its reputation as the go-to truck for strength, ruggedness and reliability on the front lines during World War I. Many of the army surplus AC models came back to Canada after the war ended, bearing that reputation and quickly became popular for many heavy-haul applications.
Mack noticed the growing demand in the Canadian truck market and established Mack Trucks of Canada Ltd. in 1921 in a small building on Vanauley Street in downtown Toronto, delivering the Mack AB and AC models from this location. One of Mack's largest Canadian customers in 1921 was Ontario-based Dufferin Construction, which is still in business today and has been a Mack customer for 100 years.
As Mack sales continued to grow throughout the 1920s, the company moved to a succession of larger facilities in Toronto and continued expanding its sales and dealer network to all parts of the country.
Mack maintains its commitment to Canada today through a robust family of Class 6, Class 7 and Class 8 products supported by an extensive coast-to-coast distribution and service network of more than 100 locations in Canada. Customers also are supported through Mack OneCall™ agents, available 24/7 at the Mack Uptime Center in Greensboro, North Carolina.
Mack continues to serve its customers with a vast product portfolio that includes tractor, straight truck and cabover platforms. From B-trains to flatbeds, the Mack Anthem® and Mack Pinnacle™ help keep Canada moving on the highway. The stalwart Mack Granite® dump trucks and mixers, and Mack TerraPro® concrete pumps are staples on jobsites. The Mack® LR and TerraPro refuse trucks can be found helping keep Canadian communities clean, supporting waste and recycling needs from Newfoundland to the Northwest Territories. The Mack MD Series is the newest addition to the Mack product family, built specifically for medium-duty applications.
Visit our comprehensive timeline to dive deeper in to Mack's rich history in Canada.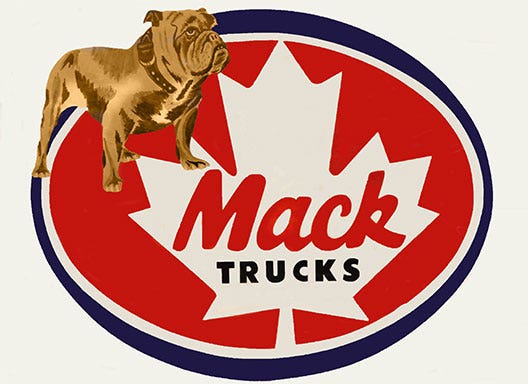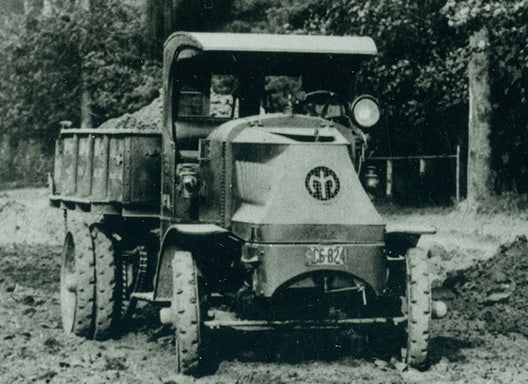 CAPTION: Mack Trucks reached a significant milestone in Canada in 2021 – it's 100th anniversary.