Mack Trucks to Highlight Mack®MD7 and Mack Anthem® Models at ExpoCam 2021
GREENSBORO, NC (Sept. 16, 2021) – Mack Trucks will showcase its versatile medium-duty Mack® MD7 model and the Mack Anthem® highway model featuring Mack's fuel-efficient powertrain and latest driver productivity, safety and uptime technology at ExpoCam 2021, Sept. 22-23 at Espace Saint-Hyacinthe, Saint-Hyacinthe, Quebec.
This year marks Mack's 100th anniversary of trucking leadership in Canada, serving its diverse regions and trucking applications with a robust family of Class 6, Class 7 and Class 8 products. Mack customers are supported by an extensive coast-to-coast distribution and service network of more than 100 locations in Canada. Through ongoing investments in products, technologies and services that bring value to the market, Mack is well positioned for the next 100 years of trucking leadership in Canada. The Mack MD7 and Anthem models at ExpoCam are spec'd with the latest features and technologies customers and dealers need to meet the unique applications and rigors of the Canadian market.
"The MD7 model gives Mack customers and dealers a versatile medium-duty platform and proven powertrain that provides Mack's signature durability, reliability and uptime" said Steve Jugovic, Mack Trucks regional vice president for Canada. "Designed around the driver, the MD7 also provides a comfortable, intuitive work environment to help maximize productivity throughout the workday."
The Mack MD7 in Mack booth No. 4005 is a Class 7 model with a GVWR of 33,000 pounds, spec'd for medium-duty van applications. Built for versatility, the MD7 is available with multiple engine and transmission options, providing the power and performance needed for the job. Mack MD7 customers can select from eight wheelbase sizes, from 10 to 26 feet, to get the perfect size for a variety of workloads like refrigerated, tank truck, beverage, dump, stake and flatbed vocations. The flat back-of-cab, combined with the clear body platform, allows for a wide variety of body upfitting opportunities.
Available in 4x2 configurations, the Mack MD7 offers an industry best short bumper-to-back-of-cab (BBC) measurement of 103-inches and provides a sharp wheel cut for exceptional maneuverability in tight urban environments.
"The Mack MD7 is a prime example of a rugged product that is also ideal for van, refrigerated and other applications in urban environments that put a premium on maneuverability," added Jugovic. "The MD7 combines leading medium-duty powertrain options with a versatile chassis designed with bodybuilders in mind."
The MD7 and Anthem models share similar Mack family traits, including the hood design and grille on the MD7, which match the bold look and styling of the Anthem. Also on display is the Mack Anthem model, spec'd for fuel efficiency, and highlights Mack's leading features to enhance driver productivity and uptime.
Built to handle Canada's heavy loads and demanding long-haul routes, the 70-inch standup sleeper Mack Anthem model is powered by the efficient 13-liter Mack MP®8 engine and mated to a 12-speed overdrive Mack m DRIVE™ automated manual transmission.
To increase driver productivity, the Mack Anthem is equipped with Mack Command Steer, the latest in driver-assist technology that helps reduce driver effort by 85 percent, improving driver comfort. The system leverages multiple sensors to monitor road conditions, driver inputs and the environment. Based on the conditions, an electric motor then applies torque as needed to help drivers maintain their desired course. The system contributes to greater safety by helping keep trucks steady in changing conditions like wind gusts, banked roads and tire blowouts. This means that drivers don't need to continuously compensate for the conditions and risk overcorrecting, which promotes a safer, steadier and more comfortable ride. Reduced fatigue and muscle strain also helps improve driver safety and productivity.
Command Steer also simplifies forward and reverse gear maneuverability through a return-to-center function that automatically returns the steering wheel to center position.
"The Anthem is the ultimate long-haul tractor, combining rugged looks with exceptional fuel efficiency and uptime for a wide range of loads," said Jugovic. "Mack's ongoing investments in driver-focused safety and comfort technologies for the Anthem help reduce the physical demand and strain on drivers, allowing them to focus on safely moving Canada's good."
To help maximize uptime, the Mack Anthem model includes as standard Mack GuardDog®Connect, Mack's integrated telematics solution that monitors critical fault codes. When the system detects an event, it proactively contacts our 24/7 Mack OneCall™ agents at the Mack Uptime Center in Greensboro, North Carolina, where OneCall agents support customers experiencing unplanned and planned service events, including scheduling of repairs and service.
Through Mack GuardDog Connect, several service alerts can be resolved using Mack Over The Air (OTA). Standard on the Anthem model, Mack OTA allows customers to make unlimited driver-activated software and parameter updates, improving uptime and simplifying the update process. Most driver-activated software updates take less than 13 minutes to complete, and driver-activated parameter updates are typically completed in less than one minute, saving drivers valuable time.
Mack models featured in booth No. 4005 will be:
Mack MD7
Box Van
Engine: Cummins B6.7, 280 horsepower and 660 lb.-ft. torque
Transmission: Allison 6-speed automatic transmission
Features: Meritor MFS+ 12,000-lb. front axle; Mack S522R 52,000-lb. rear axles; Mack mRIDE 52,000-lb. rear suspension;Mack ClearTech One exhaust aftertreatment system; and Mack ASIST, Geotab Basic
Body: Leclair 24-foot van body
Mack Anthem 70-inch sleeper
Engine: Mack MP8-445E, 445 horsepower, 1,560-1,860/lb.-ft. torque
Transmission: Mack m DRIVE 12-speed overdrive automated manual transmission
Features: Mack Command Steer; Mack Advantage frame rails; Mack Maxlite 40EZ air suspension; and Mack PowerLeash ™ engine brake
Features: Mack FXL13.2 13,200-pound front axle; Mack Maxlite 40 EZ, 40,000-pound rear air suspension; Mack ClearTech Oneexhaust aftertreatment system; MackGuardDog Connect uptime solution; and Mack Road Stability Advantage by Bendix
For more information about the Mack MD7 and the Mack Anthem model, please visit Mack booth No. 4005 at ExpoCam, your local Mack dealer or www.macktrucks.com.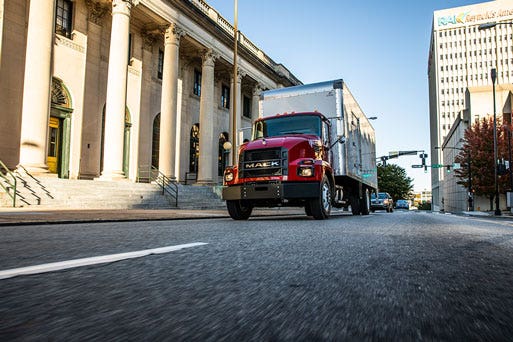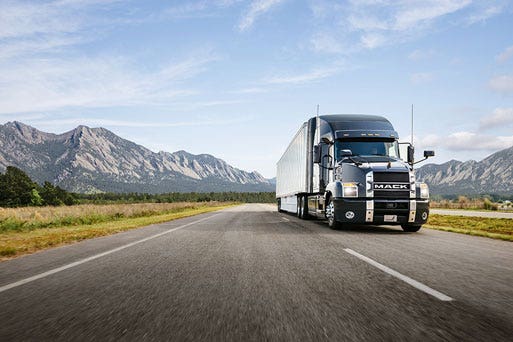 CAPTION: Mack Trucks will showcase its versatile medium-duty Mack® MD7 and the Mack Anthem® highway model featuring Mack's fuel-efficient powertrain and latest driver productivity and uptime technology at ExpoCam 2021, Sept. 22-23 at Espace Saint-Hyacinthe, Saint-Hyacinthe, Quebec.