Mack Anthem® Model Featured at American Trucking Associations' Technology & Maintenance Council
GREENSBORO, NC (Feb. 26, 2018) – A 2018 Mack Anthem
70-inch Stand Up sleeper model will be showcased in Mack booth No. 1321 at the American Trucking Associations' (ATA) Technology & Maintenance Council March 5–8 in Atlanta.

The Mack Anthem model includes a fully integrated Mack powertrain, with a Mack MP
engine with turbo compounding, 445 horsepower and 1,860/1,560 lb.-ft. of torque; a Mack m DRIVE
12-speed automated manual transmission; and a Mack 12,000 lb. front axle and Mack 38,000 lb. rear axles.

Additional features on the Mack Anthem model include:
\
Mack ClearTech <sup> ® </sup> One exhaust aftertreatment system;
Mack Twin Y <sup> ™ </sup> air suspension;
Mack Road Stability Advantage by Bendix;
Bendix Wingman Fusion;
SmartWay certified;
Mack Information & Entertainment system; and
Mack GuardDog <sup> ® </sup> Connect.
Mack will also feature its comprehensive uptime solutions, including the fully integrated Mack GuardDog Connect telematics platform. GuardDog Connect proactively monitors trucks for potential issues that could lead to unplanned downtime and alerts Mack's OneCall
uptime agents at Mack's 24/7 Uptime Center. Agents help diagnose issues and use Mack ASIST to schedule repairs and confirm that needed parts are in stock and ready to install, all while a truck is still on the road. GuardDog Connect also enables Mack Over The Air on Mack models equipped with Mack 2017 and newer engines to deliver software updates directly to customers with minimal interruptions to their operations. Mack has also certified its 117th dealer location as a Mack Certified Uptime Center, an accreditation signaling that the dealer has met demanding requirements to improve service, increase uptime and keep trucks on the road.
\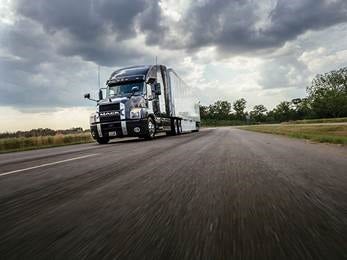 A 2018 Mack Anthem® 70-inch Stand Up sleeper model will be showcased in Mack booth No. 1321 at the American Trucking Associations' (ATA) Technology & Maintenance Council March 5–8 in Atlanta.