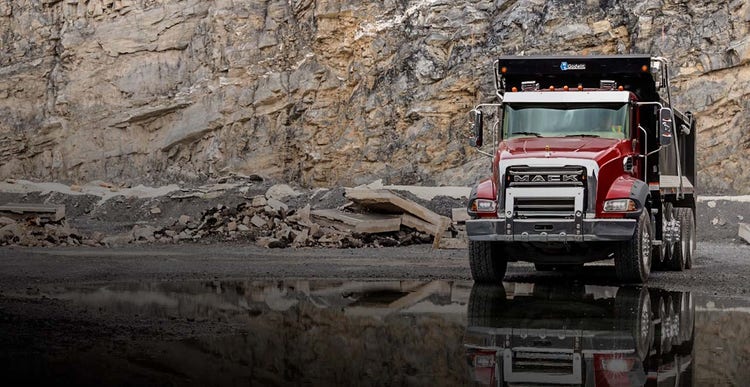 Granite®
The tried-and-true platform.
Safety & Technology
New LED headlights banish the darkness
Fully illuminated road and jobsite for better object detection and reduced eye fatigue.
LED headlights increase forward visibility by up to 29% and side visibility by up to 50%
Heated LEDs prevent ice and snow buildup for visibility in all conditions.
Smooth homogenous light pattern delivers uniform coverage of road or work zone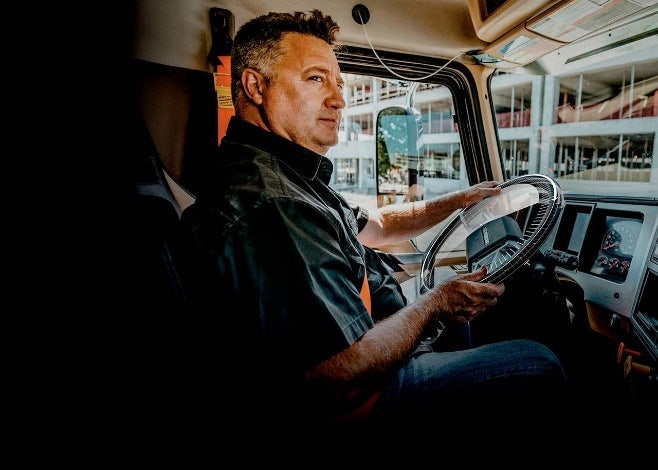 Introducing
All-New Mack Command Steer
Discover how our latest breakthrough in steering-assist technology delivers less strain on your driver and more productivity for your business.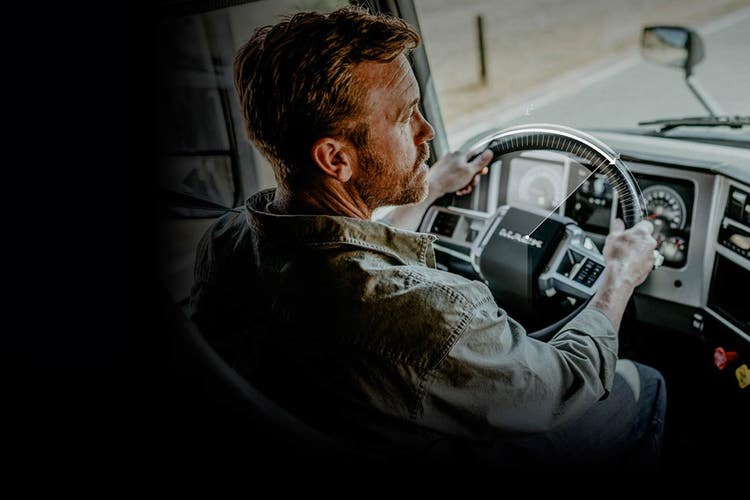 Featuring
Mack® Command Steer
Discover how this breakthrough in driver-assist technology delivers less strain on your driver and more productivity for your business.
Eases Driver Effort
By reducing driver effort by up to 85% and reducing driver strain by up to 30%, Command Steer helps reduce the risk of long-term injury.
Stays the Course
Command Steer holds the lane during unexpected course changes to help drivers stay on track and on time.
Improved Maneuverability
With feather-light steering at low speeds, getting in and out of loading zones is quick and easy.
MACK COMMAND STEER
Rough Terrain
During parking, reversing and other low-speed maneuvers, the steering wheel automatically returns to zero, saving drivers from wear-related injuries.
MACK COMMAND STEER
Waltrip Drives
Though he's never been behind the wheel of a big truck, former NASCAR driver Michael Waltrip finds out just how easy driving can be with Command Steer.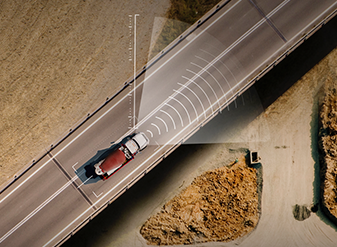 Safety & Technology
Bendix® Wingman® Fusion™ 2.0
The upgraded Bendix Wingman Fusion 2.0 integrates radar, camera and brake system data to help drivers detect and avoid any potential hazards on the road ahead.
Stationary and Moving Automatic Emergency Braking (AEB)
Increased AEB Speed Reduction
Multi-Lane AEB
Lane Departure Warning
Right Hand Blind Spot Detection
Alert Prioritization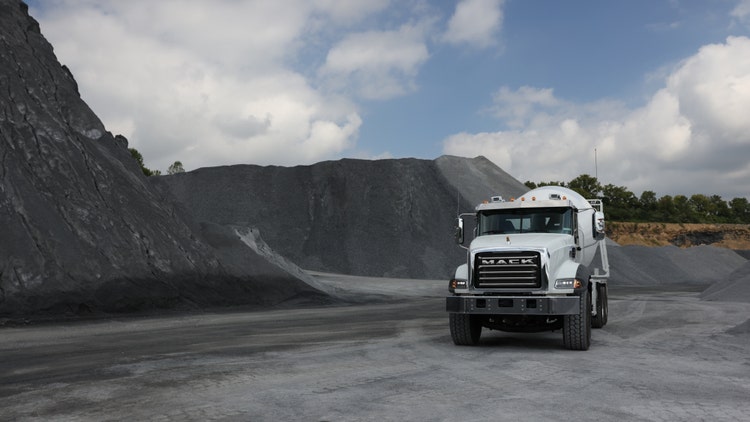 Versatility
The hero on every job.
Powerful, durable and versatile, Granite is the right truck for the job at hand.
Tighter Turns
Axle forward and axle back configurations and a tight turning radius improve maneuverability.
Superior Visibility
Granite's sloped hood, large windows and passenger door peep window provide maximum visibility.
Rail Options
A choice of rail thicknesses lets you spec Granite for the rigors of the job.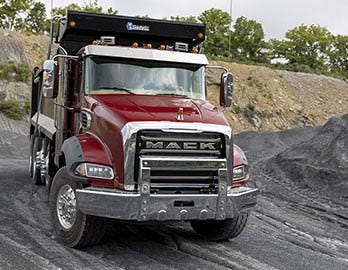 Durability
The gold standard of tough.
The unyielding foundation of any jobsite, Granite has the brawn to get the job done right.
Heavy-duty crossmembers provide the strength to tackle any job.
A rugged galvanized steel cab and easy maneuverability keep drivers safe.
Top-mounted rear axle carriers minimize driveline angle and improve fuel efficiency and ground clearance.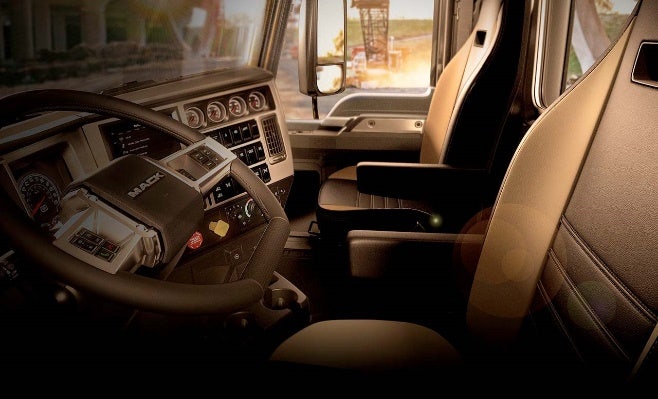 Comfort
All-day comfort behind the wheel.
Redesigned and purpose-built, Granite's interiors minimize driver wear and tear and maximize comfort.
Flat-Bottom Steering Wheel
An industry first, the flat-bottom steering wheel allows more clearance for entry or exit.
Premium Seating
Mack-exclusive seats provide unmatched comfort.
Instrument Panel
Easy-to-reach controls reduce driver fatigue and increase productivity.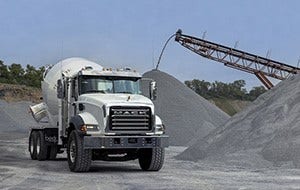 Mixer
Granites are powerful enough to haul anything, while staying light to keep you productive.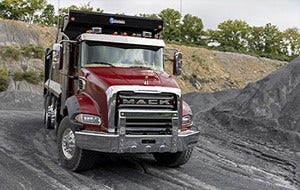 Multi-Axle Dump
Fit the fuel volume you need, hydraulic tanks and lift axles all in the shortest wheelbase possible.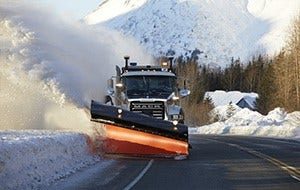 Snowplow
Fit the fuel volume you need, hydraulic tanks and lift axles all in the shortest wheelbase possible.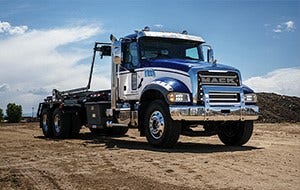 Roll-Off
Granite's compact component packaging allows your hoist to mount tightly onto the cab, keeping your overall length short and your turning radius tight.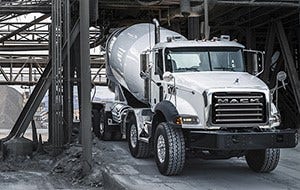 Tandem Steer Mixer
Granite's tandem steer option manages your load while giving you the maneuverability needed to get the job done.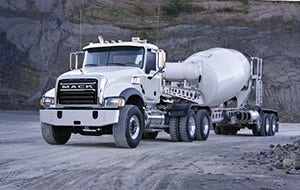 Tractor
Rugged and ready to haul your heavy equipment and heavy materials right onto the jobsite.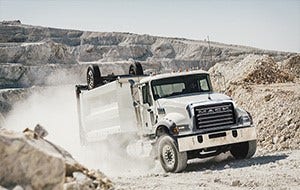 Little-Axle Dump
The Mack Granite's flexibility and axle options enables it to meet weight distribution rules with maximum productivity.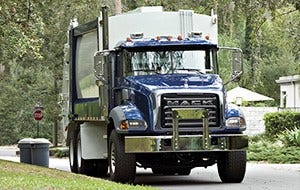 Rear Loader
The Granite has the visibility and agile response needed for refuse applications, while also delivering maximum comfort and functionality to get the job done.
Firetruck
Mack's Body Builder Support team makes it easy to build the Granite you need for the most challenging applications.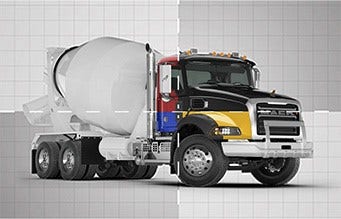 Build Your Granite
Build your truck to fit the needs of your business. With Truck Builder, you can customize your dream truck from the frame up.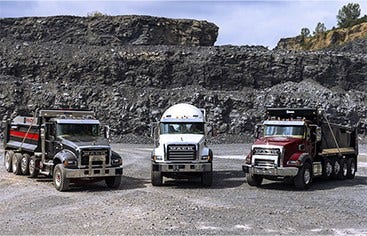 Request a Quote
Connect with your local Mack Trucks Dealer and get a custom quote that includes the latest available financing offers and incentives.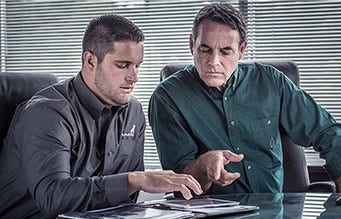 Current Incentives
Get the latest deals from Mack through Mack Financial Services. Working together, we'll help you build your business and your bottom line.